Brunch is trendy in Barcelona, and the city's brunch spots serve it in a multitude of variations. Menus range from sweet, protein-rich and organic to Instagram-worthy, flexitarian and vegetarian brunches in Barcelona.
Spaniards have been much later to embrace the brunch concept than Danes. Many also still prefer to skip breakfast lightly. Instead, they eat a big three-course lunch. In the bigger cities, however, more and more brunch cafés are springing up, and in Barcelona it's hip to eat brunch with friends and family at the weekend.
The brunch menus are much more varied and exciting when you eat it in a café in Barcelona than the classic eggs, bacon, some fruit and yoghurt that we get served in almost every café in Denmark. So don't kid yourself about going out for brunch in Barcelona.
1. Lavish and Instagram-worthy brunch in Eixample
A friend living in Barcelona recommended me to visit Brunch & Cake, located on a corner of a beautiful street in the Eixample district. Brunches are a big hit in Barcelona, so there's a queue. Luckily, Brunch & Cake is a fast-paced place, so you'll rarely have to wait in line for long.

The combination of good – and mostly organic – ingredients, prepared with care and served beautifully on wooden platters, has made brunch at Brunch and Cake the most popular in town. The brunch is so colourful and inviting that it's also the most shared brunch on Instagram from Barcelona.

I tested a brunch menu with sugar-free banana bread, avocado, homemade muesli and a variety of fruits and orange juice. It tasted fantastic, and there was more than enough of the good stuff on the big wooden platter.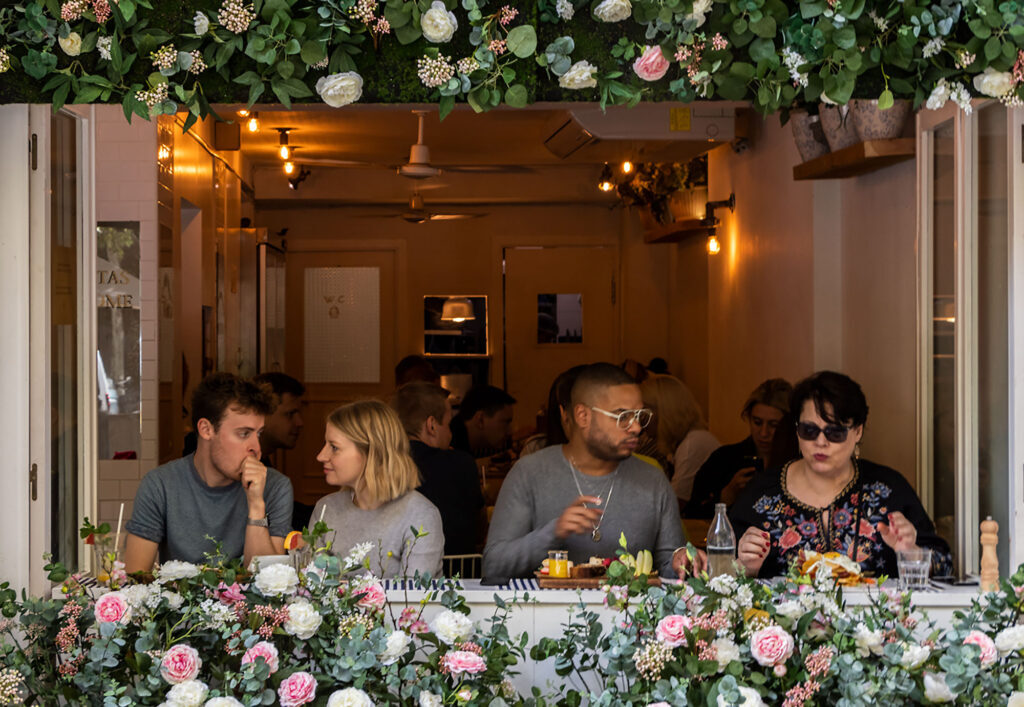 For a more protein-packed brunch, choose from bagels with eggs, salmon and avocado or sandwiches or tortillas with chicken. The menu also includes protein salad, vegetarian burger and paleo toast. Brunch & Cake also has a nice selection of freshly squeezed juices, and the coffee is organic and really good.

You can enjoy your brunch inside the café, including seats in the window, or on the terrace.

Brunch & Cake, Carrer d'Enric Granados 19

2. Green brunch at Teresa's
When I feel like a delicious and healthy brunch in Barcelona, I usually have it at Flax & Kale in Barcelona's Raval district. The restaurant is run by Teresa, who has several cafes and restaurants in the city with a focus on healthy food.
She serves flexitarian food, where 80 percent of the food is plant-based and 20 percent is fish.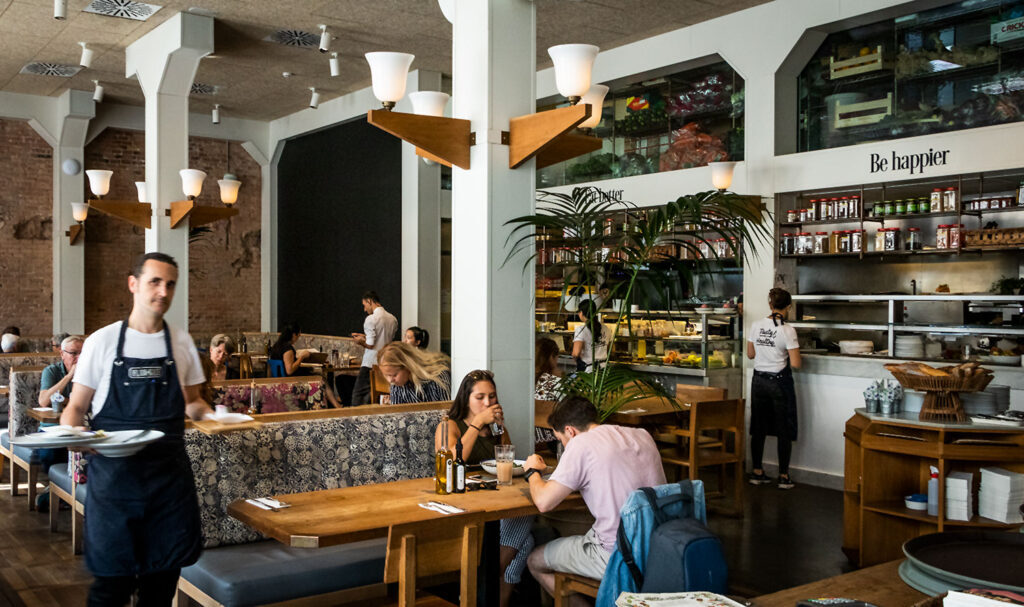 The restaurant is on two floors, and they are brightly decorated with wooden tables and dark blue splashes of colour and floral textiles. On the ground floor, tables are arranged around an open kitchen.
Flax & Cale only offers a brunch menu on weekends (but the breakfast menu on weekdays is pretty much the same). Choose from healthy and savoury pancakes, bagels with plant-based eggs and either bacon or vegetables, fruit salad, a selection of bowls, yoghurt, chia porridge and healthy cakes. I love Teresa's salads, so I often choose my brunch from the lunch menu, which can be ordered from 12 noon.
The map also gives you a good overview of the gluten, lactose and fish content of each dish.

Flax & Kale, Carrer dels Tallers 74B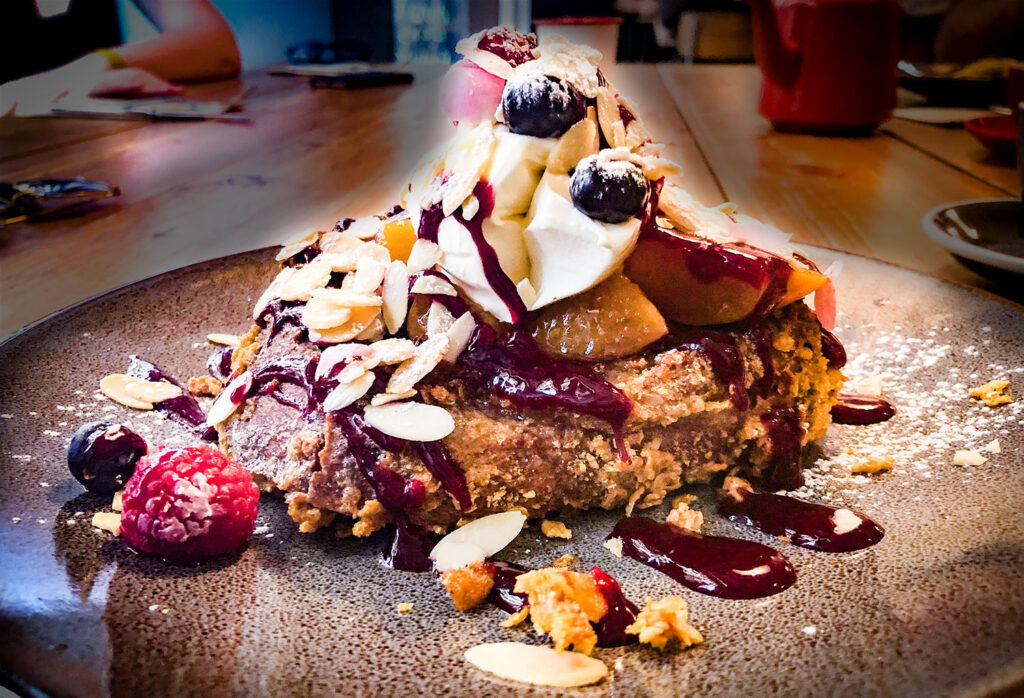 3. Barcelona's best French toast
In the heart of the Raval district, Barcelona's most sought-after French toast is served at the hip café and restaurant Carvelle. I'm not as fond of sweet breakfasts as the Spanish, but I had to try the French toast that the whole city is talking about. And Caravelle's version of the cinnamon-spiced bread lives up to its reputation. It's sweet without being overpowering, served with caramelised apples, mascarpone, fruit coulis and fresh fruit. There's no room in your stomach for anything else, so you've eaten your way through this delicious dish.

Caravelle also has yogurt with homemade muesli, Moroccan-style baked eggs (also recommended), corn fries with poached eggs, chia bowl, muffin and toast. There's also good coffee and a nice selection of teas, including matcha.
Be prepared for a queue when you arrive. You will be put on the waiting list at the door. When available, you'll either be directed to a large long table, a seat on the windowsill, at the bar or at one of the small tables. If you want to choose where to sit, book a table well in advance.
Caravelle, Carrer del Pintor Fortuny 31

4. Egg Benedict in the cosy square of El Born
Alsur Café has a couple of cafes in town. My favourite is located in one of the cosy squares of El Born. Here you can sit on the terrace and study dog walkers, elderly ladies on a shopping spree, couples in love and tourists while you enjoy your brunch. Alternatively, there is plenty of space inside the cosy premises.

My favourite from Alsur's brunch menu is the protein-rich and very filling Egg Benedict with spinach and either bacon or salmon on the side. Spaniards are generally not fond of crispy bacon. They prefer it soft and medium rare. Alsur is the exception. Here the bacon is crisp and well done.
Portions are generous at Alsur Café, whose brunch menu also offers a nice selection of waffles and pancakes (including red velvet and carrot) with either sweet or sour, and toast. Also try one of Alsur's delicious brunchtails (cocktails created for brunch) or moktails (without alcohol), which are also delicious for brunch.

Alsur Café (El Born), Plaça de Sant Cugat 1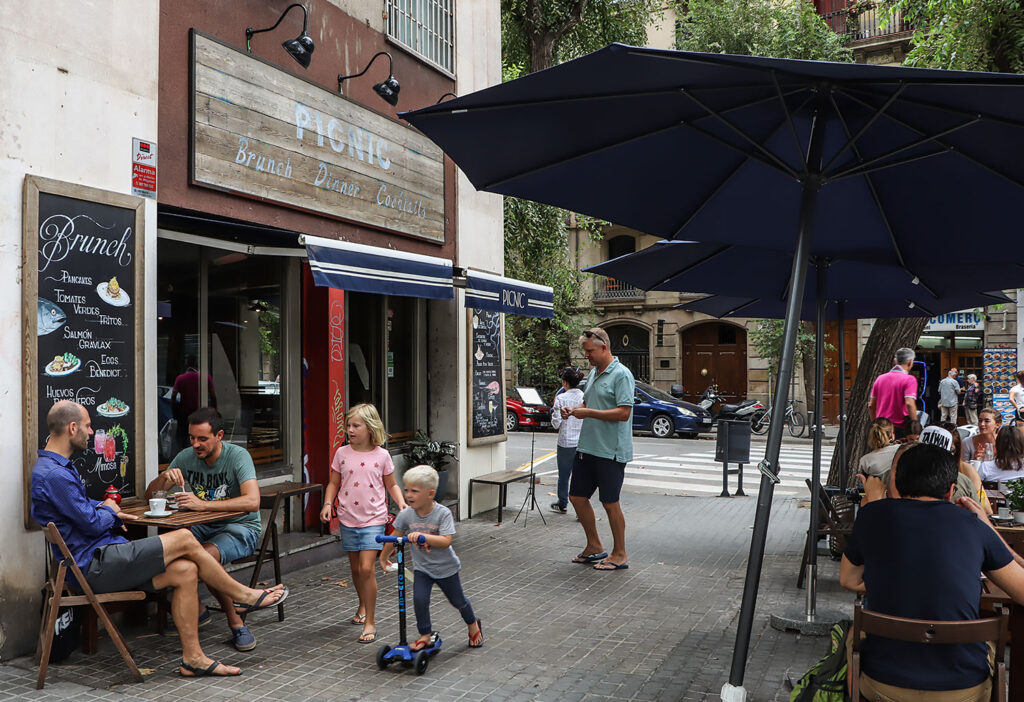 5. Fried green tomatoes at Ciutadella Park
A large, raw wooden sign with a white logo marks the facade of the charming and unpretentious café Picnic, which is located on a corner, right next to Ciutadella Park. The decor is cosy and informal, with wooden tables and retro-style iron chairs, and the food is simple and good.

Picnic's most popular breakfast and brunch dish is fried green tomatoes, and it's a must to try them if you happen to drop by. The tangy tomatoes have bite, and play well against the slightly fatty fritter and feta cheese and a fresh salsa that accompanies.

The brunch menu also includes pancakes, French toast, salmon sandwiches, Italian sausage and Egg Benedict. Picnic is among the popular places to eat brunch in Barcelona at the weekend, so expect to queue or reserve a table in advance.
Picnic, Carrer del Comerç 1