Where to eat tapas in Barcelona? The city has a huge selection of tapas bars with an equally varied selection, so it can be hard to choose. Here's a guide to some of the best tapas bars in Barcelona that are worth visiting more than once.
Bar Cañete
Located in a side street of Las Ramblas, close to the Teatre del Liceu, the family-run Cañete Barra y Mantel consists of 2 rooms: Barra, which serves modern versions of classic tapas, and Mantel, which serves bistro dishes in a more intimate and refined setting. Cañete Barra is, according to my local acquaintance Mercedes, the place where the locals prefer to eat their mussels, and seats are scarce.
Sit at the bar where you can watch the chefs at work in the open kitchen. It is a pleasure to watch them conjure up the dishes with perfectionist care at high speed, while at the same time there is plenty of room for collegial humour. All seafood is fresh from local markets and seasonal vegetables from local farmers.
The mussels are as good as their reputation and they are a must. Also try the delicious garlic travels on a bed of sea salt or a tuna steak. Meat lovers must try Cañete's steak tartare. The raw, tender and well-seasoned steak sends tatar lovers straight to tatar heaven.
The service is exceptional. The waiters are attentive, quick and eminent at creating a good atmosphere and lots of laughter among the guests, without it becoming too pretentious.
Cañete
Carrer de la Unió 17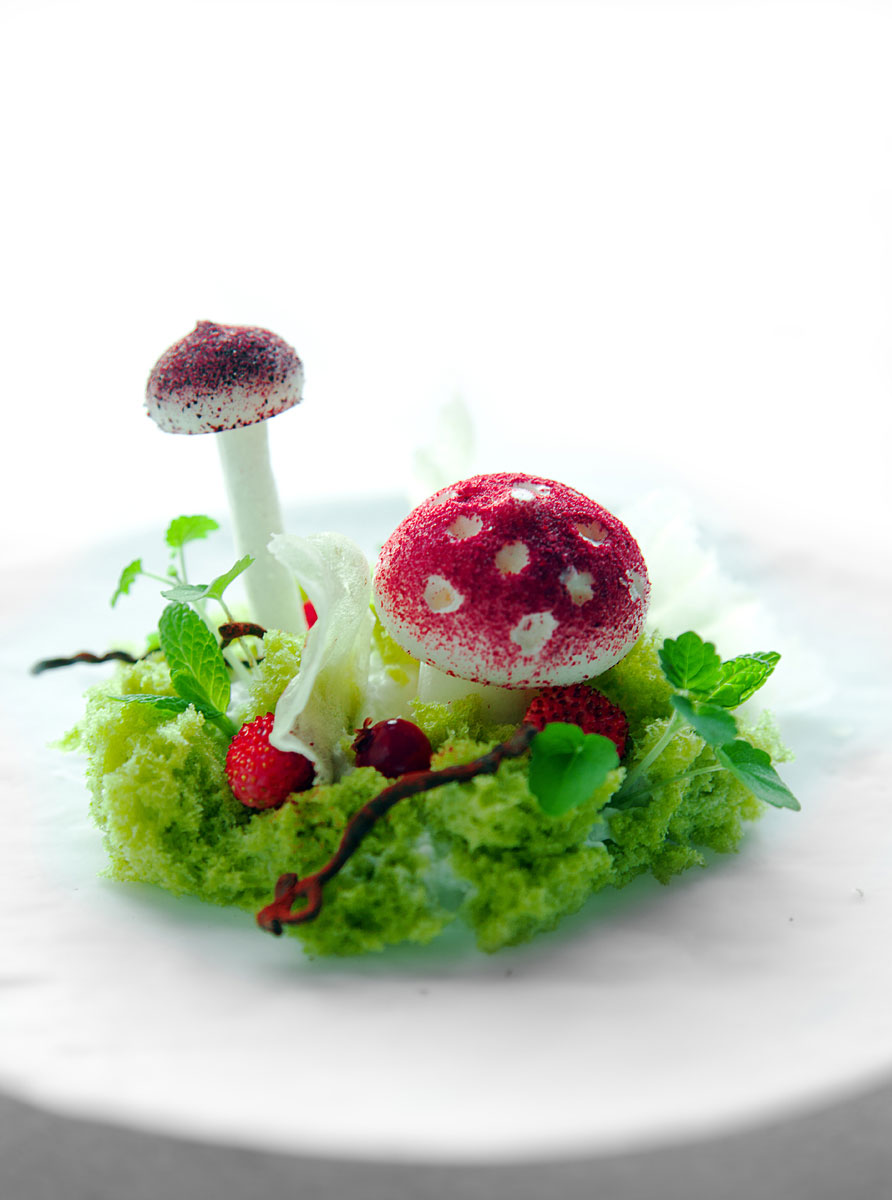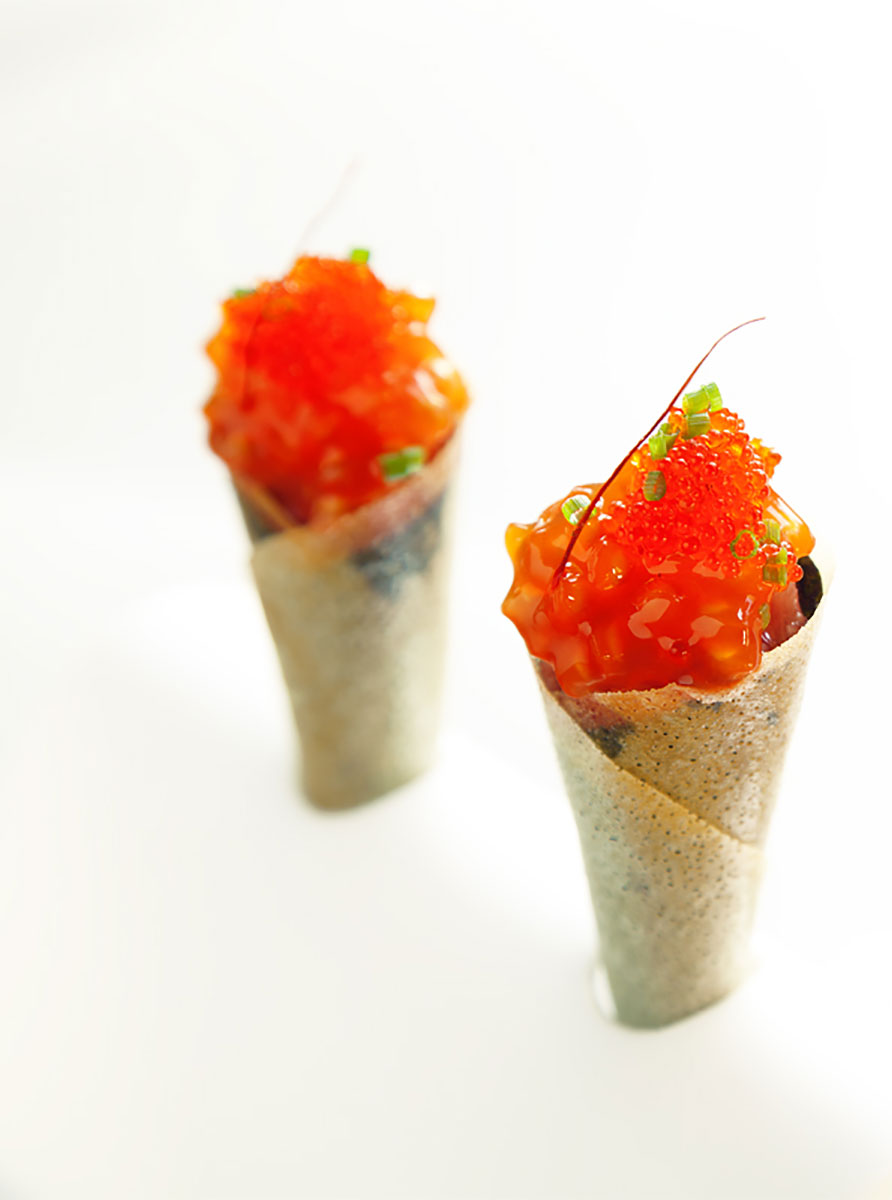 Tickets
Tickets is run by the former chef of elBulli, Ferran Adrià and his brother Albert. Where the closed elBulli stood for fine dining, Tickets is unpretentious and relaxed. One of Barcelona's hippest tapas bars, it's decorated with inspiration from theatre, cabaret and circus. Here you can dine in a magically staged world of crazy features, colourful lamps and a cotton candy machine. The decor pays homage to the Avinguda del Paral-lel, once a Broadway of theatres, cabarets and shows.
The tapas of the Adrià brothers in Tickets are classics reinterpreted according to the motto that food should also be a theatrical interpretation and fun to eat. It is prepared in 5 different food and drink stations, each with a theme such as La Presumida (seafood, oysters and charcuterie), El Garatge (meat and tomato dishes) and La Dolca (desserts).
The food is full of surprises and a feast for the eyes. The waiters serve it wearing a reinterpretation of ticket inspector uniforms.
Try the crispy airbaguette, which is Iberian ham rolled around a bread stick. A simple and elegant interpretation of the classic tapas. A must is Tickets mini-airbags with manchego cheese and nut oil pearls, which are highly addictive.
The desserts are magical. El Bosque animado is an enchanting mix of meringue mushrooms, pistachio mushrooms and wild strawberries with coconut. The normally deadly mushrooms in the Tickets version are crispy and airy and melt in your mouth. If you order ice cream, it is delivered from a trolley with a small bell.
If you're bringing children, order the snack tree, El árbol del Tickets. It is served in a herb pot with branches, from which hang fine candyfloss clouds with berries and mint.
You can book online up to 3 months in advance, and you'll need to be quick as it fills up in minutes.
Tickets
Avinguda del Paral-lel 164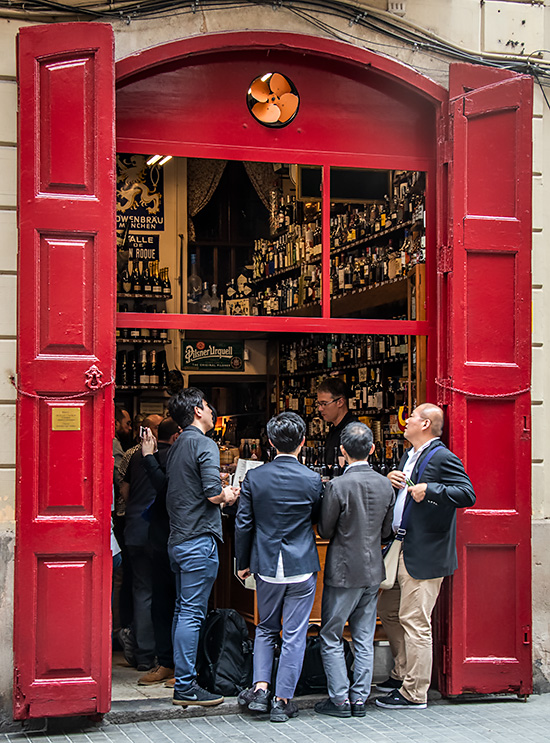 Quimet & Quimet
People often stand like herring in a barrel at the little tapas bar behind the red wooden doors in El Poble Sec. Since it opened in 1914, Quimet & Quimet has enjoyed a reputation as one of Barcelona's best tapas bars.
Behind the large steel bar, the walls are lined with metres of shelves with wine, beer and spirits. There's also plenty of canned fish, seafood and meat. The latter are among the house specialities, and they are of a completely different quality to those you know from the supermarkets.
There are only a few seats, so you'll have to eat your tapas the Spanish way – standing up. The tapas menu consists of around 30 tapas and montaditos (tapas on bread), and it can be hard to choose. Salmon with truffle honey and yoghurt, baby squid (chiperones), mussels and anchovies with baked red pepper, tomato relish and olives and artichokes are some of the bestsellers, and if you like cheese, try the Asturian blue cheese, cabrales, with tomato or brie.
Quimet & Quimet, Carrer del Poeta Cabanyes 25
Tapas 24
Located in the Eixample district, Tapas 24 is one of the most popular tapas bars in Barcelona and the little sister of Michelin restaurant Comerç 24. Tapas 24 is acclaimed worldwide and is run by chef Carles Abellan, who previously worked at the world famous elBulli.
Tapas 24 serves delicious classic Catalan tapas with a modern twist. The small basement room is always packed and you shouldn't expect to eat in peace and quiet. Tapas 24 also has a few tables outside.
The menu is painted on the glass facade in beautiful association with happy shrimp. The delicate tapas are refined and intense in flavour. I love the little triangular bikini sandwiches with ham, cheese and truffle filling. Taste Ceviche de corvina. In a bowl with ice, paper-thin slices of cod are served on a bed of lettuce and topped with fresh chilli and onions. A really delicate and fresh dish. The fatter, creamy potato croquette, La Bomba de la Barceloneta, with beef filling and aioli on top is also a hit.
For dessert, the chocolate mousse floating on olive oil with a sprinkle of sea salt is a must every time I dine at Tapas 24. The intense dark chocolate tastes wonderful with the salt and olive oil.
You can't book a table, so avoid the worst queues at Spanish dining times.

Tapas 24
Carrer de la Diputació 269
Pinotxo
Located on the Mercat de la Boqueria on Las Rambla, Bar Pinotxo is the best tapas bar in the famous market. Tapas are served by the dozen and the owner, Juanito Bayen, is an institution in his own right. Barcelona's legendary chef Ferran Adià comes here for tapas, and Woody Allen has been here too. If you want to try one of the delicious, typically Catalan tapas, be patient at the bar. On the other hand, it is a pleasure when you finally get your cold glass of cava and your tapa.
Pinotxo has no menu, so ask about the specials of the day. You can see several of the dishes in the bar. Pinotxo's popular dish, squid with white beans (Chipirones con Judiás), tastes fantastic, and it's one of the dishes Adrià claims he prefers to enjoy at Juanito's. Also try the Catalan chickpea speciality, Garbanzos, which is really tasty. Pinotxo also has several different stews with veal, cod and – if you're brave – veal belly, as well as classics like grilled prawns, gazpacho, cockles and grilled peppers with salt.

You'll find Pinotxo to the right of Mercat de la Bouqeria's main entrance.
Bar Pinotxo
Carrer la Rambla 89
La Cova Fumada
Run by the same family for generations, you'll find this tapas bar in the heart of the old Barceloneta district. The queue is always long at lunchtime, and as there's no sign at the small bar, that's the one you'll need to indicate you've found the right place. Here you'll find simple, tasty tapas with no frills. The focus is on fresh ingredients.
The sardines, octopus and artichokes are particularly popular and worth going for. Try also the fresh mussels with aioli.
La Cova Fumada resembles most of all a busy canteen. The staff take orders and serve the food, prepared in the small open kitchen, at a fast pace. There's no menu and the waiters don't speak English, so if you don't speak Spanish, you'll have to point or find the right Spanish glosses for the food before ordering.
Stay far away from the wine. La Cova Fumada has only one kind of wine, bottled from the barrel, but it tastes terrible. The choice of wine is a relic of the grandfather's time behind the counter, but just that tradition, does not count on the plus side. Drink a local beer or water instead.
La Cova Fumada
Carrer del Baluart 56
Sucursal Aceitera
Sucursal Aceitera is housed in a former olive oil production facility and makes a point of preserving history. The restaurant has a view of the old oil mills through the floor and serves a selection of quality oils in the dishes, including a delicious Andalusian cheese in oil.
Most of the ingredients are from the restaurant's own garden, so the dishes vary according to the season, and ecology is the focus. Choose from classic or more sophisticated tapas, or try the canneloni with oxtail, muffin with octopus or smoked cod with egg and sun-dried tomato. On the wine list you will find few, but well-chosen local wines.
Sucursal Aceitera, Count Borell 36
Bar Ceta Pulperia
In Barcelona's El Born district, Bar Ceta Pulperia offers some of the best squid in town. A huge bar takes centre stage in the bright room with wooden tables and chairs, and you can also dine outside on the terrace.
The owners are from Galicia and the bar's version of fresh, marinated octopus is well worth a visit. The menu also includes classics such as pimientos del padrón (small grilled green peppers), mussels, patata bravas (fried potatoes with spicy sauce), marinated anchovies, shrimp in garlic, ham and manchego cheese.
The portions are very generous, so it is obvious to share the dishes if you are several together.
Bar Ceta Pulperia, Carrer de Simó Oller 3