Skal din is i vaffel, bæger eller retroglas? Og skal den være gourmet, klassisk eller økologisk? Her får du en guide til de bedste is i Barcelona.
"I scream, you scream, we all scream for Ice Cream". The line from Jim Jarmush's cult film Down by Low is tailor-made for Barcelona on a hot summer's day, when ice cream is served in abundance at the city's many ice cream parlours. You don't have to walk many metres before you run into an ice bar, but the quality is variable. Don't waste your time eating bad ice cream, so here's a guide to the best ice cream in Barcelona.
1. Gourmet ice cream with a celebrity chef
Barcelona's best gourmet ice cream is available at Rocambolesc, located in the middle of the Rambla. Owned by the Roca brothers behind Girona's renowned Michelin restaurant, El Cellar de Can Roca, Rocambolesc in Barcelona makes creative versions of ice cream that taste like the angels singing.
The delicious ice cream comes in a few flavours, and the selection changes regularly. There's always vanilla and chocolate on the ice cream menu, as well as ex apple, dulce de leche, blueberry/lemon and mandarin. The ice cream is available in a cup or a brioche (panet), which is topped with homemade strawberry or cherry candy, Italian meringue, small pieces of cake, caramel or chocolate. You can choose your own topping, but Rocambolesc will gladly recommend suitable toppings for the current ice cream variants.
Rocambolesc also has a selection of imaginative popsicles that kids will love. Try a chocolate sorbet with oil and salt, shaped like Columbus' finger, or a strawberry sorbet with rose water, shaped like a nose.
Rocambolesc, La Rambla 51-59
2. Retro ice cream in the Sant Antoni district
For an old-school sweet frozen custard, Barcelona's best ice cream is available at Sirvent in Barcelona's hip Sant Antoni district. The line is always long in front of the ice cream parlour, which looks like a cross between an American diner and a grill bar with a long metal counter at its centre. The ladies behind the counter are wearing pink kits, and as well as selling ice cream, they're also very keen on the Valencian drink, horchata, and the Spanish nougat, tourron.
Sirvent has been stirring ice cream for 100 years and it comes in classic flavours like vanilla, strawberry, pistachio and chocolate as well as modern flavours with yoghurt. It tastes sweet and of childhood. Try a genuine retro ice cream served in scoops in tall glasses with whipped cream, chocolate sauce and pickled cherries on top. Alternatively, you can have a scoop or two of ice cream in a waffle or cup.
Orxateria Sirvent, Carrer de Parlament 56

3. Italian classic with love
In Barcelona's Eixample district, DeLaCream is located in the most charming street of the neighbourhood. The owner of the ice cream parlour is Italian, and his gelato is made from high-quality natural ingredients and with a lot of love for old craft traditions. He does it so well that his ice cream is a must on the list of Barcelona's best ice cream.
It comes in several classic flavours, including mascarpone, which is my favourite, and one of its qualities is that it's not too sweet.
You can enjoy the ice cream in the café or on the terrace, where popular homemade cakes and sweets are also served.
DeLaCrem, Carrer d'Enric Granados, 15

4. A hip, green ice cream
At OGGI, Italian ice cream is also made from natural, organic ingredients and is available with and without sugar and in vegan varieties. OGGI serves Barcelona's best ice cream with green herbs. It consists of a vanilla cream with mint and basil and tastes really fresh and of more.
The modern ice-cream parlour also makes Italian variants, including tiramisu, ricotta with orange and chocolate, and mascarpone with nuts, as well as several traditional flavours.
OGGI Gelato, Carrer Comtal 15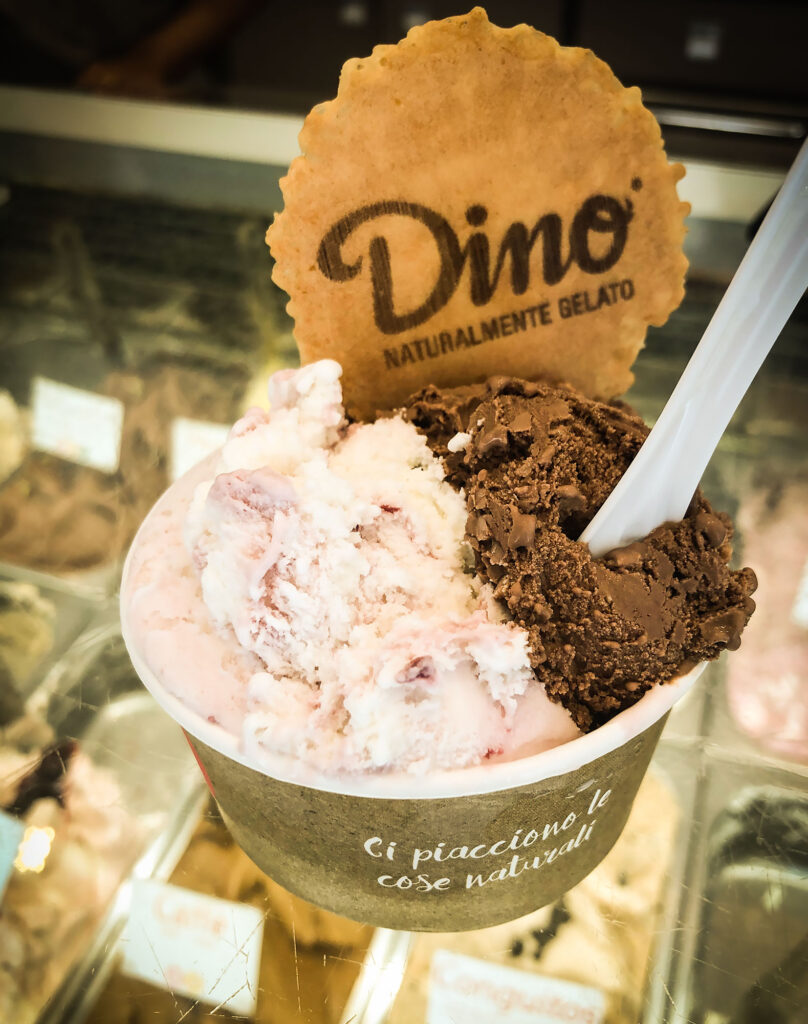 5. Italian ice in a sea of flavours
Dino is a chain of ice cream parlours with several locations around Barcelona, including near Barceloneta beach. Dino has been included in the guide to the best ice cream in Barcelona because it's great to be able to drop in for a delicious cold ice cream after soaking up the sun on the beach.
Dino has over 50 ice cream flavours, including mango, lemon and raspberry sorbets, as well as coffee, amarena cherry, after eight, cinnamon, caramel, fig and rum. You can get the ice cream in a cup or waffle or as a dessert with pancakes. Dino also has a small selection of organic and sugar-free ice cream.
Dino, Carrer Pepe Rubianes 1
More food guides to Barcelona
Want more tips on where to treat your palate in Barcelona?
You can find more inspiration in my guides to Barcelona's best tapas bars, restaurants and brunch spots. Also read where to drink great craft beers.