Spaniards gather and celebrate Christmas in Madrid with magical Christmas lights, Christmas markets, nativity plays and Christmas treats. And then there's the Christmas shopping and the Christmas lottery.
In Madrid's central square, Puerta del Sol, the city's answer to Copenhagen's Town Hall Square, the bright blue Christmas tree welcomes me as I arrive in Madrid, where Christmas has hit the Spanish capital in earnest.
– The tree gets taller and taller every year, laughs a young man next to me. Maybe he's right. I don't know, because this is the first time I'm staying in Madrid in December. I am overwhelmed by how nicely the city is dressed in Christmas lights and not least, HOW many people there are in the city. We stand around the Christmas tree like herring in a barrel. Spaniards from even the farthest corners of the country have, like me, come to Madrid to get into the real Spanish Christmas spirit.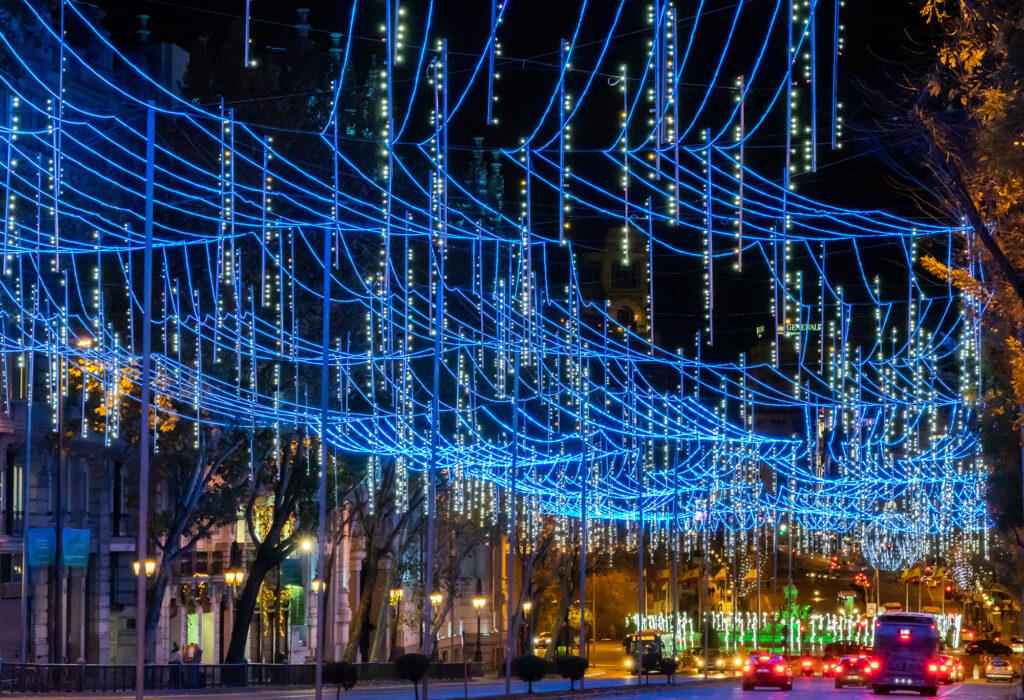 Later that evening, I hop on the "Navilus" Christmas bus at Plaza de Colón in the Salamanca district, which is one of the most popular Christmas activities. In a double-decker, the bus will take you after dark around the city's most iconic sites, which are dressed in the most beautiful Christmas lights, so we can see it all from above. We drive past the city gate, Puerta Alcalá, through Alcalá street, one of the most beautiful in the city. Here, blue light hangs like a lively waterfall over the cars.
We continue towards Plaza de Cibeles, where the Cibeles fountain is dressed in flower-like lights.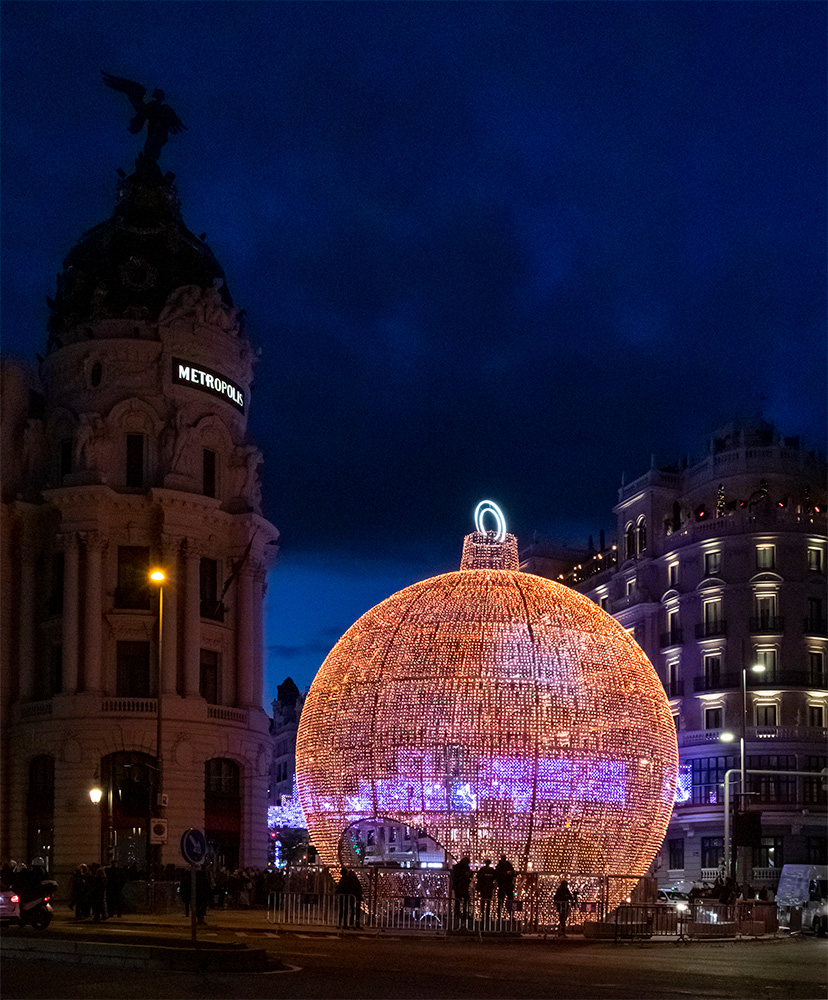 The highlight of the Christmas lights bus tour is the giant Christmas ball at Gran Vía and the Metropolis building, which glitters with its constantly changing colourful lights. The lights are also regularly accompanied by Christmas music, ranging from old to modern Christmas classics. The Christmas bus is especially magical for the many children who stay up late. Seeing the lights in their eyes as Madrid's magical Christmas lights pass by is worth the trip. No wonder tickets for the Christmas bus sold out within days of going on sale.
Exploring Madrid's Christmas markets
No Christmas in Madrid is complete without a visit to one of the city's many Christmas markets. The Christmas market in Plaza Mayor is a must. The red wooden stalls are lined up around a large Christmas tree with white lights in the historic square. Most of the stalls are packed with religious figures for the nativity play, which is obligatory in most Spanish homes.
– More people come here every year to buy new ones for their nativity sets, one of the stallholders tells me as I browse through the many figures, which I would find really hard to choose from if I were just buying one or two for my nativity set.
– In some homes, the creepy-crawlies take up most of the living room because they just keep getting bigger every year, laughs the stallholder.
In addition to Nativity figures, you can also buy New Year's treats like a broken finger, fart pillows, hats and glasses at the stalls. Some stalls are also inspired by the northern European Christmas. So they sell Christmas decorations and fir trees, which are not a traditional feature of a Spanish Christmas.

Crawlers at the town hall
After studying thousands of nativity figures at the Christmas market, I must of course see one of the many nativity scenes (Belén in Spanish), which abound in the city's public buildings and churches.
I go to the Town Hall in Plaza de Cibeles, which, together with the Royal Palace, has one of the city's biggest and most important nativity scenes. The one-way ticket is collected at a hatch at the entrance, and it's free, and then I walk in a long line, along with all the other Christmas-motivated locals, around the nativity scene and explore a universe about 20 metres long.
The Creepy Crawlies is an impressive journey into the stories of Jesus' birth and all the stories connected to it.
The characters were created by master craftsman José Luis Mayo Lebrija, and scenes describing the setting of the story have also been added. The materials include sand, cork and moss, and there is natural water in the rivers. A very beautiful and impressive nativity scene, a must-see when in Madrid in December.

Try your luck and win the Christmas lottery
The great Christmas lottery El Gordo has been held since the 19th century and is a very important tradition for Spaniards, including the people of Madrid. Every family and workplace buys at least one lottery ticket
The winners of the big Christmas lottery will be drawn on 22 December by students from the San Idefonso School at the Teatro Real in Madrid. In 2019, there was €2240 million in the pot.
In Madrid, buying your lottery ticket at Doña Manolita, located near the Puerta del Sol, is particularly prestigious. The rain is pouring down as I pass, but the locals were still queuing all the way around the block and down the next side street to the parallel street behind the kiosk, despite getting dripping wet.
Doña Manolita is Madrid's oldest lottery kiosk. It was opened by Doña Manolita (1879 – 1951) in 1904 at a different address than it is today.

Doña Manolita was not just a strong female entrepreneur. She is also one of the lottery kiosks in the whole of Spain that has sold lottery tickets with the most prizes. That's why the kiosk is an icon today. And although there are plenty of Doña Manolita lottery tickets on the street, myth has it that if you want to get lucky, you have to buy it at the kiosk.

Christmas magic in the Botanical Garden
As darkness falls, Madrid's botanical gardens are transformed into a magical Christmas garden. The Christmas Garden Light has been running in London for six years, and has now come to Madrid for the first time in 2019. The trees and plants in the old garden look quite different in all sorts of colours than they normally do when you visit the garden.
Unicorns, human figures and large gates with lights mixed with a multitude of sounds on the garden lawns and in the trees make the place a fairyland for both adults and children. Although some of it is a bit too American for my taste, all in all I think it's great to be able to enjoy the Botanic Garden out of season and study the trees in a completely different light.

Madrid's cornucopia of Christmas confectionery and sweets
The Metropolis building in marzipan, giant confectionery cakes, cookies and marzipan figurines in fine boxes. The bakery chain El Horno de San Onofre has its main branch, La Santiaguesa, on Calle Mayor, and at Christmas time it's a veritable paradise for any sweet tooth.
I particularly love the marzipan, which is made from the queen of almonds, the Marcona almond. Instead of sweating over confectionery and biscuits in the kitchen, the city's housewives buy it all here so they have time to enjoy family time at home and in the city's bars.
Another popular Christmas confection is Turron (nougat), which is produced in a multitude of flavours and wrapped in paper in the fine old shop Casa Mira.
Turron comes in very variable quality, especially if you buy the factory-made, but at Casa Mira my sweet tooth was working overtime, because I was really happy to put the homemade delights in my mouth.

Pitstop at bodega
With my heart full of Christmas cheer and my belly full of sweets, I needed a little spritz to wash it down. Bodega de la Ardosa in the Malasaña district is a popular pit stop on the Christmas tour because they have a really good homemade vermouth. Morning is vermouth time, drop in with the locals at 11am and enjoy the spicy drink with a bowl of olives at the big brown wooden counter in the cosy old bar with brightly coloured tiles on the walls.

Christmas rice on the fork
Seafood is popular with the Spanish family for Christmas dinner, but at Christmas time seats are also at a premium at the world's oldest restaurant, Botín, in Madrid's La Latina district. Botín opened its doors in 1725, and celebrities such as. Hemingway ate dinner.
Botín is known for serving a fantastic roast suckling pig, which is also what Spanish families enjoy at Christmas in the historic restaurant. So much Christmas pork is passed around on plates that Botín has 50 small suckling pigs delivered every day, which are roasted over an open fire in the kitchen.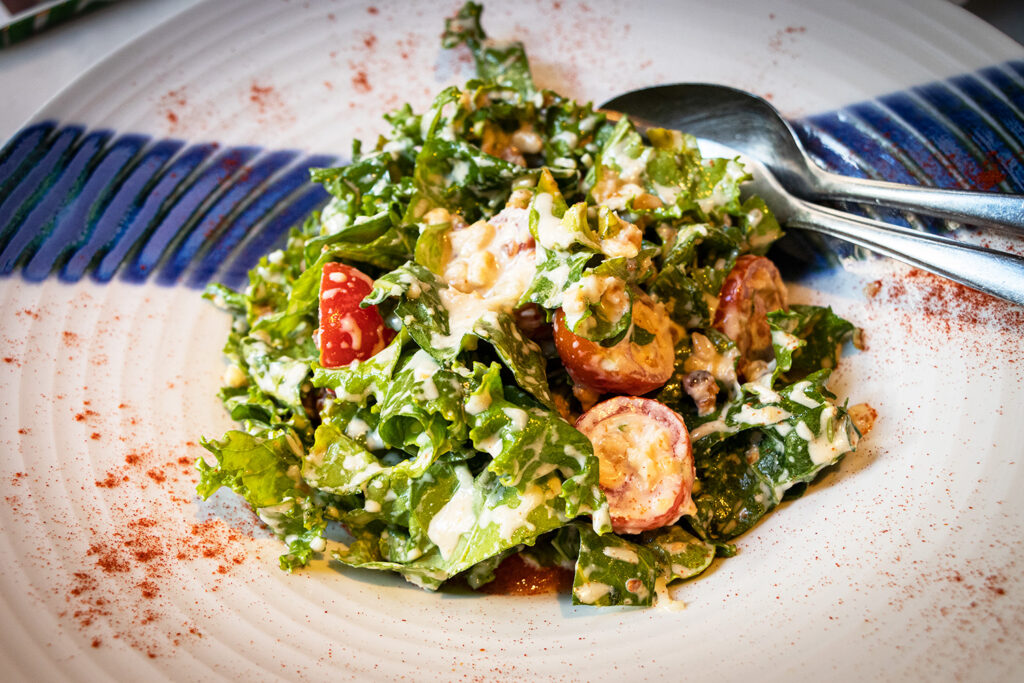 Christmas party at the bars
Like the Danes, the Spanish also have Christmas parties with colleagues, family and friends. However, they do not take place at home or at work. In Madrid, locals wander from bar to bar (some wearing Santa hats) enjoying tapas. Ham is a must at Christmas parties, but Madriders also like to eat modern tapas.
I agreed to have Christmas lunch at the modern Malasaña bar La Fragua de Sebin, where I had, among other things, the best kale salad I've ever tasted. Kale is not a tradition on Spanish Christmas tables, but Spaniards have embraced the new superfood. And when it's served as deliciously as at Fragua de Sebin, you might as well enjoy the fact that it also smells a bit like Danish Christmas in the Spanish capital.

Celebrities in Christmas dance
With my stomach full of Spanish Christmas food, I went with a Spanish friend to visit the insurance company Plus Ultra Seguras, located in Plaza de las Cortes, just opposite the Congress in the city centre. At Christmas, it is a local tradition to visit the house's fine clock, El Carillón.
At 12, 15, 18 and 21, when the clock strikes, five characters come out onto the balcony and perform a short show dance lasting three minutes to the music of the 18 bells. The watch dates from 1993 and depicts the painter Francisco de Goya, the Duchess of Alba with a small dog, King Carlos III, a Madrid Maya and the bullfighter Pedro Romero.
On Christmas and New Year's Eve, the little show is also performed at midnight.

Avant-garde Christmas shopping
Since Madrid is also a wealth of shopping opportunities, I naturally had to do a little Christmas shopping. My choice fell on some slightly different shops.
At Hola Guille, the corners of my mouth lifted in a huge smile that didn't disappear until long after I'd left the shop again. Owned by hip designer and artisan Guille Garcia-Hoz, the shop is filled with avant-garde delights such as jars with dog ears (modelled on his late dog) and ceramic reindeer jewellery.
Guille also has beautiful, modern Christmas decorations in ceramic, including. Davis Bowie-lyn. Being the die-hard Bowie fan that I am, I naturally had a pink lightning bolt in my bag. It will adorn my living room all year round. I don't want it to be taken only until Christmas.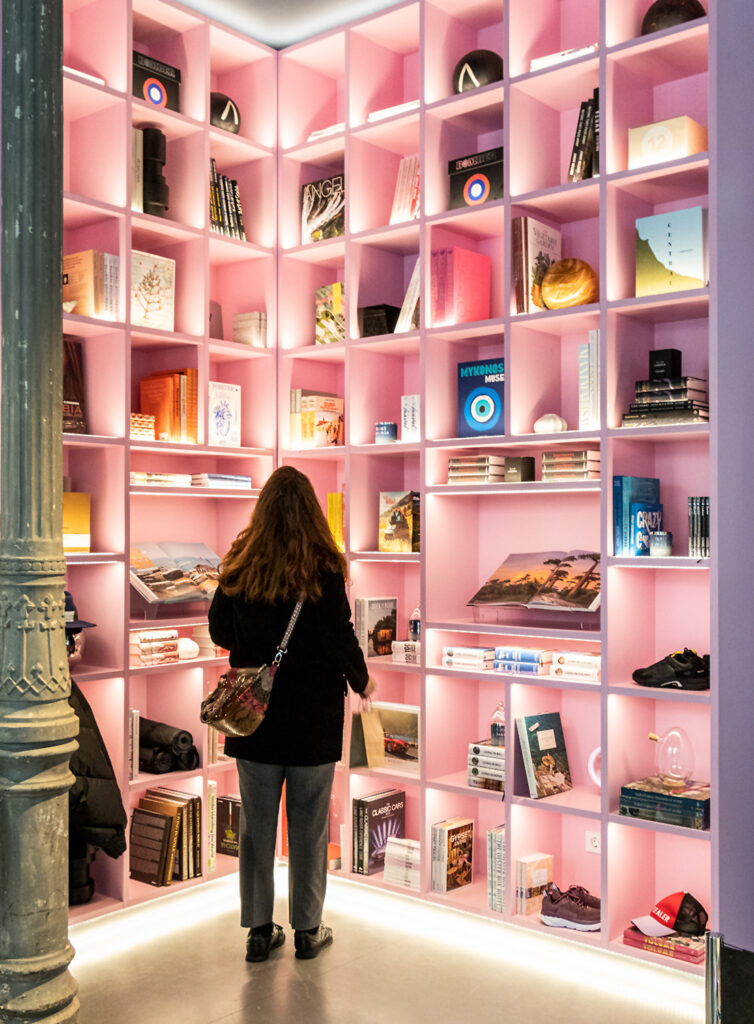 Designer clothes for him and her
LAMARCA is a concept store in the fashionable street Calle Fernando VI in the Alonso Martínez district, which consists of a café and a shop. The shop, Lab LAMARCA, has a selection of exciting and innovative clothing (including yoga clothes), accessories and gadgets for modern and active women and men. Here are also some skin care products, including. organic from Danish Rudolph Care.
I love LAMARCA's selection of designers who are innovative. From unique sweaters to stylish hats. I also love the pink corner with travel and coffee table books, where there is a nice selection of design books for the discerning. Here I found great gift ideas for several of my nearest and dearest.

The Salamanca district decorated for Christmas
When my shopping appetite waned, I continued anyway in Madrid's fashionable Salamanca district because I was recommended to check out their Christmas decorated shops. And I was not disappointed. From high-end designer shops to delis, I could have spent a whole day looking at Christmas shop windows. Serrano Street is particularly worth a visit, and there's plenty of Christmas shopping to be done here too if you've got plenty on your credit card.
If you're a real Christmas nut, you'll be delighted to know that Madrid and the rest of Spain are decked out until 6 January, which is the Spanish "Christmas Eve". Then you can always extend Christmas into the New Year, if you didn't get to Madrid before Christmas Eve.