I tried out a paella workshop at Mi Paella en el Huerto in Valencia, where I learned not only how to make local paella, but also the rituals involved in eating it
The silence is so loud that you can hear a grain of rice fall to the ground as I arrive in the small village of Riola, 36 kilometres outside Valencia. Paella expert Rafael picked me up in Valencia and we drove out to his small, typical Spanish country house, surrounded by fragrant lemon and orange groves and beautiful rice fields.
At Rafael's country house, I'll be having Un dia de la paella (a day of paella) in the company of six tourists. Rafael will teach me how to make a real Valencian paella. This rice dish, made in a large, round metal pan, is associated with ancient, proud traditions. This applies to both the preparation of the dish and the way it is consumed, and I will obviously have to learn more about this when I am in Valencia, where paella originated.
Rice cultivation according to old traditions
Rafael has teamed up with a couple of talented assistants, and Maria starts the day by talking about growing rice, the main crop in the area.
Riola lies on the banks of the Júcar River, whose waters have been used for generations to irrigate the rice fields in the area. The old, traditional irrigation systems are still in use and people from other parts of Spain come here to learn about the optimal cultivation of rice. The irrigation system is now optimised by modern machines and electric pumps, and is monitored and controlled so that water is distributed evenly on different days in Rafael's fields and those of the other rice farmers.
Maria shows us what the rice plants look like before they are harvested. Afterwards we get a tour of the farm. Maria says that most of the ingredients used in an authentic paella can be found in the countryside around the farm. This applies to rice as well as snails and wild rosemary.

A strong sangria goes with paella
After the introduction, Rafael pulls out a surprise. He has decided that as an extra experience we should also learn how to make his sangria. He says it goes perfectly with the paella we're making.
We are provided with red wine and liquor, and Rafael demonstrates how the mixing conditions should be. He is not stingy with the alcohol, and there is both a good skewed cognac, gin and vodka in the red wine.
We taste with great pleasure before putting the cans in the fridge for later. Rafael's kitchen assistant cuts pears, apples and orange pieces for our sangria, which we can put in the jug with ice before drinking it.
Seafood is a mortal sin in a real paella
We are provided with aprons and chef hats, and then we are lined up at Rafael's gas stove with paella pans. Paella is best made with gas, Rafael points out. He also believes that you have to make paella on its own for it to be really good. He challenges the other students on this claim when they are paired up at the flares. However, I am lucky enough to be the sole cook of my paella pan.
"A real paella does NOT contain seafood. It's something invented for the tourists," Rafael says firmly. He then presents the ingredients for the paella we are about to make(find the recipe here), which are laid out on the table:
Rabbit, chicken, different types of beans, tomato, saffron and – of course – rice.
Under Rafael's expert guidance, I get the meat and beans cooked in the right order, and strategically place the ingredients around the edge of the paella pan so that nothing gets over- or undercooked.

Tapas while the paella simmers
The last ingredient to be added to the paella is the rice. And they should not be poured on randomly, but placed in a fine strip in the middle of the pan, just as the layer should have a certain height. During this part of the process, I cheat and let Rafael take over the flame for a short note so I can photograph.
While the paella simmers, we sit down to a well laid table with delicious tapas like tortilla, cheese, homemade almonds, sausage and tomato. We sip tapas and drink good wine, and Rafael introduces us to the traditional, unwritten rules of eating paella.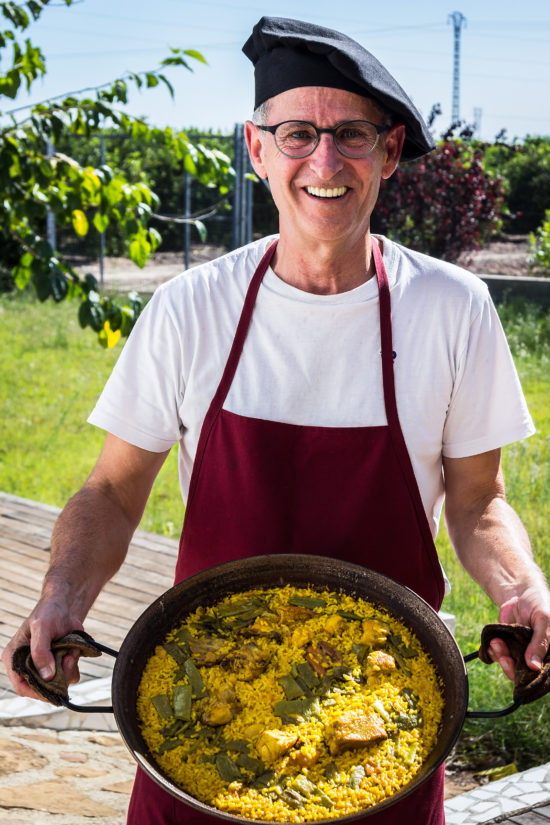 Know the rituals when eating paella
Only the chef may put the paella pan on the table, then the guests choose their seats. It's forbidden to reach across the pan and grab a piece of meat while eating, so space is carefully chosen according to where the tastiest pieces of meat are on the paella.
According to Rafael, eating paella with a knife and fork is unforgivable. It's an impropriety that immediately reveals whether you're a tourist or a native. Paella should be eaten with a spoon. You'll also be given a fork, but it's only for defending your pieces of meat in case someone else at the table tries to sneak onto your side of the paella.
When the tapas, wine and rituals have all been digested, my paella is finished and I'm quite proud of the result. Rafael also seems pleased with his student, as he immediately poses for a photo with my paella.

Joint paella dinner and diploma
We end the day by eating the paellas we have made. Our sangria is chilled and filled with fruit and ice cubes before it is also served. My paella tastes great, but since I'm alone with my portion, I can't finish it. So I'll bring home a doggy bag and have paella leftovers for later. For dessert we have an almond cake that Rafael has baked for us and a Valencian liqueur.
Certified paella chef
The day ends with each of us being handed a certificate stating that we have now learned to make paella and are therefore ambassadors for Valencian paella.
It has been a fun and educational day in a very beautiful place. Rafael and his assistants are energetic, humorous and very patient with their students. At the same time, they enjoy spoiling their guests.
Although I have now learned to make paella, I gladly took another day in the name of paella with Rafael. It's nice, and I got much more insight into the culture of paella and rice farming than I expected.
Mi Paelle en el Huerto
Camí Racó, Riola, València (show on map)