Mallorca's largest city is made up of cosy narrow streets, beautiful architecture, exciting art, charming squares and good food. Here's a travel guide to what's worth seeing in Palma de Mallorca.
1. Palma Cathedral
Palma's giant Roman Catholic cathedral, known as the Cathedral of the Sea, is the city's landmark and main attraction.
The cathedral towers over the city, reflected in the sea of Palma Bay, and is known to have inspired awe throughout history.
Palma Cathedral is built in sandstone in the Gothic style on top of a former main Arabic mosque. Construction began by King Jaume I in 1229, and the 121-metre-long and 55-metre-wide cathedral was completed in 1601. The central nave is 44 metres high and among the tallest in the world. As you walk in, you are overwhelmed by the magical light from the 11.5 m window rose with 1236 stained glass windows.
Spain's iconic architect Antoni Gaudí later left his mark on La Seu. In 1902, Gaudí was hired to restore the cathedral, which had suffered a violent earthquake in 1851. He left the project in 1914 because of a quarrel, but managed to add a wrought-iron canopy over the main altar.
Local artist Miquel Barceló caused a stir among many of the church's fathers and enthusiastic art critics when he presented his ceramic mural The Miraculous Multiplication of Bread and Fish (La milagrosa multiplicación de panes y peces) in one of the chapels in 2007.

Catedral de Mallorca
Plaza Almoina (show on map)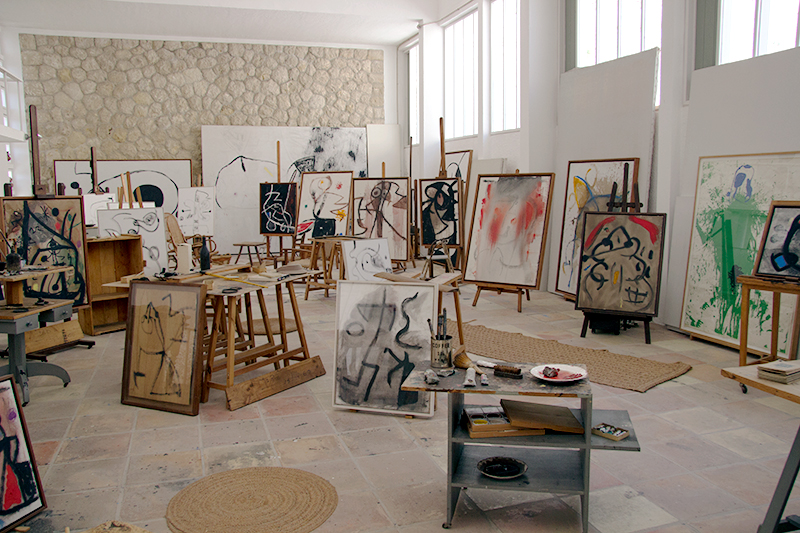 2. Miró Museum and Studio
If you're interested in art, a visit to Joan Miró's museum and especially his studio is a must.
Miró has had a lifelong connection to Mallorca because his grandparents lived there. He settled in Palma in 1956, where the studio was also built, and lived and worked there until his death in 1983.
Miro has said that in this studio – and at the age of 63 – he had enough space for his art for the first time, and it gave him new energy and a zest for work. The 1960s was the most productive period of his career. In addition to the paintings on the easels in the studio, you can also see Miró's graphic workshop and photos of the artist at work.
The museum opened in 1992 and mainly houses works donated by Miró himself. The collection includes paintings, sculptures, ceramics, prints, drawings, documents and part of Miró's personal library.
From the back of the museum there is a fantastic view over the Bay of Palma.
Skip the queue and buy your ticket here. (Advertising link)
Carrer de Saridakis 29 (show on map)
Opening hours: from May to September: Tuesday to Saturday 10-19, Sundays and public holidays 10-15.
From September to April: Tuesday to Saturday 10-18, Sundays and public holidays 10-15.

3. The Arab Baths in Palma
The Arab Baths (Baños Árabes) date from the 10th century and are virtually the only remains of the Arab city of Palma.
The baths were probably part of a nobleman's house. They have 25 arches supported by columns from which light can enter. Notice that each pillar stands out from the others. It is believed that this is because they have been recycled from Roman buildings. The baths were typical meeting and bathing places as they are known in Arab countries.
The baths themselves are quickly seen, but the surrounding garden is worth spending time in. The garden is a lush oasis with fragrant orange trees, wild flowers, palms and cacti. A wonderful place if you need a bit of quiet in the middle of the bustling city. You are welcome to bring food and drinks into the garden, and it's a great place for a picnic.
The baths are close to La Seu Cathedral, in the city's old Jewish quarter. Explore the many small galleries and craft shops in the neighbourhood's narrow streets.
Baños Árabes
Carrer de Serra 7A 7 (show on map)
Open daily 9.30 – 18.00 throughout the year.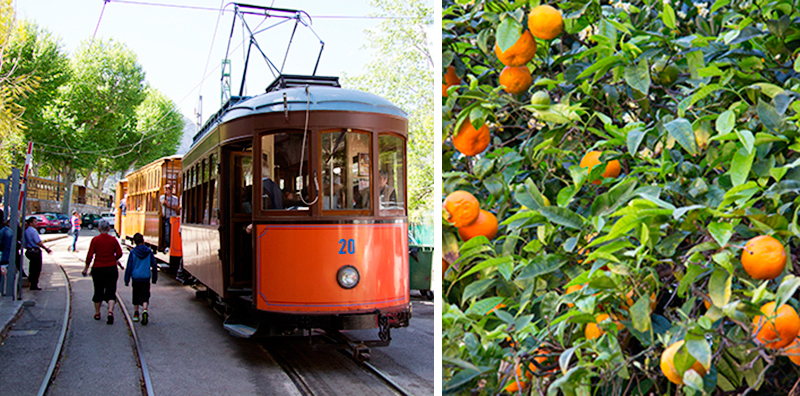 4. The veteran train to Sóller
You can buy the famous, tasty lemons and oranges of Sóller everywhere in Palma, and both children and adults love the ride on the vintage train from Palma to the citrus fruit's hometown. The train has been running between Palma and Sóller since 1912, carrying both passengers and goods.
On the 27.3km trip, the train bumps through 13 tunnels and crosses several bridges along the Sierra de Alfabia mountain range. Along the way it passes through lemon and orange groves and stops at small stations. At the stop just before the end, you get a picturesque view of Sóller, which lies in the valley.
Take a look at the beautiful Sóller Station from 1606, which has a nice little museum dedicated to Picasso and Miró. Here you'll find more paintings and lithographs by Miró and ceramics by Picasso. Admission is free.
In Sóller you can sip freshly squeezed orange juice in the town's cosy, popular square, explore the small side streets where you can also shop for the town's delicacies and crafts. Sóller is a popular tourist town for families with children, but despite the many tourists, the town is really charming.
From the station, you can also take the tram to Port de Sóller, which has a lovely sandy beach where you can take a dip and eat at one of the many restaurants along the seafront. Try freshly caught Sóller prawns, for example, which are not cheap but a delicate taste experience and well worth the money.
Ferrocaril de Sóller
Carrer Eusebi Estada 1 (show on map)
The train leaves Palma daily (April to October) at 10.10, 10.50, 12.15, 13.30, 15.10 and 19.30, (February, March, November and December) at 9.00, 10.50, 12.15, 14.00 and 18.30.

5. Santa Catalina district
Palma's old fishing quarter, Santa Catalina, close to the sea, is one of the nicest areas in the city. The district is cosmopolitan and a culinary meeting place with good seafood restaurants.
The architecture is a chapter in itself. Old, traditional Mallorcan houses with balconies or small gardens mix with simple, modernist houses from the early 19th century. As well as being residential, the buildings also house a colourful selection of good restaurants, cafés and small shops.
I can spend hours wandering around the neighbourhood, enjoying the mix of stylish modernist houses and worn-out old homes with balconies crammed with flowers, plants and birdcages. Take a siesta at one of the neighbourhood cafés, where you'll really get to grips with the neighbourhood's vibrant folk life.
Santa Catalina (show on map)

6. Go to market
Giant sun-ripened tomatoes, lemons and oranges from Sóller, sausages, ham, cheese, artichokes. Palma's largest and most popular market, Mercat De L'olivar, has it all. It's an experience to browse the market and buy delicacies.
If you want to experience the local atmosphere, get up early. The local housewives come early and fill the bags. If you need a break, one of the city's best bakeries, Fibonacci, will tempt you with sandwiches, cakes and coffee.
Also check out the city's oldest market, Mercat de Santa Catalina, in the Santa Catalina district. It sells fish, meat, flowers, delicacies, fruit and vegetables. There is also a small selection of good tapas bars.
Mercat De L'olivar
Plaça de l'Olivar 4 (show on map)
Open: Monday to Saturday 7.00 – 14.30 and Friday 14.30 – 20.oo.
Mercat de Santa Catalina
Plaça Navegació, s/n (show on map)
Open: Monday to Friday 8.00-14.00 and 17.00-20.00, Saturday 8.00-14.00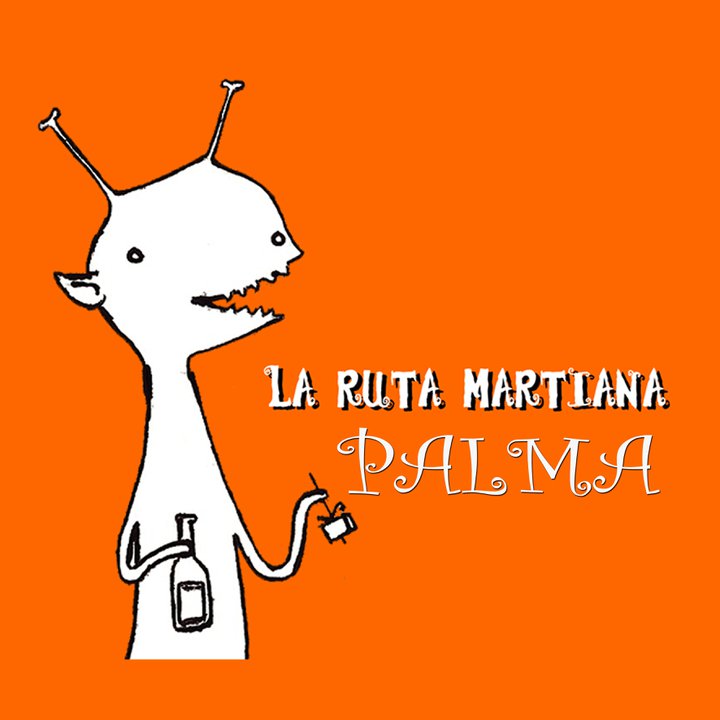 7. Go on a tapas crawl
Every Tuesday you can zigzag your way through Palma's tapas route, La Ruta Martiana, where just €2 will get you a tapa and a small glass of beer or wine. It's a great opportunity to sample what the different bars have to offer and explore the area.
12 bars in Palma's old town around Plaza Major take part in La Ruta Martiana.
Most bars offer a choice of pintxos (small sandwiches with sausage, tortilla, prawns, salmon, vegetables or cheese).
Ca La Seu is my favourite bar. It is located in a former basket shop in a 500 year old room. The decor is a mix of new and old and shows that the bar is used by many guests every day. Here you'll find a great local atmosphere and delicious tapas.
The Santa Catalina district also has its own pintxos route, inspired by the Martiana tapas route. Every Thursday, you can get a pintxos and a small glass of beer or wine for €2 in one of the 16 participating bars.
See the list of bars and read more about:
La Ruta Martiana
Every Tuesday from 7.30pm to 1am.

Santa Catapintxos
Every Thursday from 20 to 23.30
8. Shopping around Plaza Mayor
The streets around the central Plaza Mayor are packed with shopping opportunities, from cheap shoe shops to local delis and expensive designer boutiques.
Walk from Plaza Major down Sant Miquel Street towards Mercat de O'livar and you'll find plenty of small shoe and clothes shops, as well as delicatessens selling delicious edible souvenirs such as Mallorcan sea salt, Flor de Sal, with flavours like olives and Mediterranean spices, and jams, vinegars and oils made with lemons and oranges from Sóller.
The street is also home to the big Spanish flagship stores, Desigual and Camper. There are also plenty of street vendors selling paintings and jewellery.
If you walk from Plaza Mayor towards Plaça de Weyler, you'll reach Palma's most fashionable shopping area, which stretches to Avenguda de Jaume III and the side street Passeig del Born. It is home to designer stores such as Loius Vuitton, Loewe, Bennetton, Spanish designers Adolfo Dominquez, Mango, Custo and Zara, and the department store El Corte Inglés.
In a side street behind Passeig del Born, you'll find the exclusive Y-3 store, selling stylish and urban adidas sportswear designed in collaboration with Japanese Yhoji Yamamoto, which is definitely worth a visit.