Antoni Gaudí's imaginative buildings have left their mark on Barcelona. Here you can discover his most famous architectural gems.
La Sagrada Familia
At first glance, La Sagrada Familia (The Holy Family) looks like a giant Gothic church that has been doused in candle wax. As you get closer, a complex sculpture reveals itself, which, in creative natural objects and creatures, fabulates the Bible. Gaudí's temple has three facades representing Christ's birth, passion, death and resurrection, but he only built the Nativity facade, one tower on the facade, the aspis and the crypt.
Gaudí's fascination with nature is evident throughout the temple, including the church, which is decorated with an impressive colonnaded forest. The light that streams in through the stained glass mosaics is warm and carefully designed by Gaudí to create an atmosphere suitable for looking inwards. Outside, there's plenty of symbolic detail to study, so make sure you walk all the way around the building.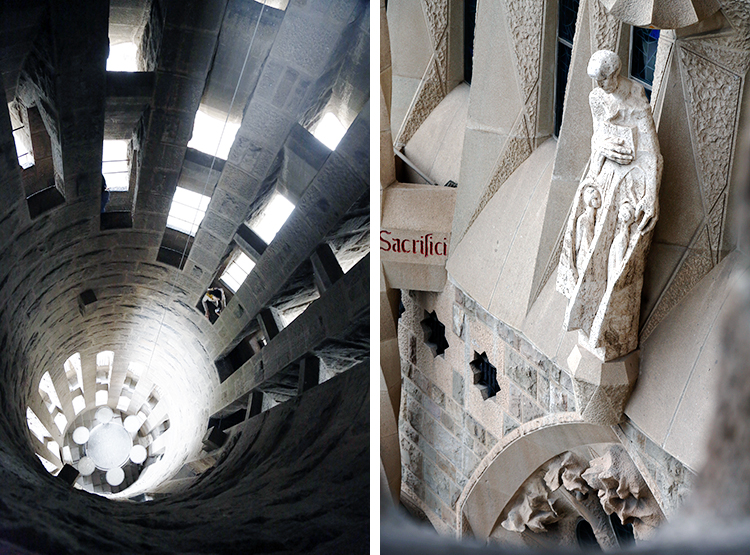 If you're not afraid of heights, take the lift up to the tower, which is open to visitors. Head back down the narrow spiral staircase with small rests, where you'll not only get a great view of the city, but also the chance to get up close to the many detailed decorations.
Antoni Gaudí spent 43 years on his unfinished masterpiece, and he himself expected the construction to last more than 200 years. After Gaudí died and was buried in the crypt, construction has stalled many times. Partly because his drawings were burned during the Civil War and partly for lack of money.
The Sagrada Familia will have 18 towers when it is finished. 12 towers represent the apostles, four represent the evangelists, one the Virgin Mary and the highest (172.5 m) Jesus Christ. Today 8 towers are built, which are between 90 and 120 m high.
Gaudí's temple was inaugurated by the Pope in 2010 and is expected to be completed in 2032. La Sagrada Familia attracts over 5 million visitors a year, making it Barcelona's most visited attraction.
You need to buy a one-way ticket in advance and you can choose with or without access to one of the towers. You can buy tickets for the Sagrada Famila here. (advertising link)
La Sagrada Familia
Carrer de Mallorca 401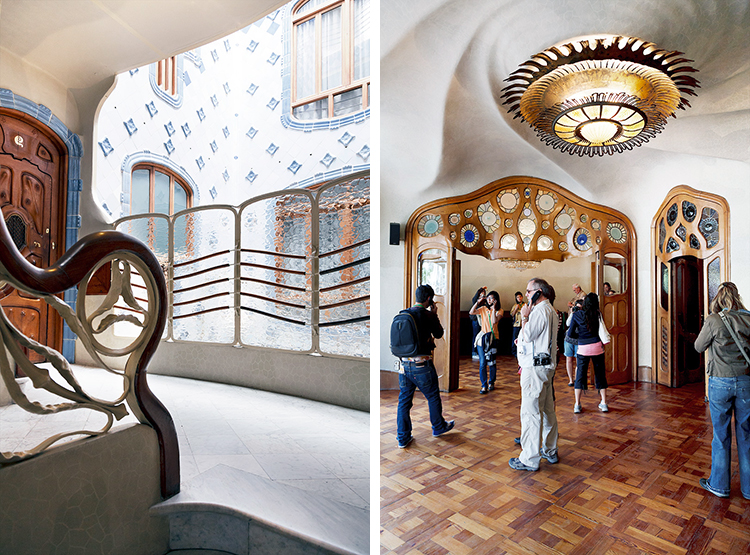 Casa Batlló
Located in the Eixample district, Casa Batlló is my favourite of Gaudí's buildings. The building is known locally as casa dels ossos (house of bones) or casa del drac (house of dragons), and when you stand in front of the six-storey house, you'll have no doubt why. The facade is strewn with green, blue and purple tiles around undulating windows with a columned structure that looks like bones and balconies that look like the jawbones of strange animals. The roof is shaped like a dragon's back and has a small tower on top with a cross representing Sant Jordi (the guardian angel of Catalonia) with the lance (cross) firmly planted in the back of the dragon.
Gaudí converted the house for the textile manufacturer Josep Battló between 1904 and 1906. The family lived in the house until the mid-1950s.
Inside, everything is in curved shapes. The hall with stairs between floors is decorated with fine white and blue tiles, warm wooden doors and a sculptural wrought iron banister. On the first floor, which is the main floor, you'll find the salon with a beautiful white tortoiseshell mosaic ceiling swirling around a lamp shaped like a sun, undulating wooden doors, skylights and large stained glass windows overlooking Passeig de Gràcia. The furniture in Casa Battló was also designed by Gaudí.
The style continues on the other floors. In the centre of the building there is access to a patio.
On the roof terrace, Gaudí has covered the ventilation ducts with colourful mosaics, and in summer various events are held here. Keep an eye on the calendar on the website.
There is always a long queue at the ticket office in Casa Battló. That's why I bought the ticket online, so I didn't have to queue.
If you want to skip the queue, you can buy a ticket to Casa Battló here (advertising link)
Casa Battló
Passeig de Gràcia 43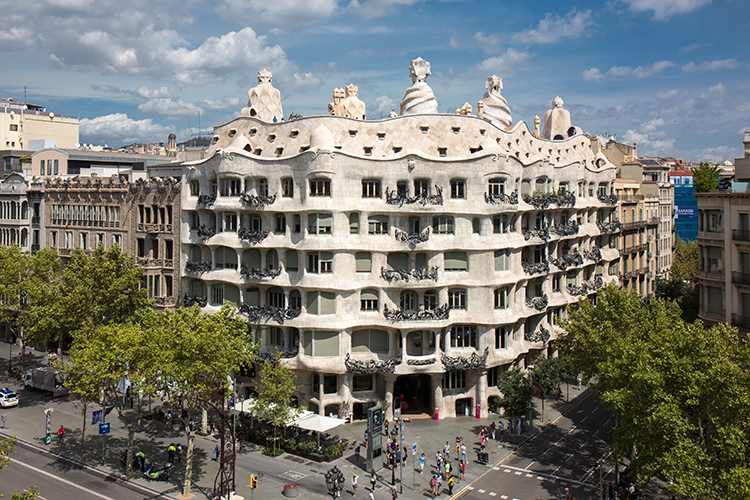 La Pedrera (Casa Milà)
La Pedrera, like Casa Battló, is on Passeig de Gràcia and is actually called Casa Milà, but in Gaudí's time the locals nicknamed it La Pedrera (the quarry) because they thought it was horrible. Today, the building is a UNESCO World Heritage Site.
Gaudí built La Pedrera for the wealthy Milà family in 1906-12, partly to serve as the family home and partly as rental apartments. However, it became difficult to rent the apartments because people feared that the rooms with the curved lines were difficult to furnish. Today, part of La Pedrera is a cultural centre and the rest is private housing and offices.
La Pedrera is an experiment in which Gaudí uses mortar, bricks, ceramics and broken cava bottles to recreate the forms of nature. On the 4th floor you can see a reconstructed mansion, which also has furniture by Gaudí. The style of the high arches, the detail of the decorations and the inspiration from nature are typical of Gaudí and the Modernista period. Notice the light, which Gaudí worked on intensively.
You can also explore a collection of original drawings, models and photographs of Gaudí's buildings.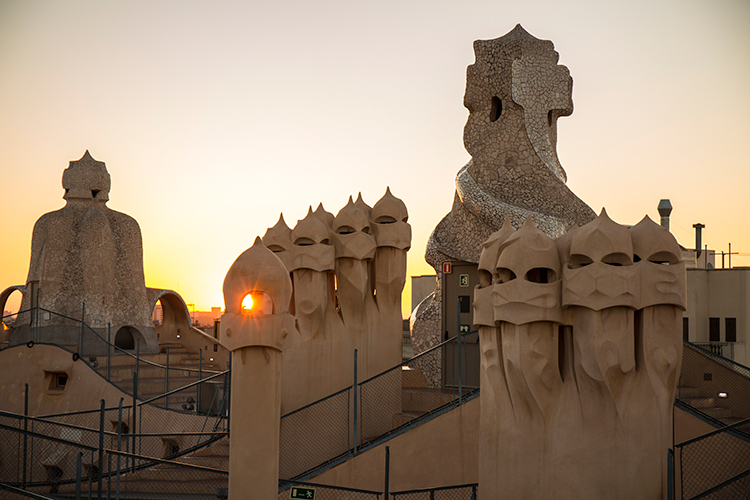 La Pedrera is most famous for its rooftop vents that look like knights from a science fiction movie. The rooftop terrace also offers great views of the fashionable Passeig de Grácia, filled with designer shops, cafés and restaurants.
La Pedrera hosts a number of art exhibitions and concerts. The art exhibitions are held in the former home of the Milá family. Check the calendar on the website for current events.
Gaudí's houses are popular attractions, so I bought a ticket in advance. You can also skip the queue and buy your ticket to La Pedrera here. (advertising link)
La Pedrera (Casa Milá)
Passeig de Grácia 92
Güell Park
Entrance buildings in whimsical shapes with colourful mosaics and spires inspired by the fairy tale of Hansel and Gretel, a salamander, a bench shaped like a dragon and a forest of columns. Parc Güell is like something out of a fairytale film and will delight children and adults alike.
Industrialist and Gaudí patron, Eusebi Güell, bought a 20-hectare park and hired Gaudí to create a small town, inspired by English garden cities, for the city's wealthy. Gaudí worked on the project from 1900 to 1914. Commercially, however, the construction was a flop, so Gaudí only managed to build two porter's houses out of 60 planned buildings, construct a square and build roads and paths.
The most popular sculptures in the park are the salamander, which – as well as having an aesthetic purpose – was also meant to channel water from an underground reservoir to the houses, and the dragon-shaped bench where many brides and grooms are photographed on their big day. The huge, curved bench is filled with fine mosaics in all sorts of colours and patterns and is claimed to be the world's longest.
Gaudí's house is also in the park, although it was not designed by him. Gaudí lived here for the last 20 years of his life, but spent most of his time on the construction site at La Sagrada Familia. Today, the house is a museum where you can see some of Gaudí's personal belongings as well as furniture from the Palau Güell.
The park has been open to the public since 1922, but there is an entrance fee for the part of the park with the monuments, and only a limited number of visitors are admitted at any one time. Buy tickets in advance to avoid queues and waiting for space to let a team in. You can buy tickets for Parc Güell here. (advertising link)
Güell Park
Main entrance: Carrer de larrard
Casa Vicens
Located in Barcelona's Grácia district, Casa Vicens is the first house designed by Gaudí. He built the house for the Vicens family, who were to use it as a summer house, between 1883 and 1885.
Gaudí built Casa Vicens with inspiration from several styles. The house features a lot of tiling inspired by neo-Mudéjar, and is a symbol of the emerging modernista architecture that would become Gaudí's trademark.
Casa Vicens has been a private residence until 2014, when it was bought by MoraBanc, which has converted it into a museum. After extensive restorations, Casa Vicens opened to the public for the first time in November 2017, until then the house, with its red brick facade and brightly coloured ceramic tiles, could only be admired from the outside.
In 1925 the house was extended in a design by architect Joan Baptista Serra de Martínez, which Gaudí approved, and you can see both Gaudí's original building, the extension and a garden.
Casa Vicens was inscribed on UNESCO's World Heritage List in 2005.
Casa Vicens, Carrer de les Carolines 20
Skip the queue and buy tickets for Casa Vicens here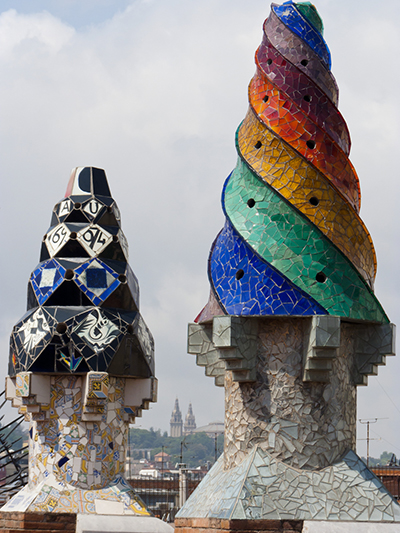 Palau Güell
You will find the Palau Güell in a side street of the Rambla. From the Rambla, you can glimpse the mosaic-clad, sculptural vents on the roof.
One of Gaudí's earliest buildings, the palace was commissioned by his patron, industrial giant Eusebi Güell, in 1886, who wanted to expand the family home and had an eye for the relatively unknown architect's talent.
Palau Güell is more sombre than Gaudí's later works, but the style is his typical blend of Gothic and Arabic.
The six-storey Palau Güell is accessed through two striking wrought-iron gates, and inside you can visit the basement stables with stone balustrades, the entrance hall with carved ceilings – and not least – a pyramid-shaped entrance hall that spans three floors and is worthy of a cathedral. From here there is access to the office, dining room, music galleries, guest room billiard room and terrace. The hall is crowned by a dome. The hall is crowned by a dome with light coming in through small holes, giving the impression of looking up at a starry sky.
Palau Güell
Carrer Nou de la Rambla 3-5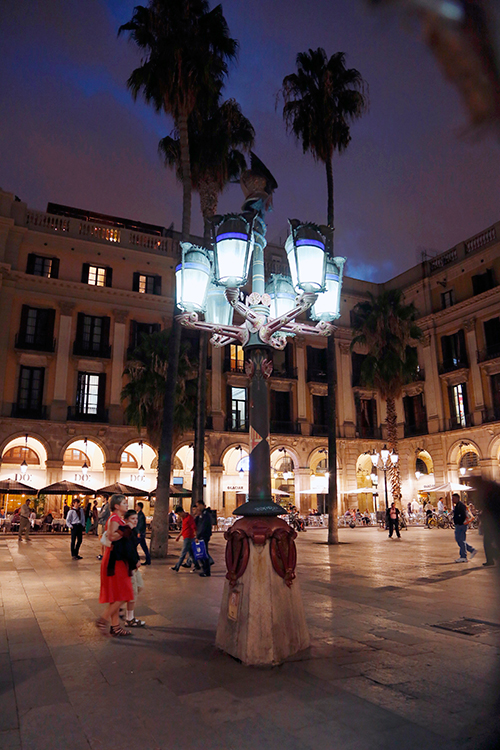 Gaudí's lampposts
As a newly qualified architect, Gaudí received an order from Barcelona City Council for street lamps to light up the city streets with gas. Gaudí drew two models – one with three branches and one with six. Gaudí's street lamps were originally planned to be placed around the city, but only one six-branched lamppost was inaugurated in Plaça Reial in 1879.
Later, Pla de Palau and Passeig Nacional were each adorned with two three-branched lampposts. However, the lampposts on Passeig Nacional have been removed again.
The lamp posts are created from a marble and cast iron column adorned with red, blue and gold colours and symbols such as the city's coat of arms.

Casa Calvet
Built in 1899, Casa Calvet is one of Gaudí's early buildings. It was commissioned by the textile manufacturer Pere Martir Calvet, who had a shop in the basement and ground floor and used the upper floors as a private residence.
Casa Calvet is built of stone quarried from Montjuïc. Despite the obvious modernista elements like the curved roof and wrought-iron balconies, the building is called Gaudí's most conservative because its straight lines and symmetry are not the norm in his work.
Today, the building's ground floor houses one of Barcelona's fashionable restaurants, so you can study Gaudí's detailed work while sipping wine.
Casa Calvet
Carrer de Casp 48
Born in Reus (south of Barcelona) on 25 June 1852
Graduate architect at Escuela Técnica Superior de Arquitectura de Barcelona
Was a leader among Catalan modernista architects around the 20th century
Gaudí mixed Gothic, Arabic and Renaissance styles, and he didn't even like being called a modernista. He saw God in nature, and all his buildings are religious interpretations and bear a cross
His famous mosaics, created from ituslaying glazed ceramics, are called trencadis and are inspired by an Arabic tradition. Trencadis was used by several Catalan modernists
Died in 1929 in Barcelona, where he was run over by a tram on his way to church. He is buried in the crypt of La Sagrada Familia.
More tips for Barcelona
Find more tips for things to do and places to eat in Barcelona here