Danish designer Maja Asaa lives in Barcelona's Sarrià district. Here are some of her favourite spots in Barcelona's overlooked district.
When Maja Asaa moved to Spain, she actually dreamed of settling in Madrid. Coincidence led her to Barcelona, where she has now lived for 6 years. She loves the city and especially the neighbourhood, Sarrià, where she lives.
– I spent a long time looking at apartments in different parts of the city, because I thrive best in beautiful surroundings where I can be part of the local community. When I was shown my apartment in Sarrià, at the foot of Mount Tibidabo, I knew straight away that this was where I was going to live. The neighbourhood is fantastic and very few tourists find their way here. Here I have nature, fresh air and great people around me. At the same time, I can quickly get to Barcelona city centre.
Sarrià is a mecca for bon vivants, and residents appreciate quality. It's full of charming little gourmet spots and authentic shops in the narrow streets that I love to return to again and again, she says.
Here are Maja's tips for some of the best things to do in Sarriá.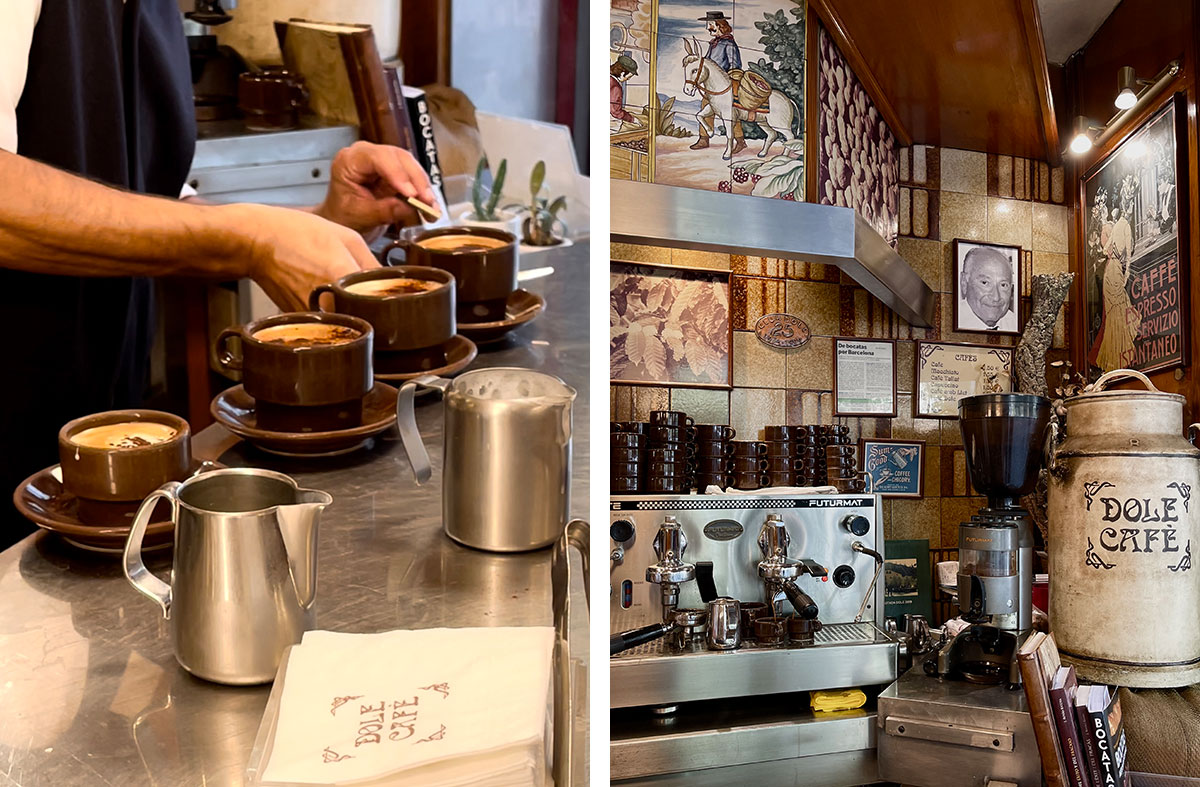 1 Café Dole
Dole is a classic breakfast bar with a myriad of dishes; sandwiches, tortillas, croissants and pastelería (pastries). There are many breakfast bars in Barcelona, but El Dole stands out in terms of menu, decor and quality.
El Dole is the perfect place to take part in the Spanish breakfast tradition of eating breakfast out, alone or with friends and family. The atmosphere is good and local and warm and the service good. The bar is an aesthetic gem in classic style. Everything in the bar is of good quality, from the croissants to the music selection.
Try the legendary Pop-Eye sandwich with ham, melted Emmental and spinach, featured in several media, café con leche (coffee with milk), butter and chocolate croissant or ensaïmada with whipped cream.
Café Dole, C/ de Manuel de Falla 16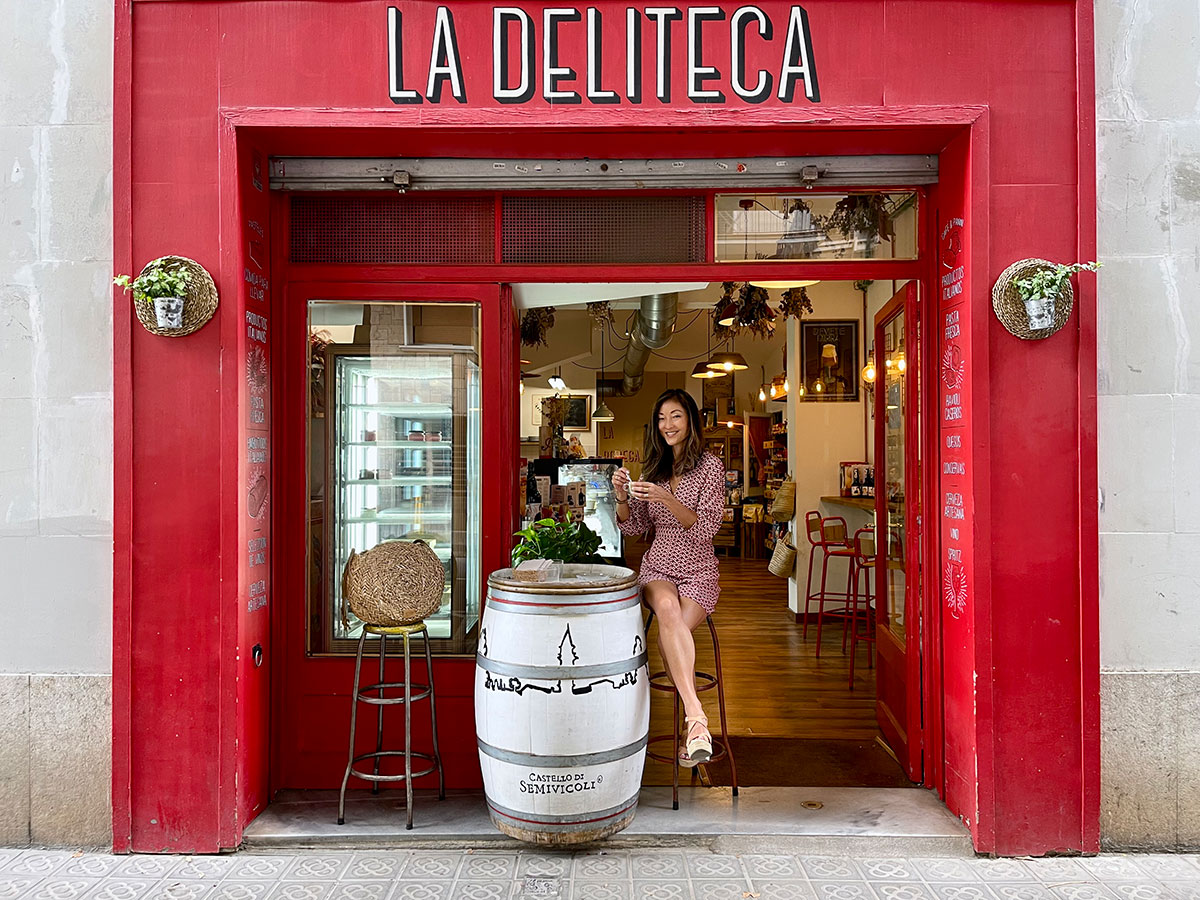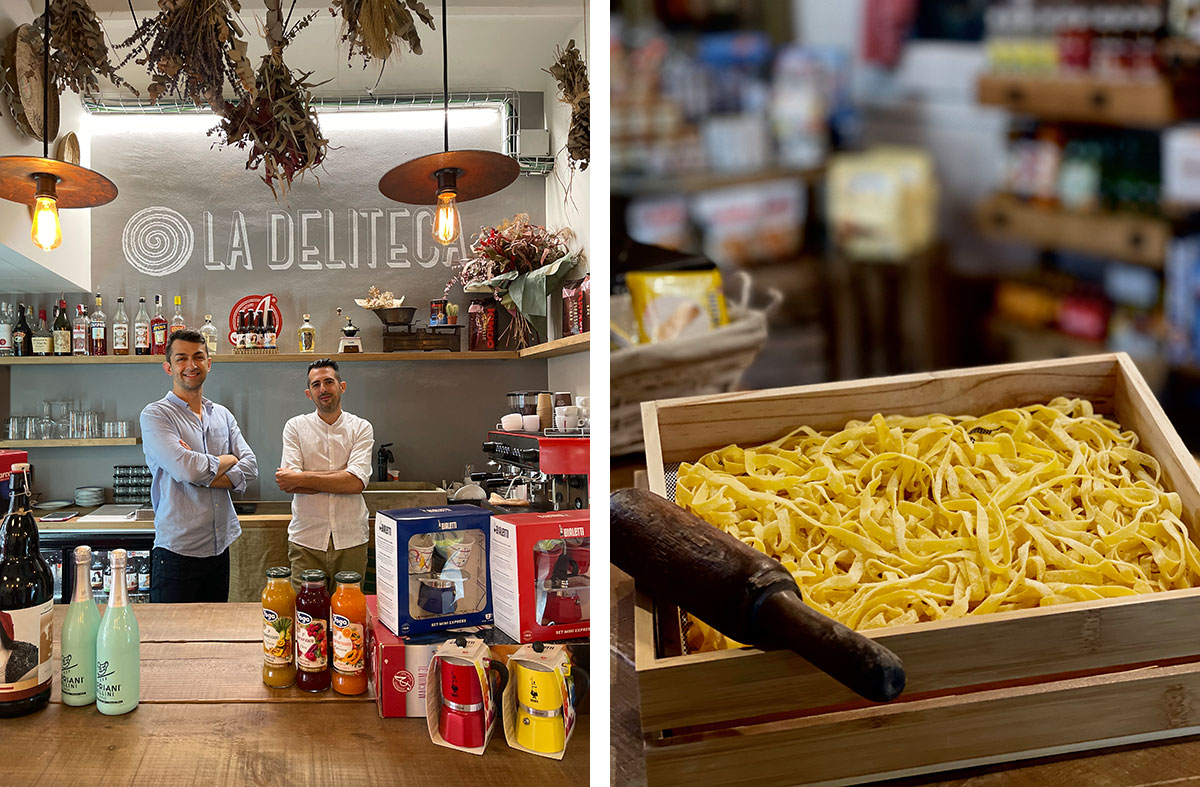 Photo: Maja Asaa
2 La Deliteca
La Deliteca is a combined gourmet shop, wine shop and café that testifies to Barcelona being a multicultural Mediterranean city, where many Italians live and Italian food culture is popular. This is where the neighbourhood's foodies come to shop and hang out, drink an "aperitivo" and eat tapas.
It has an authentic Italian atmosphere and a passion for good quality food. The owners have put their heart and soul into creating a stylish and cosy shop. A great place to drink a glass of Italian wine and have a light lunch or enjoy a cup of coffee with cake. They make fresh pasta every day, and you can shop for really delicious delicacies like charcuterie, cakes, chocolates and bread/crackers.
I shop in La Deliteca when I have guests for dinner, because here I can buy everything for a good dinner, which makes most people more than happy. I buy fresh pasta, mortadella with truffle, burrata, crackers with olive oil, red wine, vitello tonnato, lemon tart and pistachio cream (a kind of nutella made from Sicilian pistachios).
La Deliteca, C/ de Santa Amèlia 24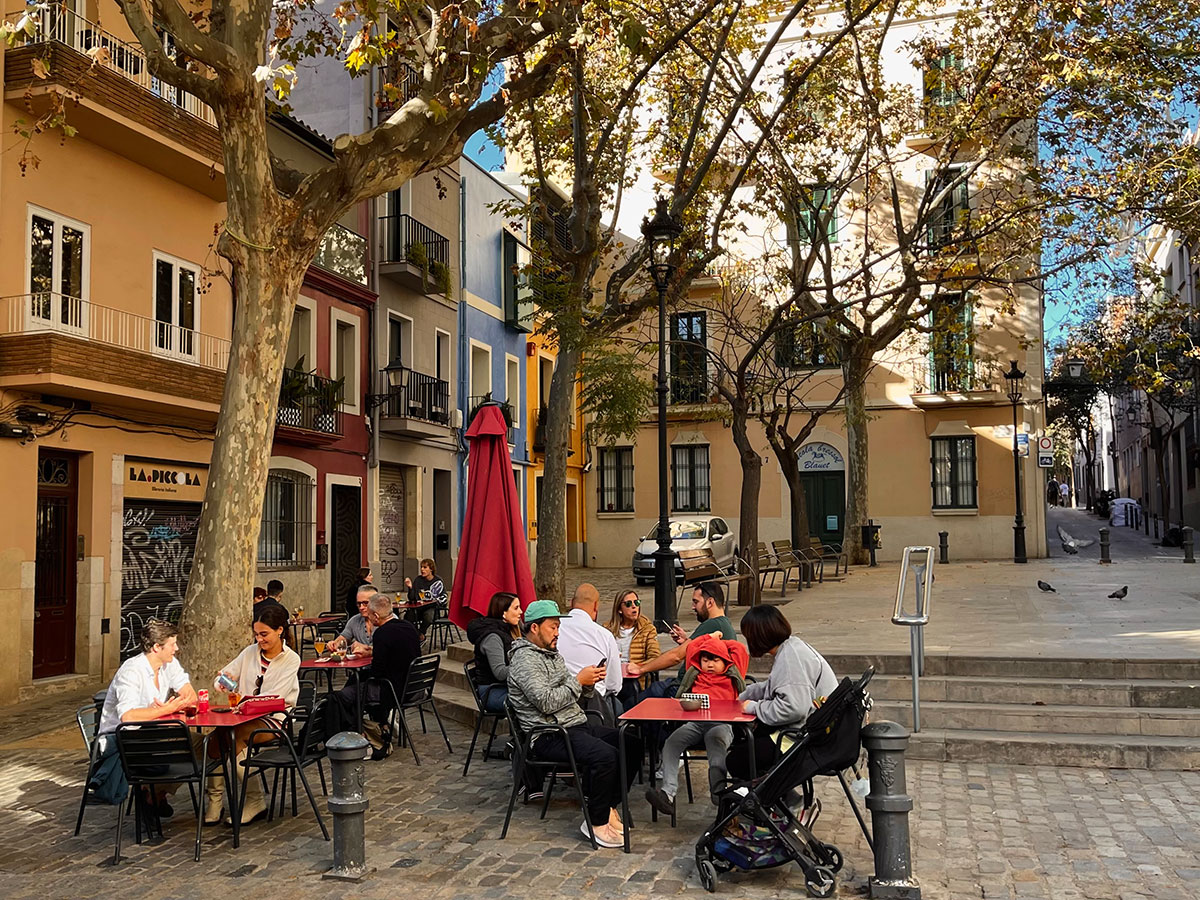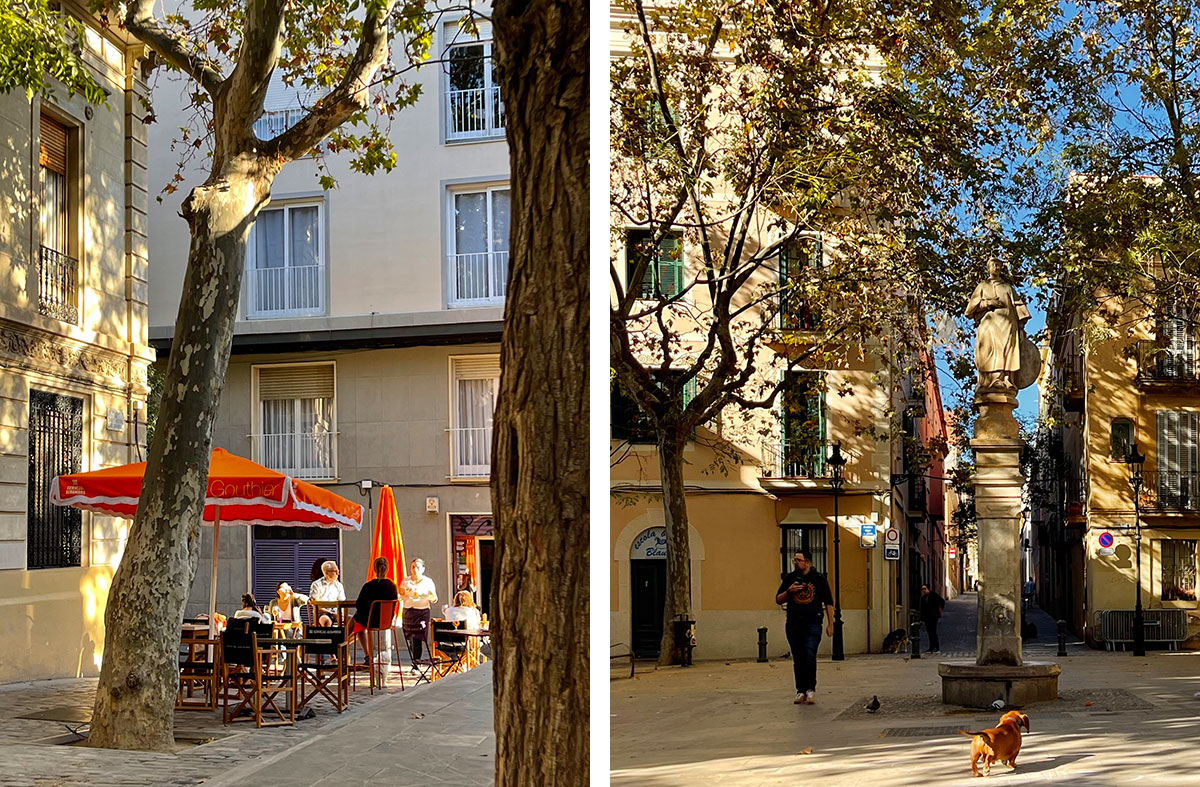 Photo: Maja Asaa
3 Plaça de Sant Vicenç de Sarrià
The picturesque square is one of the most painted by artists in Barcelona, and it was once the centre of the neighbourhood's former railway. Until 1888 it was known as Plaça de la Unió, and the fountain, crowned with a statue of Sant Vicenç has stood there since 1890.
Tucked between the small streets of Sarriá village, this picturesque square is surrounded by colourful little buildings, trees and a few local restaurants. It's full of local life and atmosphere from morning to night, where residents relax on a bench, have a glass of wine after work and eat with friends and family.
I love the square because it adds so much atmosphere to Sarriá and it is both beautiful and has authenticity. I love the colourful facades and the patina of the houses. Not all are restored. Especially in the morning and afternoon, the square and facades are illuminated with the most beautiful light. In addition to the locals, several of whom were born in the neighbourhood, there are expats like myself and a few tourists. But in a stylish way, we all blend into the local atmosphere.
If you fancy eating in the square, I'd recommend Gouthier bar de Ostras, which has a cute terrace on a corner of the square with the most beautiful afternoon sun. Try the cod fois gras with seaweed, an absolute umami experience in all its simplicity.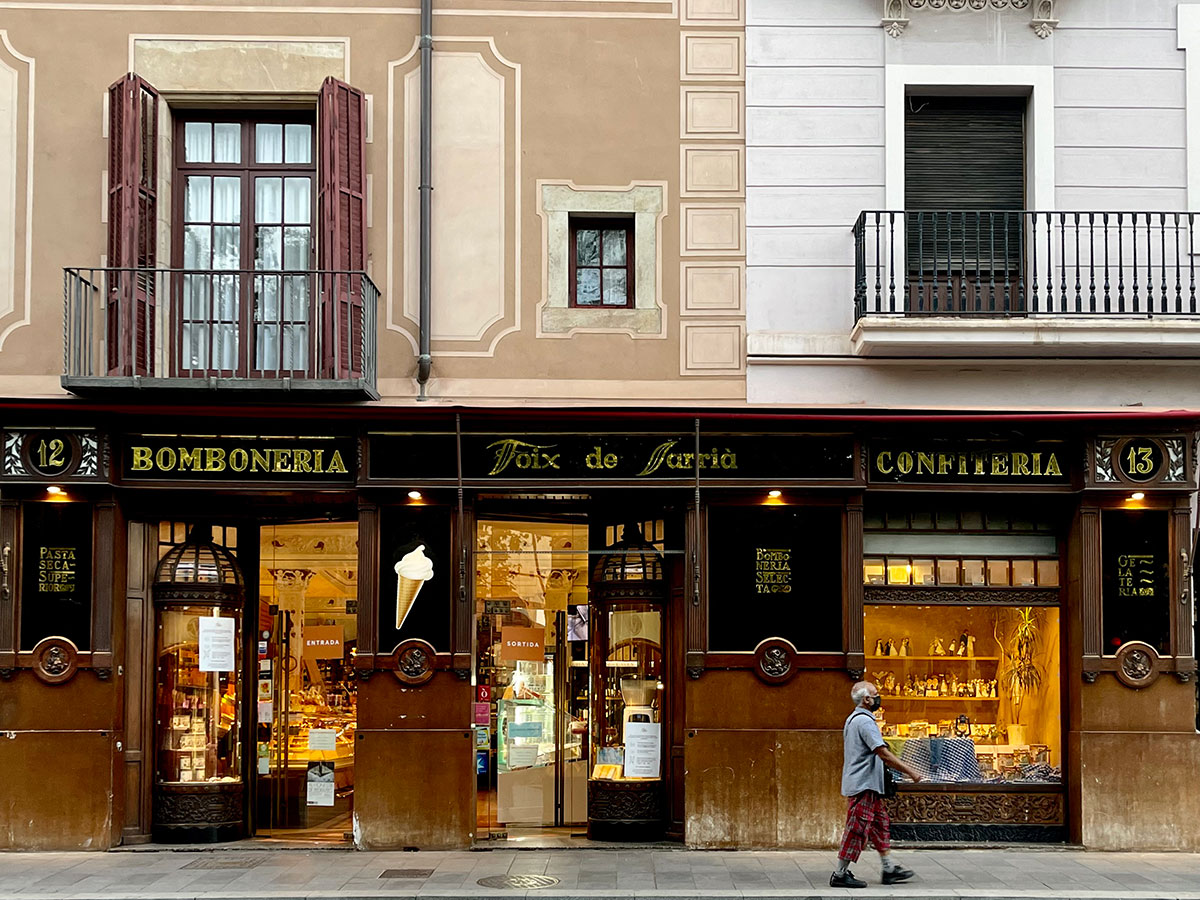 Photo: Maja Asaa
4 Foix De Sarriá
On Sarrià's main street, Major de Sarrià, is the finest patisserie, which has been around since 1886. They also have a shop in Plaça de Sarrià. As well as having the finest shop, which is a little time warp filled with history, they also make Barcelona's best chocolate croissants. I've eaten my way through several in the city, and nowhere have I gotten as delicious as here. The pastry shop has a huge selection of cakes, breads, chocolates and ice creams from classic to modern and several inspired by foreign countries. My favourite treats, apart from the chocolate croissant, are the chocolate panettone, tiramisu ice cream, brioche and fig tart.
Buy a croissant or cake and take it on the go. They are wrapped nicely in paper with ribbons around.
Foix De Sarriá, c/Major de Sarrià 57 and Plaça de Sarrià 12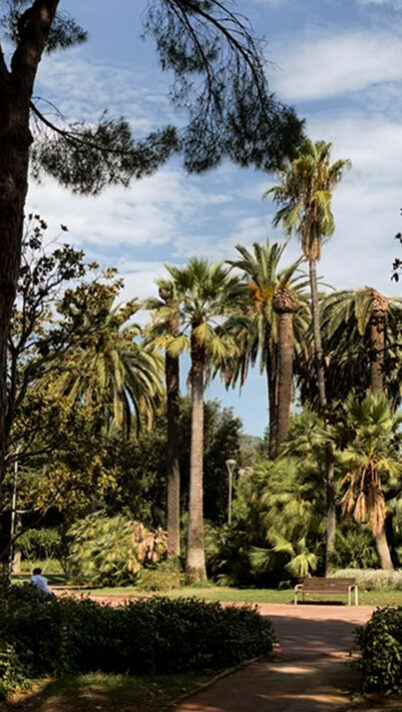 5 Gardens of Vil-la Amèlia
Jardins de Vil-la Amèlia is a wonderful lush oasis in Sarriá with a beautiful lake in the middle, planting, sculptures and large old trees. The garden dates back to the mid-19th century and offers a quiet moment surrounded by nature, making you forget you are in a big city. The garden is a feature of the neighbourhood, giving it a beautifully serene atmosphere. Here the locals walk and sit on a bench and have a chat and relax.
It's a luxury to have such a beautiful garden right next to my home when I live in a big city, full of tourists and noise. I love to go for a walk in the garden in the morning or late afternoon/early evening, when the neighborhood families, the elderly and children go for a walk and relax in the park. It gives me pleasure to "breathe" the fresh air and local life, surrounded by beauty.
I can also recommend a walk around the park, as there are many beautiful buildings bordering it.
Gardens of Vil-la Amèlia, Eduardo Conde 22
6 Bar Menudo
Behind Antoni Gaudí's lesser-known gate, Mirrales, hides the lushest green garden with the Italian restaurant Bar Menudo. Here you can sit in the shade of large trees and have lunch or dinner in peace and quiet or at the small bar area. You don't hear or see the tourist buses whizzing by on the other side of the wall.
The food is Neapolitan, made with fresh ingredients and worth coming for. I recommend you try the squid ink sandwich, vitello tonnato and their burrata/tomato salad. And don't cheat yourself with a glass of their homemade lemonade. They make it with lemon sorbet, and it's the best I've ever tasted.
Bar Menudo, C/ Benet Mateu 24
Discover Sarrià in Barcelona with Maja
Fancy exploring Maja's neighbourhood, soaking up the local life and visiting even more of her favourite places? Then you can book a guided tour with her in Sarrià. As it is important to Maja that you get an authentic experience, you can only be a maximum of four people on a guided tour. Maja can also help you put together a unique trip or weekend in Barcelona and/or the surrounding area.
Read more and contact Maja for more info.
You can also follow Maja on Instagram, where she shares photos from Sarrià
About Maja Asaa
Born in Seoul, South Korea and adopted to Denmark, where she grew up in Nørre Snede
Graduated from the Danish School of Design in 2003, specialising in textile design, strategic design and design thinking
Partner in architectural firm 2001-2007
Moved to Barcelona in 2016
Has worked in Spain with digital design and design innovation
Runs the blog Maja's Gusto, which combines her passion for aesthetics, lifestyle, design and good food and helps visitors and newcomers to Barcelona have unique spot experiences
Additionally working with sales and several digital projects combining digital content creation and social media marketing
More travel tips for Barcelona