Freshly fried, crispy churros are a classic hit during the winter months. You can easily make churros at home and fill the house with the wonderful aroma. Here's the recipe for churros and tips on what to serve with them.
Churros are available everywhere in Spain, and many people mistakenly believe that the crispy rissoles, as we call them in Danish, are an everyday food for Spaniards. In some areas they are eaten dipped in a cup of piping hot chocolate for breakfast, but most Spaniards enjoy them mostly in the cold winter months as a snack.
In Denmark too, we associate churros with winter, and especially at Christmas, when the fragrant cane beckons from stalls at Christmas markets and in Tivoli. It's easy to make churros yourself, so try serving them instead of pancakes or apple slices. Below the recipe you will find tips on what to serve with your freshly made churros.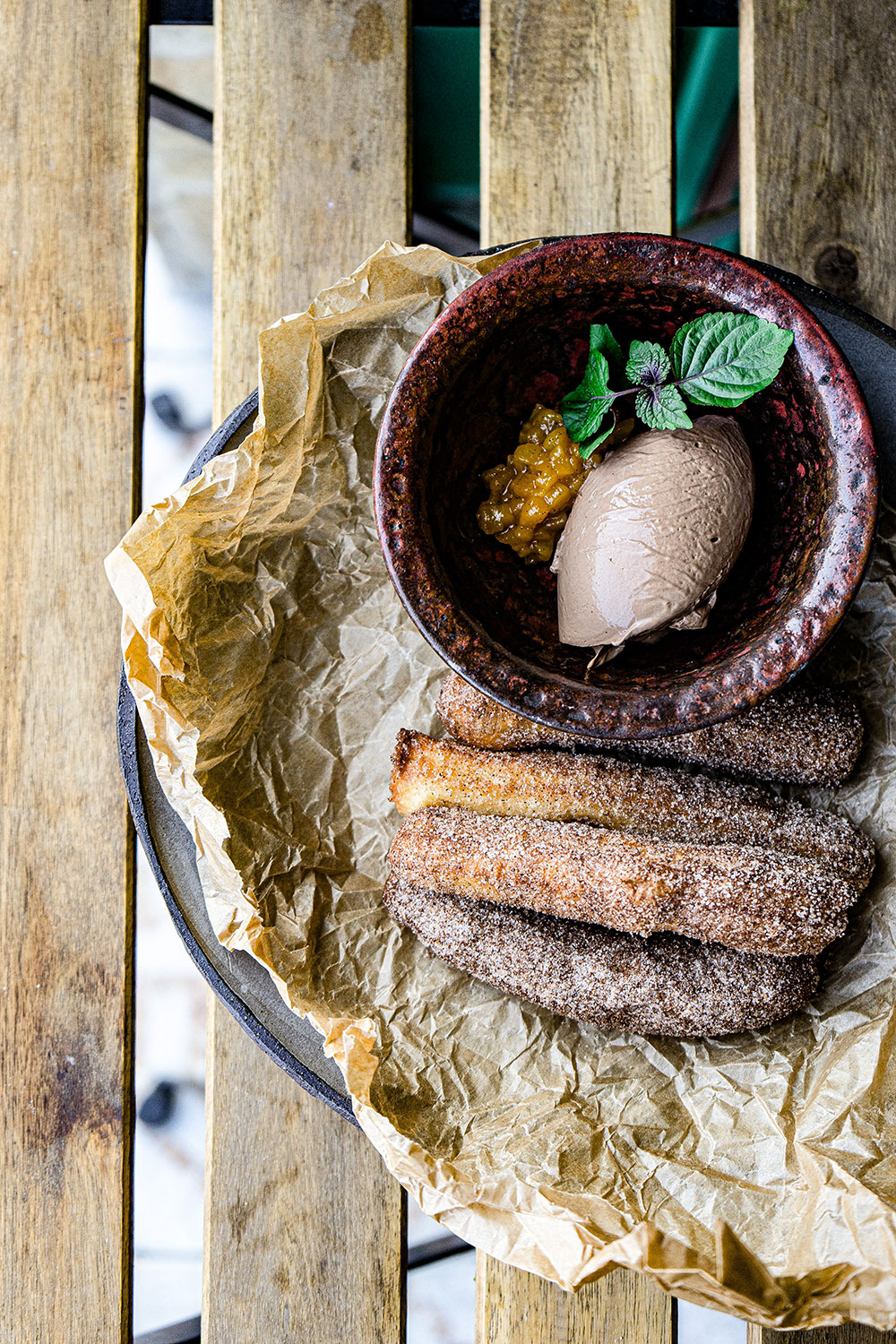 Recipe for Spanish churros
(4 persons)
INGREDIENTS
1,25 dl milk
50 g butter
½ vanilla pod
a pinch of fine salt (2 g)
a pinch of sugar (2 g)
100 g flour
2 eggs
grapeseed oil or other neutral oil for frying
For decoration
powdered sugar
HOW TO MAKE CHURROS
Put the milk, butter, vanilla pods, salt and sugar in a saucepan and bring to the boil. When the mixture is well mixed, add the flour little by little. Stir well and let the dough boil for 30 seconds.
Take the mixture off the heat and add the eggs one at a time. The dough should be firm and smooth. Mix the dough well and put it in a piping bag with a star tip.
Heat the oil to 170°C in a large pan. Sprinkle churros directly into the pan to desired length. Cut off each churro with scissors. Don't put too many in the pan at a time, and be careful not to overheat the oil. Fry your churros until golden on the outside (a few minutes depending on size).
Let your churros drain on greaseproof paper before sprinkling with icing sugar.
WHAT TO SERVE WITH CHURROS
Churros can be served piping hot with a dusting of icing sugar or sugar. In Spain, churros are often dipped in a cup of hot, thick chocolate, but you can also serve your churros with a small bowl of chocolate sauce or caramel sauce – possibly a salted caramel – in which to dip them. The hot churros also taste great with a nice scoop of ice cream or pickled berries.