The beautiful cities of Andalusia have everything a holiday heart could desire. Do you like unspoiled nature, white villages, wide views and cultural treasures, beach life or luxury shopping and gourmet food? So help yourself to the southern Spanish delights.
1. Nerja – dripstone caves and balcony with scenery
Nerja is a small fishing village and one of Andalusia's most popular towns amongst tourists. The city has about 20,000 inhabitants, a third of whom are English.
The most famous attraction in Nerja is the Balcon de Europa (Balcony of Europe), which is actually a balcony with stunning views over the Mediterranean. King Alfonso XII gave it its name because, according to him, you can see all the way to Africa when the weather is good.
Next to the Balcony of Europe are two of the city's 16 beaches where you can go for a dip and in the center, you'll find a nice church also worth a visit, as well as plenty of restaurants, cafés and souvenir shops.
On the outskirts of Nerja are the town's famous stalactite houses, Cuevas de Nerja, which children will love to visit. The stalactite caves of Nerja, considered some of the most beautiful in the world, were discovered in 1959. Walking around the underground cave is a magical experience of the beauty of nature, filled with cave paintings of symbols and animals.
Holiday house near Nerja
This 80-square meter, stylish townhouse is close to Nerja and houses six people. There are three bedrooms. On the lovely, semi-covered terrace, you can enjoy meals cooked on the barbecue or relax with a book.
In the holiday home, you are just one kilometer from Nerja's beaches, restaurants, shops and bars, as well as Nerja's caves.
Get more information and see more pictures of the holiday home in Nerja
2. Grand system in Málaga
Málaga is Costa del Sol's vibrant port city with a big city feel. It is also the birthplace of the famous artist Pablo Picasso, so a visit to both his birthplace and the Picasso Museum is a must .
The Picasso Museum can be admired from the 11th-century Moorish fortress of the Alcazaba, which sits beautifully on Gilbafaro Hill, as well as the Roman theatre at the foot of the Alcazaba.
It is also a must to visit Málaga Cathedral and go on a museum crawl in the city. Málaga has over 40 museums, so there's plenty to explore. One of the most impressive is the Automobile Museum.
Málaga is also a good shopping city. The main shopping street, Marqués de Larios, and its side streets are packed with shops.
Read more about Málaga's major attractions and find more tips in the guide to Málaga
Eat well in Málaga
Málaga has everything your heart desires, especially if you're hungry for all things good from the sea. Fried fish is one of the city's main specialties, and you can get it at most tapas bars and restaurants in the pedestrian streets of Málaga city center Find the best restaurants in Málaga with this guide.
You should also visit Málaga's food markets, Mercado Central de Atarazanas (where most tourists are), La Merced (near Picasso's birthplace) and the modernista Salamanca market. Málaga also has a wealth of cafés and coffee bars, you'll find a guide to the best here.

Holiday apartment in Málaga
This modern apartment is located in Pedregalejo, outside Málaga, 10 metres from a sandy beach and the sea. The apartment is 96 square meters and has four bedrooms, two bathrooms, room for eight people, and the possibility to park a car. Shopping and restaurants are on your doorstep, and a good golf course is just two miles away.
Get more information and see more pictures of the holiday apartment in Málaga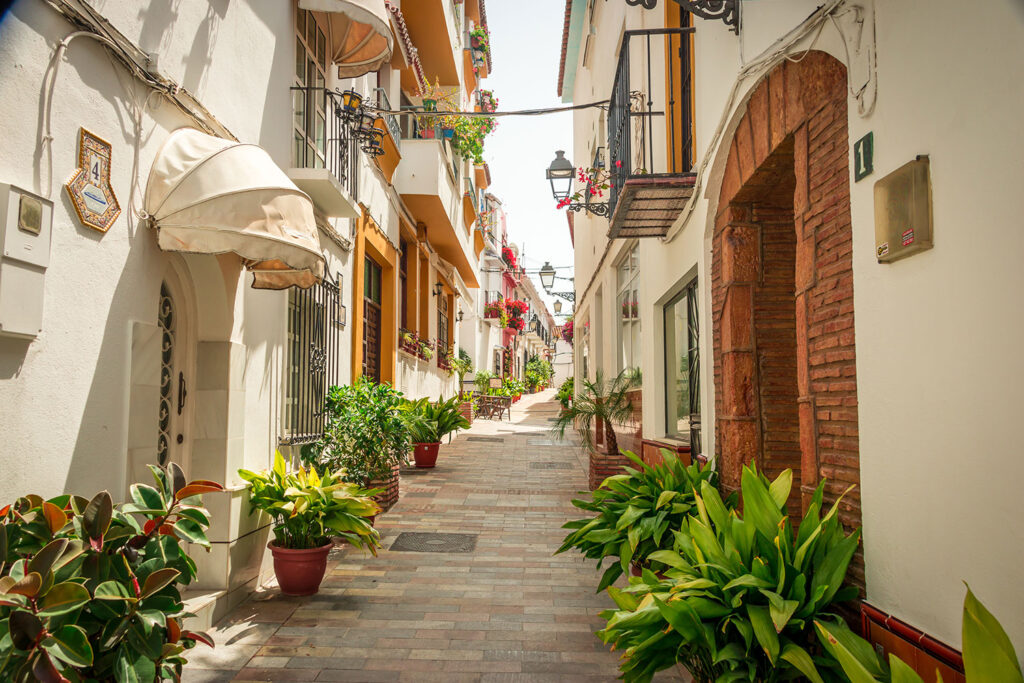 3. Exclusive Marbella
Marbella is the Costa del Sol's most exclusive resort, with a wide array of luxury hotels and giant yachts in the luxurious Puerto Banús marina, located west of the town. International jet-set living is the order of the day in this impressive area of designer boutiques, elegant bars and gourmet restaurants. Sit at one of the bars and study the lively and luxurious maritime holiday life. Later, enjoy dinner at the very cozy French restaurant Los Bandidos.
In Marbella's old town center, life is lived in the charming maze of narrow streets. A must is a visit to the central square, Plaza de los Naranjos, where you can sit under the orange trees, surrounded by historic houses, and eat tapas or enjoy a drink.
Also visit the cozy Alameda Park with its fine Andalusian tile decorations and the Grabado Museum, located in a small alley. The Museo del Grabado is the only museum in Spain dedicated to engravings, and here you can see lithographs, woodcuts and other examples of graphic work by Dalí, Picasso and Miró.
When you go on holiday to Marbella you also have plenty of opportunities to play golf, go sailing and enjoy water sports on the beaches.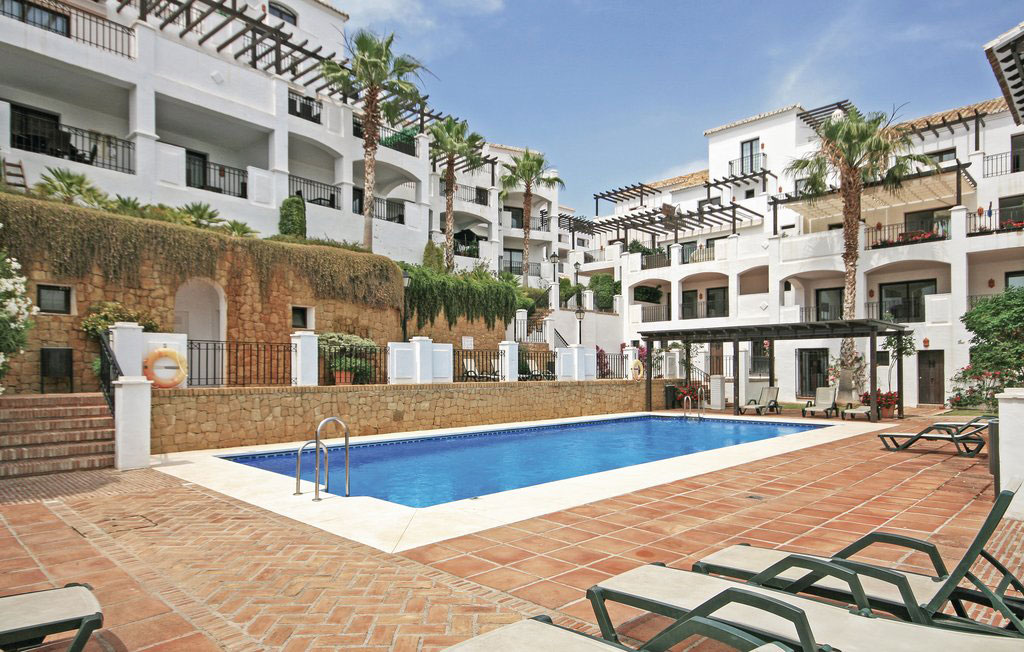 Holiday apartment in Marbella
This holiday apartment is located in the luxury complex of the coastal village of Pueblo Los Monteris, less than 10 minutes from the coast. You can stay up to 6 people in the apartment, which is 130 square meters with 2 bedrooms and 2 bathrooms. The complex has a communal pool area with stunning sea views, sun loungers and showers.
Get more information and see more pictures of the holiday apartment at Marbella.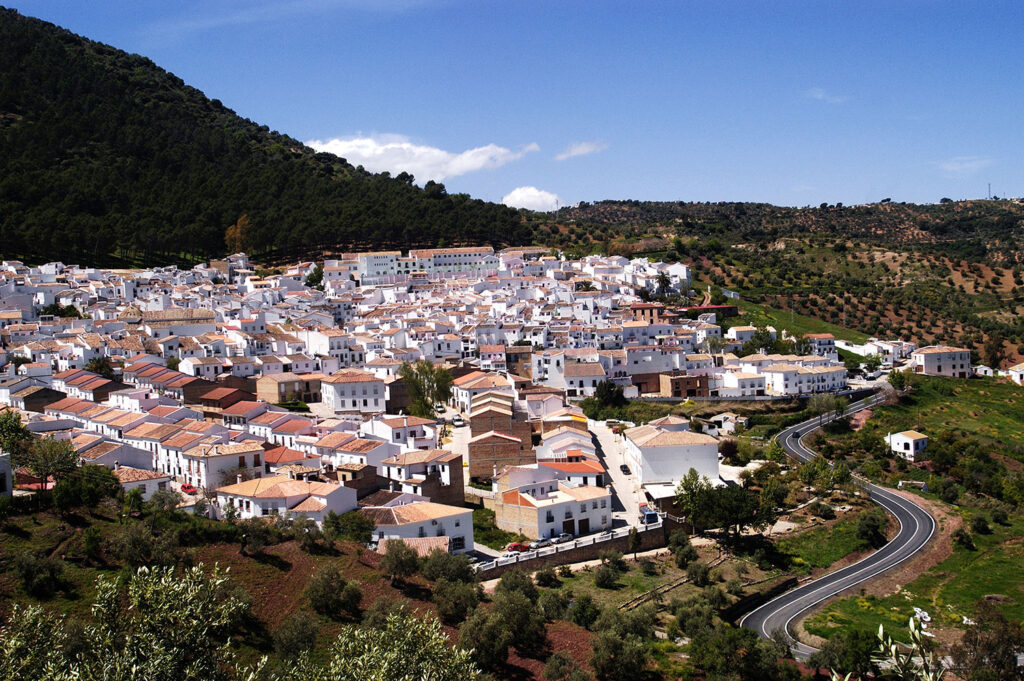 4. The white village of El Gastor
The small, whitewashed village of El Gastor is picturesquely situated above Lake Grazalema in the province of Cadíz and is also called the "balcony of the white villages". This is because from the municipality's two mountain peaks, El Algarín and Las Grajas, there are stunning views over the countryside and the area's other small villages.
You can breathe in the genuine Andalusian atmosphere among the locals in the cobbled streets with flowering balconies, who cheerfully exchange the news of the day, accompanied by tinkling church bells.
You can also go hiking in nature and visit nearby culturally rich Andalusian towns. The city of Ronda is about half an hour's drive away, and here you can see the famous bridges over the 120-meter-deep El Tajo gorge. It's also worth visiting the peculiar cliff village of Setenil de las Bodegas, whose houses are built into the rock caves.
Although El Gastor is small (1900 inhabitants), it's lively and has plenty of good shopping opportunities in the many specialist shops selling everything from meat and fish to clothes and furniture. On Thursdays, you can shop at the town market. You should also visit the town's old olive mill and the Museo de Usos y Costumbres, where you can learn about the region's customs and traditions through a range of farming and cooking tools.

Holiday house in El Gastor
Enjoy your holiday in this rustic yet modern two-story holiday home, surrounded by the most beautiful Andalusian countryside. The holiday home is close to El Gastor and Cadíz, and houses six people in three bedrooms.
From the beautiful infinity pool and covered terrace, you can enjoy panoramic views of the surroundings and the beautiful dammed lake at Zahara. The large plot is fenced and there is plenty of space for children and pets to run about.
Get more information and see more pictures of the holiday home in El Gastor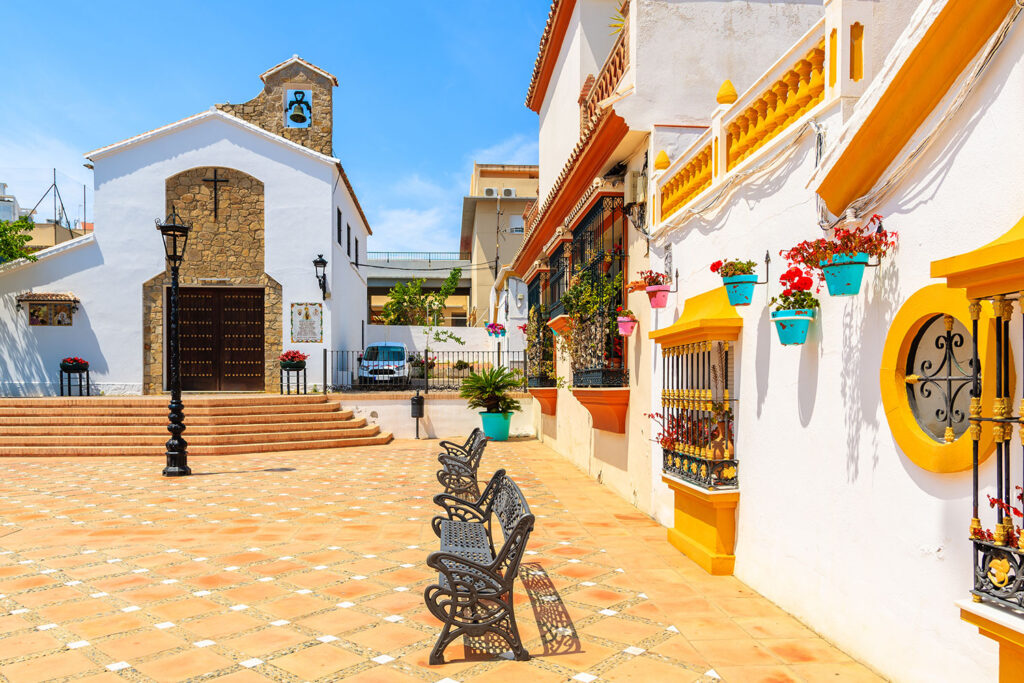 5. Colourful Estepona
Estepona is located about 80 kilometers west of Málaga, surrounded by the Bermeja Mountains to the north and the Mediterranean Sea to the south.
Estepona is particularly popular for its fine marina and beaches, which stretch for more than 20 kilometers of coastline, and as the town has an average temperature of 18.5 degrees, it is a popular holiday resort. There are beaches to suit all tastes, including family and nudist beaches.
Start your visit to Estepona with a stroll down the Paseo Maritímo promenade, where locals and tourists alike enjoy afternoon strolls and the early risers can catch a beautiful sunrise. During the day it's lively and full of runners and skaters.
Estepona's centre is typically Andalusian, with whitewashed houses with brightly coloured doors, window sashes and flowerpots. Here you have plenty of opportunities to find great places to eat. Try the modern gastro bar La Casa del Rey, close to the central square, Las FloresIn the centere, head out on the poetry route, Ruta de la Poesia, where you'll find ceramic tiles with poetry written on the walls of houses. The poems are by both Spanish and international poets such as Shakespeare and Victor Hugo. You can find a map of the route here.
The whole family will have a beautiful experience in Estepona's botanical and orchid garden, Parque Botanico Orquideario. Here are over 4000 different species of orchids, illuminated waterfalls and vegetation from all over the world.
The active family will thrive in Estepona, where opportunities include diving, golf, sailing, surfing, hiking and horseback riding.

Holiday apartment in Estepona
This luxury apartment is superbly located with views of the sea, mountains and city. The modern and minimalist apartment sleeps eight people and features quality furnishings, four bedrooms and three bathrooms.
The apartment is located in the Mirador de Estepona Hills complex, which is ideal for both adults and children. There is a communal pool, playgrounds, tennis courts, paddle tennis courts, fitness center and two pool areas with bars and sun loungers. The water in the heated pools is 26 degrees all year round.
Despite the many communal areas, the apartment is quiet and perfect for those who want an exclusive holiday home.
Get more information and see more photos of the holiday apartment in Estepona.
The journey to Andalusia
Regardless of which of the five cities mentioned you want to spend your holiday in, the easiest way to get there is to fly to Málaga. You can fly directly to Málaga from Copenhagen, Billund and Aalborg Airports. Check flights and prices here
If you're heading to one of the other cities from Málaga, you can rent a car and pick it up at the airport. Check options and prices here
Andalusia has a mild and pleasant climate, so you can visit the region all year round. If you want to guarantee good beach weather, the best time to travel is from April to October. Conversely, you may well find that it's around 20 degrees in the winter months. Be aware, however, that temperatures can reach as high as 37 degrees in the summer months.