Long roast leg of lamb is often served at Christmas in some parts of Spain, but it can be eaten all year round. Here it is served with long-fried potatoes, and it lends itself well to the Danish Easter table.
The key to a good Spanish lamb roast is slowness and low heat. Here, the lamb is roasted for a long time and you can enjoy the aroma of the good roast. This recipe for long roast leg of lamb simple, but full of good flavor from including white wine and spices, accompanied by spicy potatoes and onions. Make sure to marinate the meat overnight. It really makes a difference.
I got the recipe from chef, author tour operator and food blogger, Lauren Aloise, who also organises popular guided food tours in Spain.
Recipe: long roast leg of lamb with potatoes and onions
Preparation time: 15 minutes
Cooking time: 4 hours and 30 minutes
Total time: 4 hours and 45 minutes
Ingredients (for 6 people)
1 leg of lamb (approx. 2 kg)
2 large onions
6 medium potatoes
Olive oil (for frying potatoes and onions)
Marinade
2 dl olive oil
1 dl dry white wine
Juice of 1/2 lemon (freshly squeezed)
1 tbsp white wine vinegar
2 tablespoons coarse salt
Black pepper
2-3 thyme sprigs (finely chopped)
4 bay leaves (finely chopped)
8 cloves garlic, ground into a paste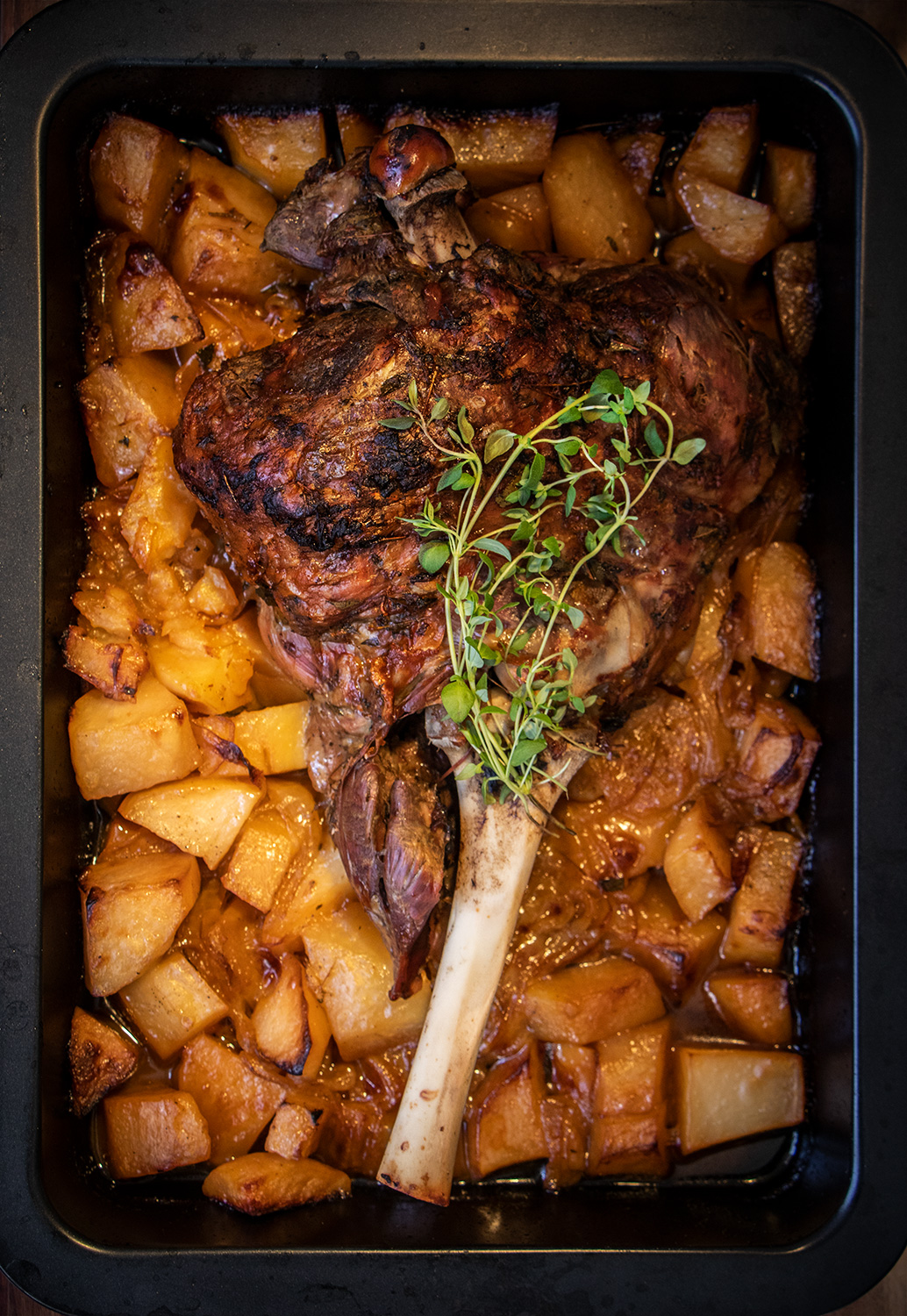 How to do it
1. Mix together salt, pepper, olive oil, lemon juice, white wine, vinegar, garlic paste, thyme and bay leaves.
2. Spread the marinade over the leg of lamb and wrap in cling film. Leave the meat to marinate overnight, making sure that all the meat is covered in marinade.
3. The next day, take the lamb out of the fridge at least 1 hour before putting it in the oven.
4. Peel the potatoes and cut them into medium cubes. Fry them in olive oil. Remove the fried potatoes from the pan and set aside.
5. Preheat the oven to 150 degrees (not convection)
6. While the oven is preheating, thinly slice the onions (julienne style) and fry in the same olive oil as the potatoes until soft and clear (about 8-10 minutes). Remove the onions from the pan.
7. Layer the onions and potatoes in a large baking dish. Season with salt and pepper. Place the marinated leg of lamb on top.
8. Cover the pan with tin foil and fry for 3.5 hours. Check the lamb and roast for a further 30 minutes if it hasn't had enough (must be roasted pink).
9. Remove the tin foil and increase the oven temperature to 220 degrees. Roast for a further 20 minutes, turning halfway through to brown both sides. If necessary, also turn the potatoes and onions so that they do not get burnt.
10. Take the lamb out of the oven and let it rest for at least 20 minutes before carving. Serve with a good salad.