Sustainable lamps, edgy fashion, luxury shoes and classic furniture design are all the rage in Spain. Here are some of the Spanish designers that are hot right now.
Despite its young age (the first edition was held in 2018), the annual Madrid Design Festival has already established itself as the place to spot the most interesting Spanish designers of the future in everything from interior design, fashion, shoes, watches and cars to packaging design. The design festival also represents a few international designers, but the Spanish ones definitely stood out as the most interesting at the Madrid Design Festival's second edition.
If you fancy shopping for a hip and stylish designer souvenir to take home from your holiday in Spain, you'll find many designer items in several Spanish cities. Some can also be purchased online and shipped to your address in Denmark.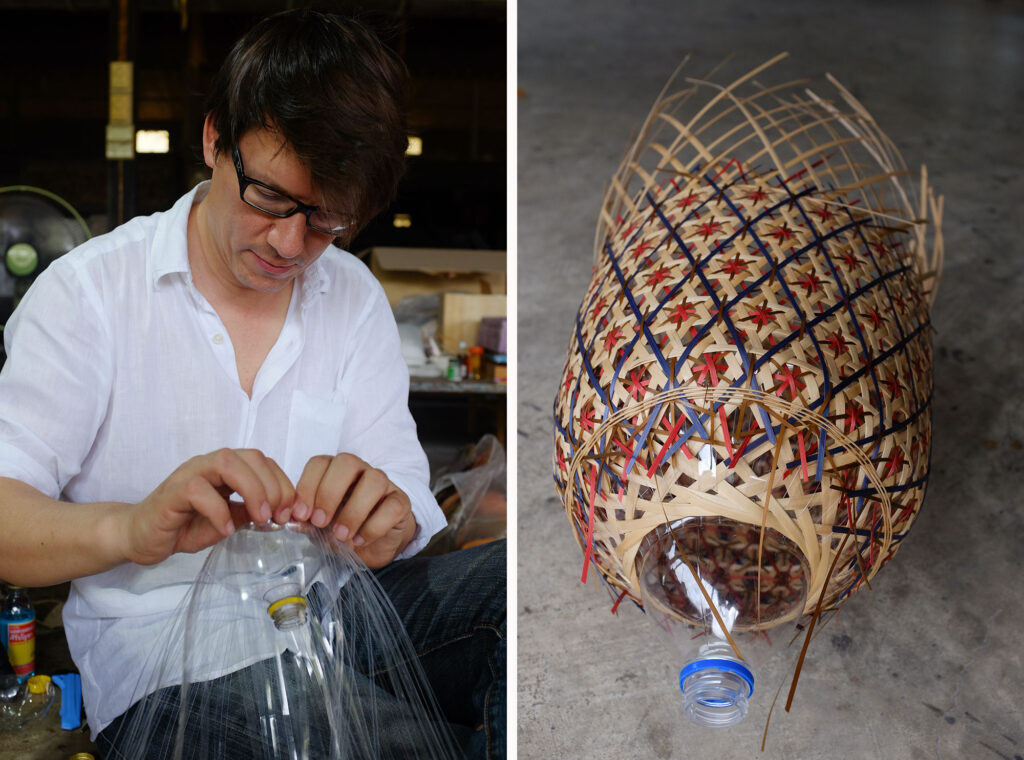 1. Alvaro Catalán de Ocón and his award-winning sustainable lamps
Natural-coloured, woven lamps of all shapes and sizes with delicate patterns in bright colours filled the display windows of Spanish chain Zara Home in the Salamanca district during the Madrid Design Festival 2019. And beautiful it looked with all the sustainable lamps in a bunch, created in the name PET Lamp.
The lamps are made from recycled plastic bottles which are hand-woven into lampshades using selected traditional weaving techniques from all corners of the world, including Colombia, Japan and Thailand. Each lampshade is unique (no two are the same) and the plastic is combined with fibres used in the area where the lamp is produced. Therefore, each lamp has a design that expresses folklore, history and symbolism from a corner of the world.
The designer behind PET Lamp, Alvaro Catalán de Ocón, started the project in 2011 in response to the growing problem of plastic waste in the oceans, particularly in Colombia's Amazon. In many places, there are not enough resources to collect and recycle the huge amounts of plastic waste, and the designer is outraged that no country takes responsibility for it. PET Lamp is now produced in several parts of the world, and more areas are being added.
Alvaro Catalán de Ocón's lamps have been a great success, even outside Spain, and they have been nominated for and won several awards.
PET Lamp – you can buy PET Lamp online here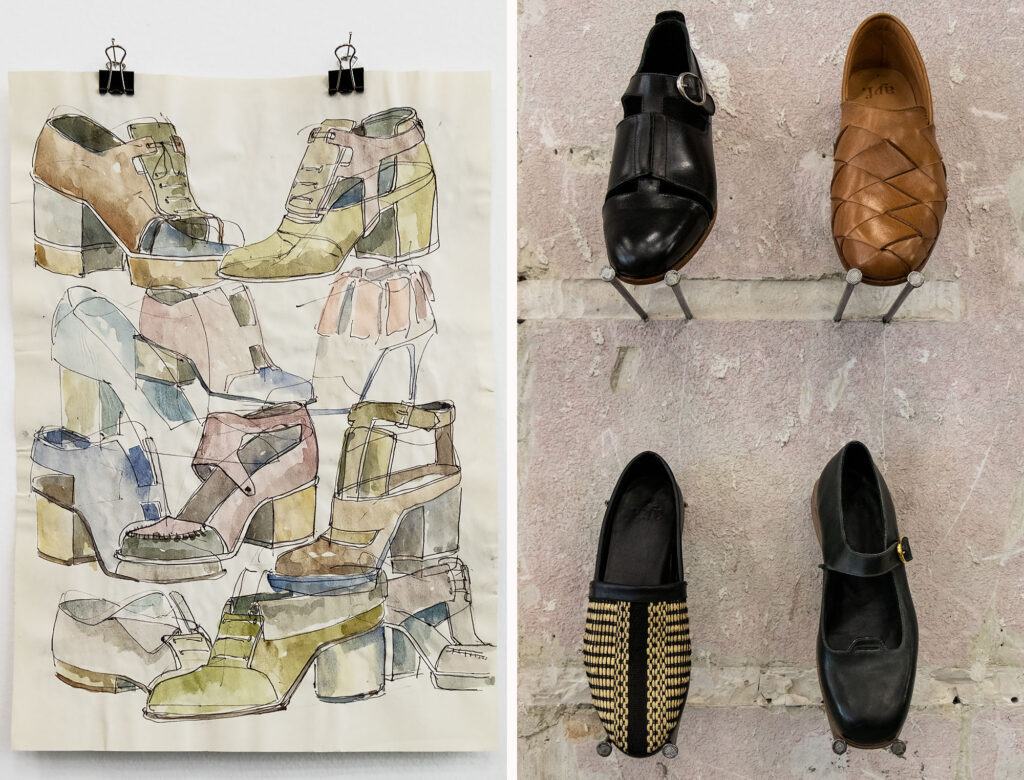 2. The architects who became luxury shoemakers
At first glance, there is no doubt that the shoes and boots of the brand Aldanondoyfdezs are created with the heart of materials and craftsmanship of the highest quality. Behind the brand are two Barcelona-based architects turned shoemakers, the pair giving centuries-old craft traditions a modern twist. Shoemaking began as a hobby for two architects, Ignacio Aldanondo and Catuxa Fernández, but they soon switched to becoming full-time artisans.
The process of developing the old shoemaking traditions has been long. The couple have learned from old Barcelona shoemakers and visited several flea markets and old workshops to collect the original tools for production.
Aesthetics are important when Aldanondoyfdezs design their shoes. The couple sees each shoe as a sculpture, which they model and develop as they create it. That's why two pairs of shoes in the same model are never quite the same. The materials are also untreated, because it is important for the pair that you can sense the texture of the leather.
It takes between 50 and 100 hours to handcraft a pair of shoes, and prices to get Aldanondoyfdezs luxury for your feet range from 530 euros for a pair of shoes and up to 820 euros for a pair of boots, and you can buy them in their webshop.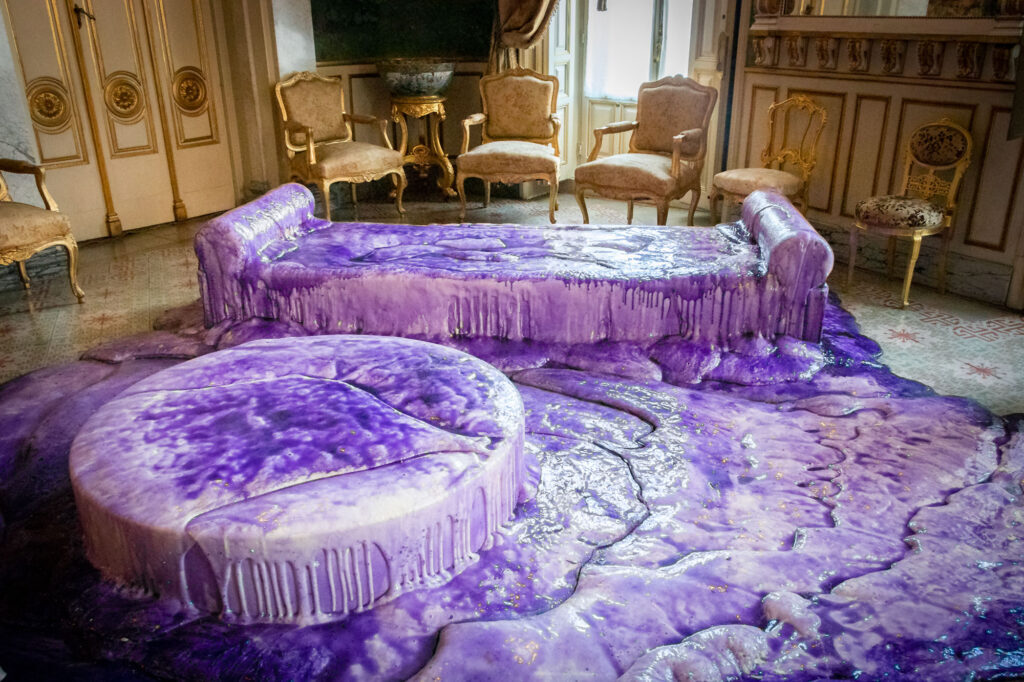 3. Barcelona designer Guillermo Santomà's avant-garde interior design
Giant sculptures like a purple sofa and a foam pouf that float across the floor like a melted candle, a scaffold-like sculpture with coloured neon tubes and a giant, bright blue piano in foam mingle with Baroque furniture in a 19th-century mansion that was formerly home to the 17th Marquis of Cerralbo.
During the Madrid Design Festival, a mid-century installation by Spanish architect and designer Guillermo Santomà moved into the Museo Cerralbo in Madrid to create a dialogue between the 19th and 21st centuries.
Based in Barcelona, Santomà is one of Spain's hippest avant-garde designers and the king of colour. He works with sculpture, interior design, architecture and scenography, constantly challenging traditional ways of combining colours, shaping furniture and, above all, mixing styles and materials.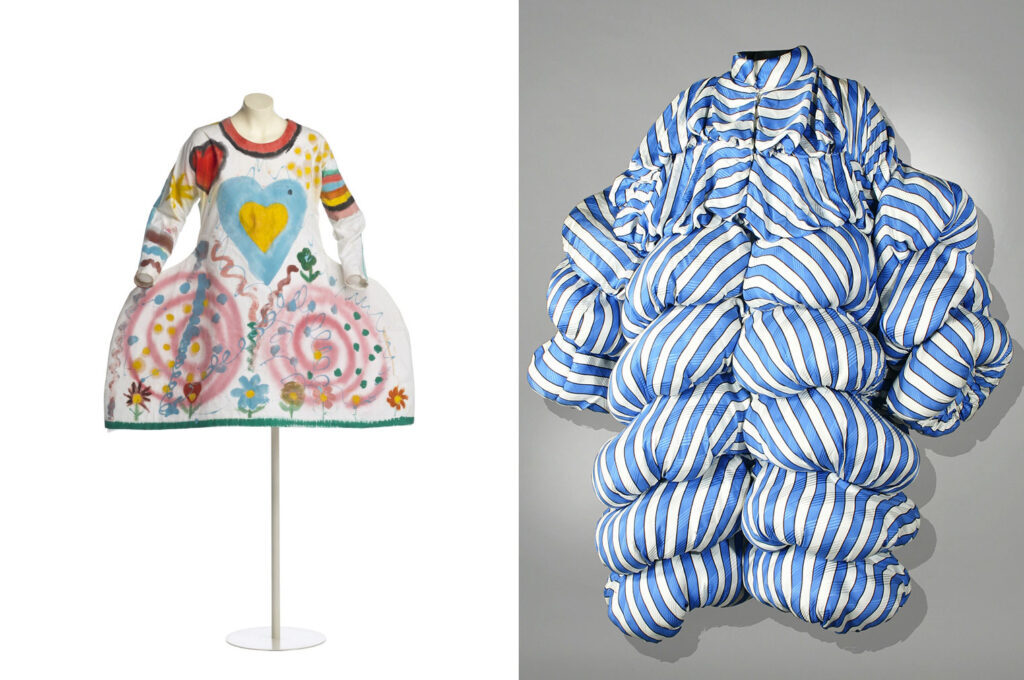 4. The sparkling fashion designer Agatha Ruiz de la Prada
Agatha Ruiz de la Prada is not new to the Spanish fashion scene. Since 1986, the prolific designer has had her own business, but her artistic and colourful designs, which range from clothing for adults and children, shoes, jewellery and perfume to pet accessories, ceramic tiles, stationery, books and kitchenware, are among the hippest in Spain.
Ruiz de la Prada has participated in the major fashion shows in Paris, Milan, New York, Berlin, Florence, Madrid and Barcelona, and she has exhibited jewellery in galleries and museums in Europe, the United States and Asia. In addition, Agatha Ruiz de la Prada has designed costumes and sets for dance and theatre performances and operas, decorated restaurants, gardens and playgrounds, and designed cars and posters.
If you buy an Agatha Ruiz de la Prada design, you're guaranteed to brighten up a rainy day, and you'll certainly stand out from the crowd if you wear it in Denmark. Agatha Ruiz de la Prada's designs can be bought in several shops in Spain as well as online in her own webshop.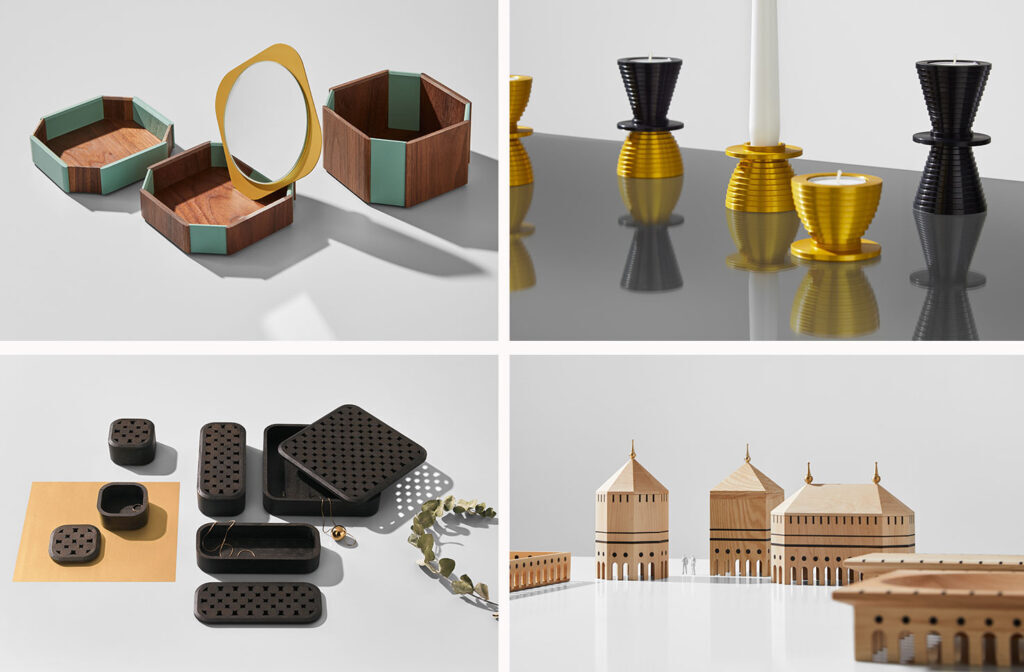 5. Imaginative designs for the home from Mad Lab
Mad Lab is a Madrid-based design studio founded by designers Antonio Serrano and Mar López in 2012. Mad Lab's eight designers create innovative items for the home that are both aesthetic and functional. Common to the designers is that they work very graphic in their expression and everything is in beautiful wood and metal materials.
Among the interesting designs you will find. "Babel" is a series of storage boxes that can be used for paper clips, pencils and jewellery. The Japanese-inspired "Joy" storage boxes are also suitable for jewellery and make-up (there is a mirror in the lid) and are available in different colours and types of wood.
Inspired by the ancient buildings of Babylon, the aluminium candlesticks "Candela" by Antonio Serrano can be used for both candles and long candles and can stand alone or be placed in a group.
Most innovative is a collection of miniature buildings, called "Utopia" by Antonio Serrano, which are handmade in cedar with ebony inlays and consist of jars, a fruit bowl, two trays and a serving dish.
Mad Lab also has bread boxes, decorative wooden and metal figurines such as birds, boats, rockets, balloons and tools, as well as office accessories. You can shop the beautiful designs in several stores in Barcelona, Madrid, Málaga, Bilbao, Santander, Seville, Valencia, San Sebastián and Huesca and in their webshop. You can even shop their designs at the Danish Architecture Center in Copenhagen. You can find a list of retailers on the Mad Lab website.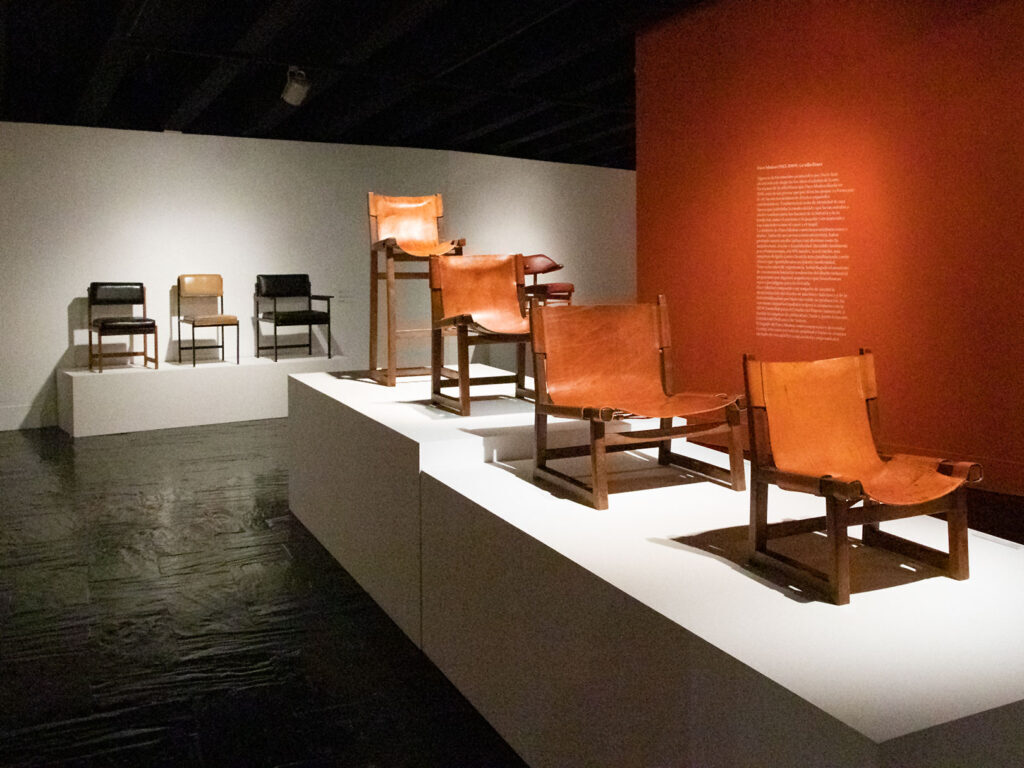 6. Vintage furniture from Darro
When Paco Muñoz founded the design firm Darro in 1959, he was also trying to bring modernism to the Spanish people and rebel against the Franco regime at a time when Spanish design was dominated by the traditional post-war aesthetic. Darro produced industrial design and furniture aimed mainly at the educated middle class, but the company unfortunately had to turn over in 1979 as production costs were too high and customers too few. Only the traditional upper class had enough money to buy furniture, and they preferred the traditional style.
The Madrid Design Festival had created a Darro exhibition in the Fernán Gómez cultural centre, with a total of 60 pieces of furniture and a collection of catalogues. The exhibition included desks, filing cabinets and several examples of Darro's iconic Riaza chair in walnut and leather. The furniture for the exhibition was found in private homes, vintage shops and flea markets.
Darro is considered one of the most solid design companies in Spanish modernity, and you can – with a little luck – find them in vintage shops, flea markets and private homes.