Granada has everything a food lover's heart could desire. Get on board with everything from free tapas to avant-garde food and sweets. Find your way to Granada's best tapas bars, restaurants, teahouses and ice cream parlours.
1. Innovative Andalusian dishes in the meadow
Tucked away in an alley, close to the town hall, you'll find the gastrobar, Alameda, one of the most promising eateries in Granada.
The Alameda is on two floors with a combined bar/restaurant on the ground floor and a restaurant on the first floor. The décor is simple, stylish and modern, as are the dishes on the plates.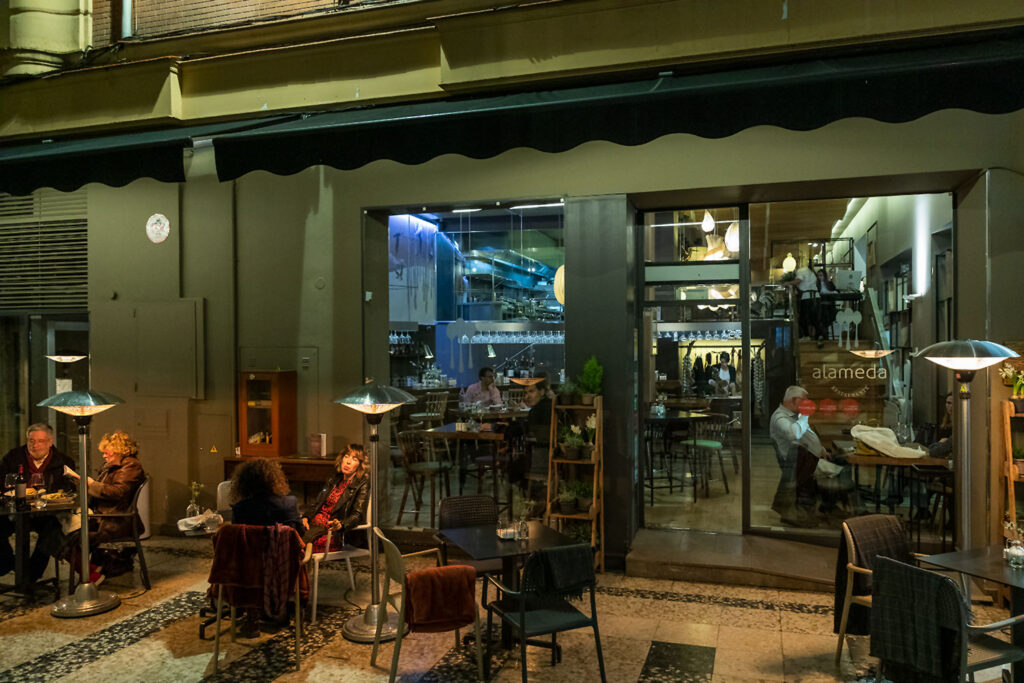 Alameda serves reinterpretations of Andalusian cuisine with an international twist. They do it so well that the Michelin committee has awarded the restaurant a "plate" in 2019.
Alameda's avant-garde fish dishes and especially the bull's neck ragout taste fantastic. If you prefer tapas, they also come in creative and modern flavours. The wines are local and well selected. The Alameda also has a terrace where you can enjoy a drink and a tapa.
Alameda, C/Rector Morata 3

2. Good wines and tapas in the Jewish Quarter
On the edge of the old Jewish quarter, Sacromonte, Casa de Vinos is not only a sublime wine bar but also one of Granada's best tapas bars.
The small bar's facade is far from flashy, but note that around the door hangs a selection of awards Casa de Vinos has received over the years. The bar is cavernous with a giant dark wood bar in the centre, with the wine menu written on fine cards on the menu board, which is an integral part of the bar.
To go with the house's huge selection of great wines, you can (in addition to the free tapa with the wine) enjoy classic tapas like cheeses (I had a delicious goat cheese with pedro ximenez jam and fried onions), ham, chorizo, sausages and duck pâté with orange.
Casa de Vinos la Brujidera, Monjas del Carmen 2
3. Legendary breakfast
For over 100 years and four generations, the Suárez family has been serving Granada's most sought-after breakfast, churros con chocolate. The café, which is also for the early risers (it opens as early as 6am), also has a restaurant, but it's the traditional Spanish breakfast for which it's best known.
If sweet churros and chocolate aren't your thing, you can also get a sandwich or a croissant and a cup of coffee. In the afternoon you can also have coffee and ice cream on the terrace of the cafe.
Café Fútbol, Plaza de Mariana Pineda 6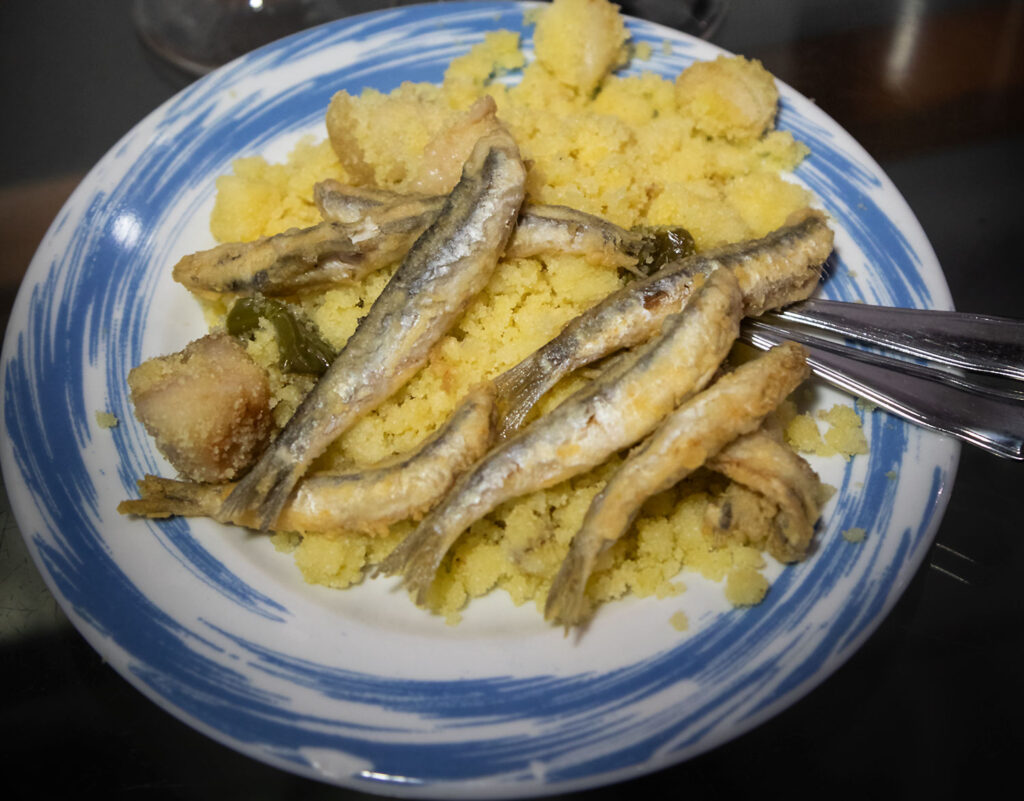 4. Granada's best tapas bar with free fish tapas
Behind a blue façade, a stone's throw from the cathedral, you'll find the Cunini fish bar and restaurant, serving fish dishes since 1953.
The oldest regulars seem to have been here almost as long as the bar has been around, and most prefer to eat in the bar by the big marble table, where the atmosphere is lively and good.
Order a beer or a glass of wine and you get a free fish tapa, and they're not stingy with the portions. If you're hungrier, supplement with seafood dishes from the menu, which includes prawns, crabs, lobster, oysters, mussels, sea bass and lobster.
Restaurante Marisquería Cunini, Plaza Pescadería 14
5. Tapas overlooking the Alhambra
It's hard to see when you're standing in front of the Morayma restaurant, but behind the heavy, brown wooden door lies a paradise of lush gardens overlooking the Alhambra.
In the garden – and inside the restaurant – you can enjoy tapas and Mediterranean dishes such as squid, tuna and bull's tail ragout, which are excellent, but the prices are on the high end for these classic dishes. Here you have to pay a little for the view.
You can also enjoy a beer and a tapa on the small rest area between the garden and the restaurant, while enjoying the stunning views of the Alhambra.
Restaurante Mirador de Morayma, C/ Pianista García Carrillo 2

6. Oriental dinner in Alladin's cave
In a small alley in the Arab quarter, you'll find Arrayanes restaurant, which serves Moroccan halal food and is one of the best Arab restaurants in Granada.
The décor is thoroughly oriental with tiles, oriental arches, chairs wrapped in deep red fabric and oriental lamps. It feels completely like being flown on a magic carpet and into an oriental adventure.
The menu includes delicious starters like Fez salad, an irresistible babaganoush, Arabic salad and hummus, served with really good homemade bread. Main courses include popular lamb, chicken or beef skewers served with rice and vegetables, as well as various tagines and couscous.
Arrayanes does not serve alcohol, but you can get a selection of smoothies, juices and soft drinks.
Restaurante Arrayanes, Cuesta de Marañas 4,
7. Arabic tea and cake
Granada's Arab quarter, Albayzín, is dotted with small, cosy teahouses. My favourite is La Tetería, which is just behind the Arab baths.
The tea house is an oriental cave with lots of cosy corners with real carpets, soft cushions and Arabic ceramic tables. There is also a cosy terrace with views of the Alhambra.
On the menu you'll find a huge selection of teas, as well as home-baked Arabic and more Western-oriented cakes like chocolate and carrot cake. Both tea and cakes taste really good, and it's a great hideaway to find peace and a break after climbing the neighbourhood's steep streets.
La Tetería del Bañuelo, C/ Bañuelo 5
8. Granada's best ice cream
On one of Granada's main streets, Gran Vía de Colón, which runs right up to the cathedral, you're bound to run into a crowd of locals holding ice cream cones. On the main street you'll find the best ice cream bar in town, Los Italianos, loved by little kids and celebrities like Michelle Obama.
The Italian ice cream bar has been around for over 80 years, and the recipes for the frozen creams in several flavours are a well-kept family secret. The ice cream get both in scoops and layer cake. The most popular is a slice of ice cream cake with chocolate, sorbet and candied almonds and fruit, served in a wafer.
Heladería Los Italianos, Gran Vía de Colón 4
9. Exquisite gourmet delicacies
Andalucía Delicatessen is neither a tapas bar nor a restaurant, and the only thing you can eat here are the gourmet delicacies, samples of which are generously shared. It's on the list of great places to eat in Granada, because shopping for gourmet delicacies here is a must.
The little gem of a modern shop is packed with local delicacies such as hams, cheeses, olive oils, vinegars, jams, spices, cava and red wines. Most of the delights come from small, local producers and it's really worth reserving space in your suitcase to take some of the delights home. You will find the small shop close to the Town Hall.
Andalucía Delicatessen, C/ Salamanca 11