Netflix is churning out Spanish series, and there's something for everyone in several genres. Stream a great Spanish series on Netflix at home on the sofa. Turning off the subtitles will also help you practice your Spanish language skills.
1 The House of Paper (La Casa de Papel)
The most successful non-English series on Netflix is La Casa de Papel, which has taken the world by storm.
El Profesor (Álvaro Morte) devises a sophisticated coup plan and assembles a group of criminal men and women who have absolutely nothing to lose. The group locks itself in the Spanish National Bank to print 2.4 trillion euros and commit the biggest bank heist in world history.
There's plenty of drama, action and pace in the series as the group must hold off the police, deal with unpredictable hostages, their own emotions and internal drama. It's almost impossible not to fall in love with the humorous, suspenseful characters, who have been given crime cover names after big cities like Tokyo, Nairobi, Berlin, Denver, Helsinki and Oslo.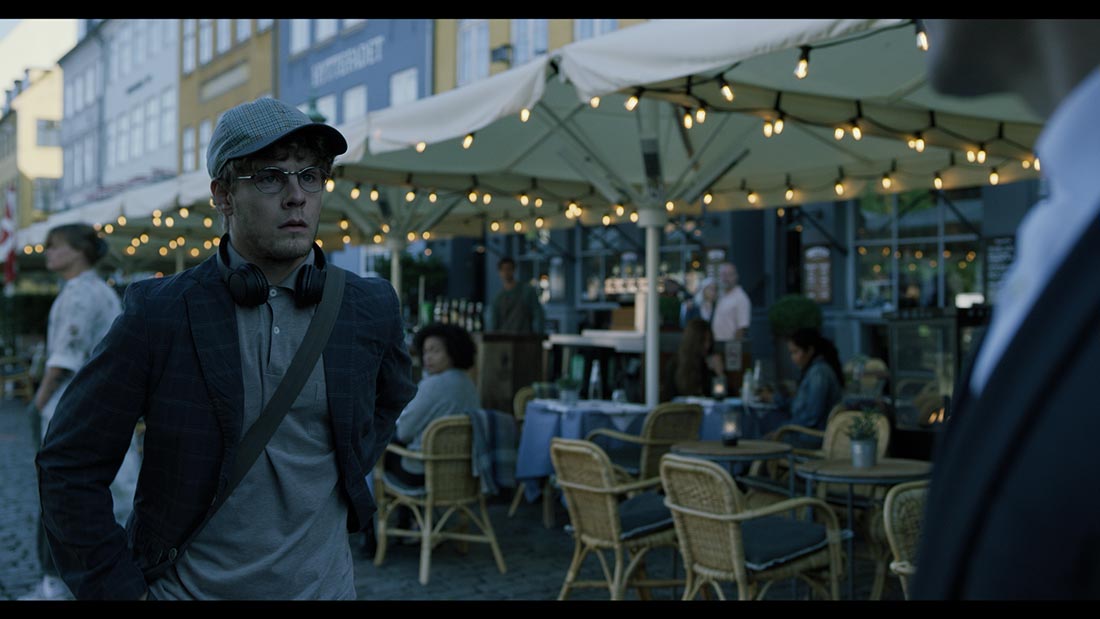 The series about the criminal group, whose red boiler suits and Dalí masks have achieved cult status, premiered in 2018 and there are four seasons with eight episodes in each. Netflix is shooting the fifth and final season of The Paper House, with some scenes filmed in Copenhagen's Nyhavn harbour.
The Paper House was created by Spanish screenwriter, director and TV producer Àlex Pina.
2 The Ladies of the Cable (Las Chicas del Cable)
The ladies of change (Las Chicas del Cable) laid waste to Spanish streets when it premiered in 2017 as the first original Spanish series on Netflix. It also quickly became a success in the rest of the world.
The series begins in Madrid in 1928. Lidia (Blanca Suárez), on the run from her past, ends up as a switchboard operator in a large Madrid telephone company, where she befriends Carlota, Marga and Àngeles. We follow the brave and spirited women in their rebellion against society's norms and oppressive men. It is a nerve-wracking and gripping journey through heartbreak, murder, prison camp and the struggle for the right to be gay.
The Ladies of Conversion is pure fiction, although with references to Spanish history.
In the 1920s, Madrid gained telecommunications and the iconic Telefonica building on Gran Vía. This was instrumental in bringing Spanish women into the labour market, which also sparked a burgeoning feminism.
The final section dissects the lives of the women in transition in the midst of a war that draws references to the Spanish Civil War and the time when homosexuals were also struggling and people were sacrificing their lives in the fight for freedom.
The ladies of change on Netflix is in its sixth season, and there will be no more.
3 Vis a Vis
Naive Macarena Ferrerio (Maggie Civantos) is manipulated into embezzlement by her boyfriend and ends up in a maximum-security women's prison, surrounded by tough and ruthless criminal women. Here, Macarena must learn to navigate a new and harsh world where she must constantly fight for her own survival and future judgment.
In the black and white world of Spanish prisons, the innocent Macarena faces her arch-enemy Zulema, who ruthlessly controls her fellow prisoners as if it were her personal business. When Macarena accidentally discovers where Zulema is hiding money outside the prison, the fight picks up speed.
Outside the prison walls, Macarena's family struggles to get her out of jail and they too end up in trouble, getting involved in the fight for Zulema's money through her boyfriend.
In addition to following Macarena and her transformation from naïve and trusting to more strategic and combative as problems pile up, Vis a Vis is also – through the supporting cast – a tale of women's destinies, friendships, love, drug addiction. It is spiced with abuse of power by prison staff.
Vis a Vis (meaning face to face) is the Spanish answer to a popular Netflix series Orange is the new black, but with a clearer hero/villain scenario and in a more raw narrative. The series is not for the faint-hearted, and the violence develops episode by episode.
Vis a Vis is in six seasons and is written by Álex Pina, who is also behind the Paper House.
4 The escape plan (Fugitiva)
Magdalena (Paz Vega) has escaped an abusive marriage and stages a kidnapping of herself and the couple's joint children to protect them from her powerful, rich husband and his vengeful enemies.
At first, Magdalena tricks the children into thinking that their father, Alejandro, is behind the kidnapping. The danger has no idea that it's an escape plan, and that's what makes the series interesting. The pressure on Magda increases as her father does everything in his power to find the family, while she wants to avoid at all costs that the children come into contact with him. At one point, Magda's mother and brother also become part of the escape, complicating things further.
It's not easy making the getaway with unruly teenagers and keeping them hidden in the party town of Benidorm. The series is exciting, nerve-wracking and fun. Some of the characters are a bit hollow and caricatured, but the series is worth streaming to enjoy Paz Vega's performance as Magda.
The Escape Plan premiered in 2018 and is one of the rare short Spanish series on Netflix. There is only one season.
5 Mar de Plástico
Outside the city of Almería lies the giant greenhouse area of Mar de Plástico (Plastic Sea), where vegetables are produced for the whole of Europe. The work is mainly done by immigrants from Africa, Latin America and Eastern Europe, some of whom are in the country illegally. In several places, pay is poor and working conditions are poor.
This real-life location and situation is the setting for the narrative of the Netflix series Mar de Plástico, set in a small Andalusian town (with a made-up name). The air is thick with racial tension among workers in the city's many nurseries, where a young girl is murdered.
The local police station won't investigate anything in the greenhouses because they assume it's just racial conflict.
The new cop in town, Hector (Rodolfo Sancho), who has just returned from Afghanistan, is a man of justice, so he sets up a team and goes into the case. Joining Hector are two local cops, Lola, who is a gypsy and has family conflicts, and Salvo, who has direct links to some of the suspects in the case.
As the investigation progresses, the list of suspects grows and we get around colourful characters and side stories with romance and drama – and also around Hector's personal challenges – and into the village environment. Occasionally, we also get a little far from the main plot, which is interesting and enhanced by the unique setting and some of the characters. It makes me hang on, even if it does get a little soap opera and macho at times.
Mar de Plástico is in two seasons and from 2015.
6 Bitre Margueritter (O sabor das margaridas)
The crime thriller Bitre Margueritter was the first Galician-language series to air on Netflix. It was produced by CTV and premiered in 2018.
Rosa Vargas (Maria Mera) is a civil guard investigating the disappearance of a teenage girl in a quiet and staid Galician town. Soon it becomes clear that the village is full of secrets and that the missing teenager is only part of a much bigger and complex story. Rosa herself also has secrets and ulterior motives.
Rosa works with the local cop, Mauro, who downplays the case and hinders Rosa's work. As Rosa's investigation develops, she stumbles across several in town who may know something about the missing woman, and secrets surface. What happens to the women who disappear from the local brothel, does a local teacher get too close to his students, what is the eccentric kleptomaniac hiding, and is Rosa really hunting a serial killer?
Bitter Marguerites is a look into a sleepy town's mishmash of quirky personalities, and Rosa is a strong character who, driven by both professionalism and personal motives, refuses to give up until she gets to the bottom of the case.