Unleash your inner bohemian in Valencia's multicultural Ruzafa district, where artists, hipsters and freaks gather. Here you can soak up the local atmosphere in pavement cafés and restaurants, shop for vintage finds and contemporary design and view art.
Don't cheat yourself of a shot of real Ruzafa atmosphere in Valencia's trendiest neighbourhood when you're on holiday in the city. This small residential neighbourhood, which until 1877 was an independent town, is located in the south-eastern part of L'Eixample and entices with its relaxed lifestyle and multicultural atmosphere.
The name Ruzafa comes from Arabic and means garden, and the neighbourhood consisted of ornamental gardens for the Moors when they ruled Valencia.
It's not big attractions that make Ruzafa (also called Russafa) Valencia's hippest neighbourhood. On the other hand, there are plenty of small art galleries, cool vintage shops, cafes, retro bars and restaurants, and beautiful architecture. Spend a Friday or Saturday in Ruzafa when visiting Valencia. Here you're guaranteed cool, local bohemian vibes as locals gather on the neighbourhood's countless terraces. Don't forget to take a look at the beautiful, colourful apartment blocks with iron balconies as you walk around the neighbourhood.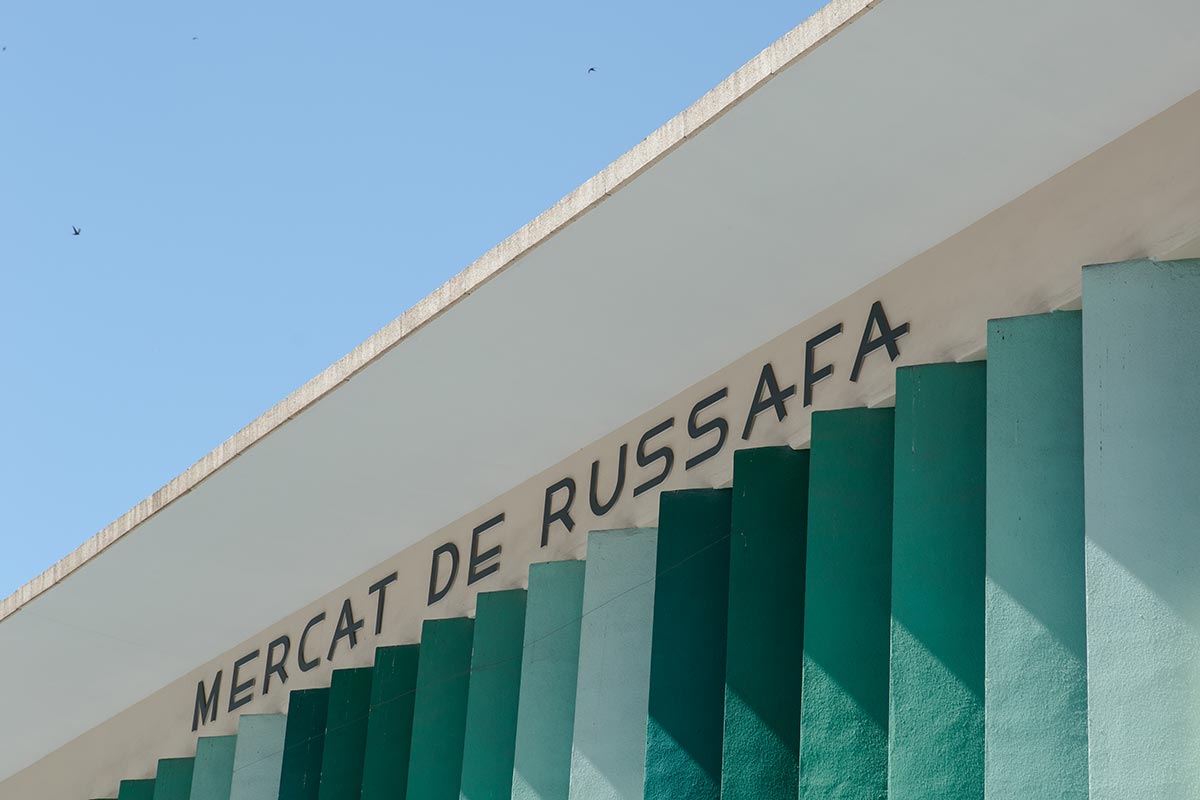 9am: Go to the market
Behind a facade of gaudy orange, blue, yellow and green glazing, you'll find Ruzafa's food market in an industrial building dating from 1958. From the early morning, locals wheel in shopping trolleys filled with fresh, colourful fruit and vegetables from the many stalls. The stalls are full of local oranges, aubergines, tomatoes and onions, and you can also shop for to-go snacks like baked peppers and pumpkins. The market is also a good place to shop for delicacies for your suitcase such as almonds, nuts, olive oil, ham and cheese.
Mercado de Ruzafa, Plaça del Baró de Cortés 9
Show this post on Instagram
10am: Eat at Ruzafa's best brunch café
Dulche de Leche is Ruzafa's favourite brunch café, and you can enjoy it on the terrace or in the cosy café.
You can choose the café's brunch menu or put one together yourself. You order it at the glass counter, which is full of bread, rolls, croissants and cakes. You can also get bagels with scrambled eggs, avocado and bacon. The café has a nice selection of freshly squeezed juices and teas as well as good coffee.
Dulce de Leche, Carrer del Pintor Gisbert 2
11.30: Art in the former sports club
The art and cultural association Sporting Club Russafa is a peculiar mix of gallery, art workshops and performance space. From the outside, you can only see the long, narrow gallery, but at the end of it, a lot of small workshops open up, gathered around a large stage. Artists, jewellery designers, photographers and architects work in the workshops, and you can see their work in the gallery.
Before the artists took over the premises, they housed the neighbourhood boxing club and later a football club. The football club's banner still adorns the room above the stage, where there is a performance on Saturday.
You are welcome to look over the shoulders of the artists as they work, as well as talk about their work.
Sporting Club Russafa, Carrer de Sevilla 5
14.30: Pitshop at the book café
Ubik Café exudes Ruzafa's good vibes and bohemian/hipster soul. The popular café is decorated with vintage furniture and shelves of books, and there's also a red corner for the kids. The books are Spanish and a mix of new and second-hand that you can buy.
Ubik Café regularly hosts concerts and cultural events. Enjoy a local craft beer or coffee at one of the wooden tables, at the bar or in an armchair overlooking the street life. You can also get lunch menu, salads, sandwiches and cakes at reasonable prices.
Ubik Café, Carrer del Literat Azorín 13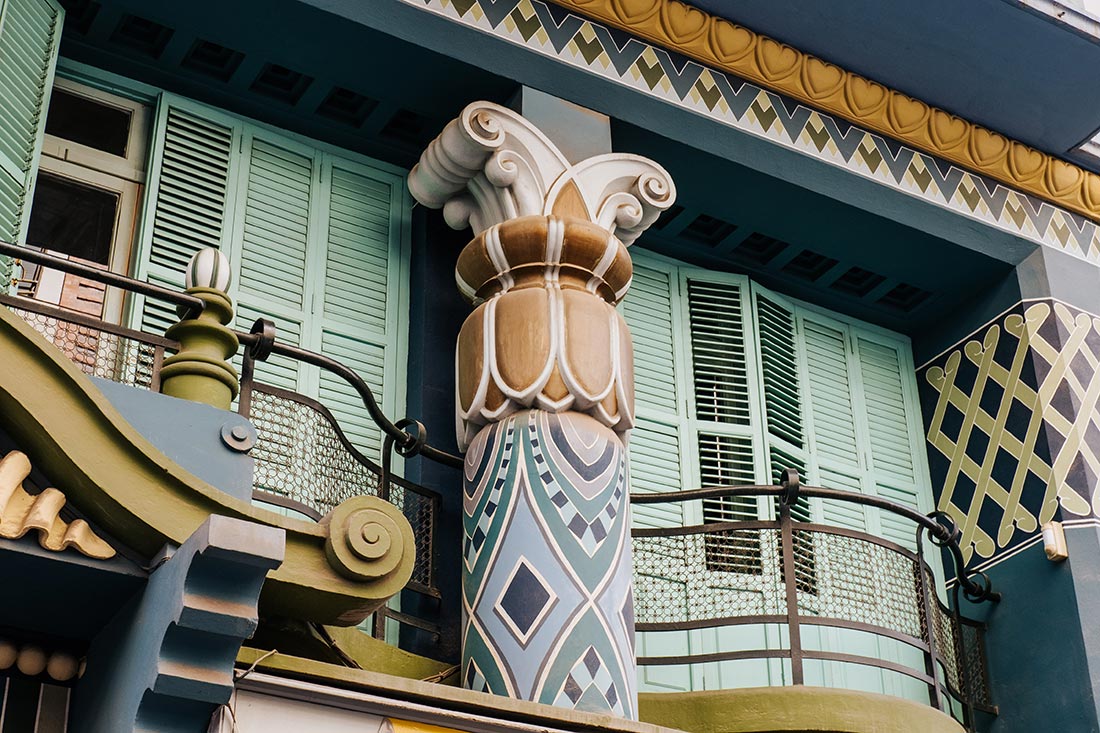 16:00: The Jewish House
Ruzafa is dotted with beautiful buildings, but the jewel is undoubtedly the Jewish House, named after the Star of David that adorns the entrance.
The original house, with an abundance of colours from burnt orange on the top floor to blue-green on the ground floor, was built in 1930 by local architect Juan Francisco Guardiola Martínez. The seven-storey building is a fine example of Modernista architecture, inspired by Arabic, Egyptian and Hebrew styles. Here, Valencia's Jewish community met in secret. Today there is sometimes an open house, so you can also look inside.
La Casa Judía, Carrer de Castelló 20
17:00: Shop vintage finds and modern design
Ruzafa is full of small vintage and designer shops, so take your time to explore them. Here you have a great opportunity to shop for an original souvenir to take home.
Behind an eye-catching 1980s-style yellow, green and pink facade, you'll find the GNOMO design shop, where you can find the gift for someone who loves great design. T-shirts with local Ruzafa prints, which many locals walk around with, graphic prints with local imprint, postcards, geometric picture frames, flowerpot holders, jewellery and decorative ceramic birds. GNOMO has a nice selection for the home and also a designer stand for the bike. Most of the products are created in collaboration with local artists.
GNOMO, Carrer de Cuba 32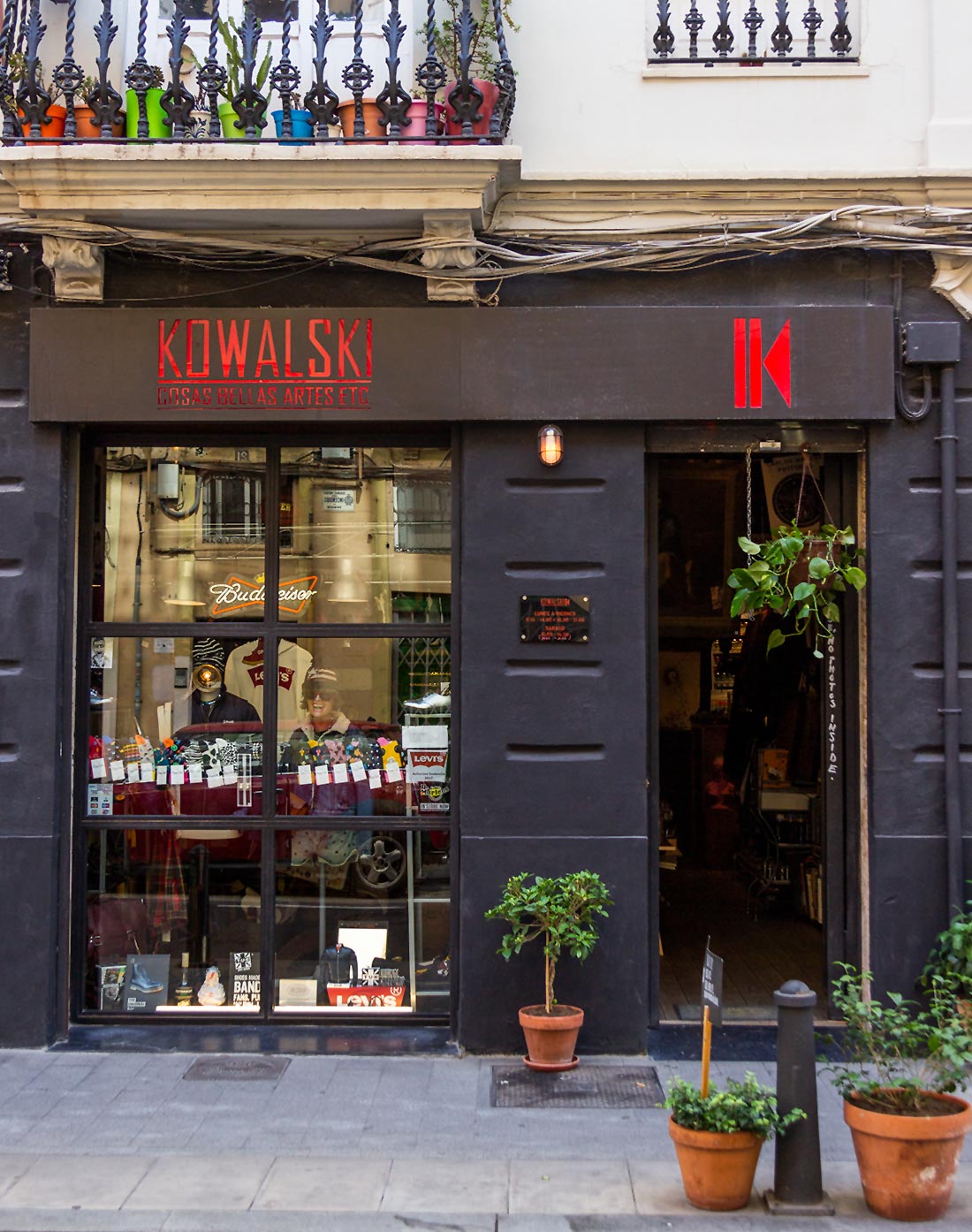 Vintage finds with good stories
In the vintage shop, Kowalski, you can shop for everything from art supplies and pictures to vintage sunglasses, boots and clothes. The owner himself is behind the counter, and he is happy to tell the story behind the many things the shop is full of. Here is also a selection of new items.
Kowalski, Carrer de Dénia 20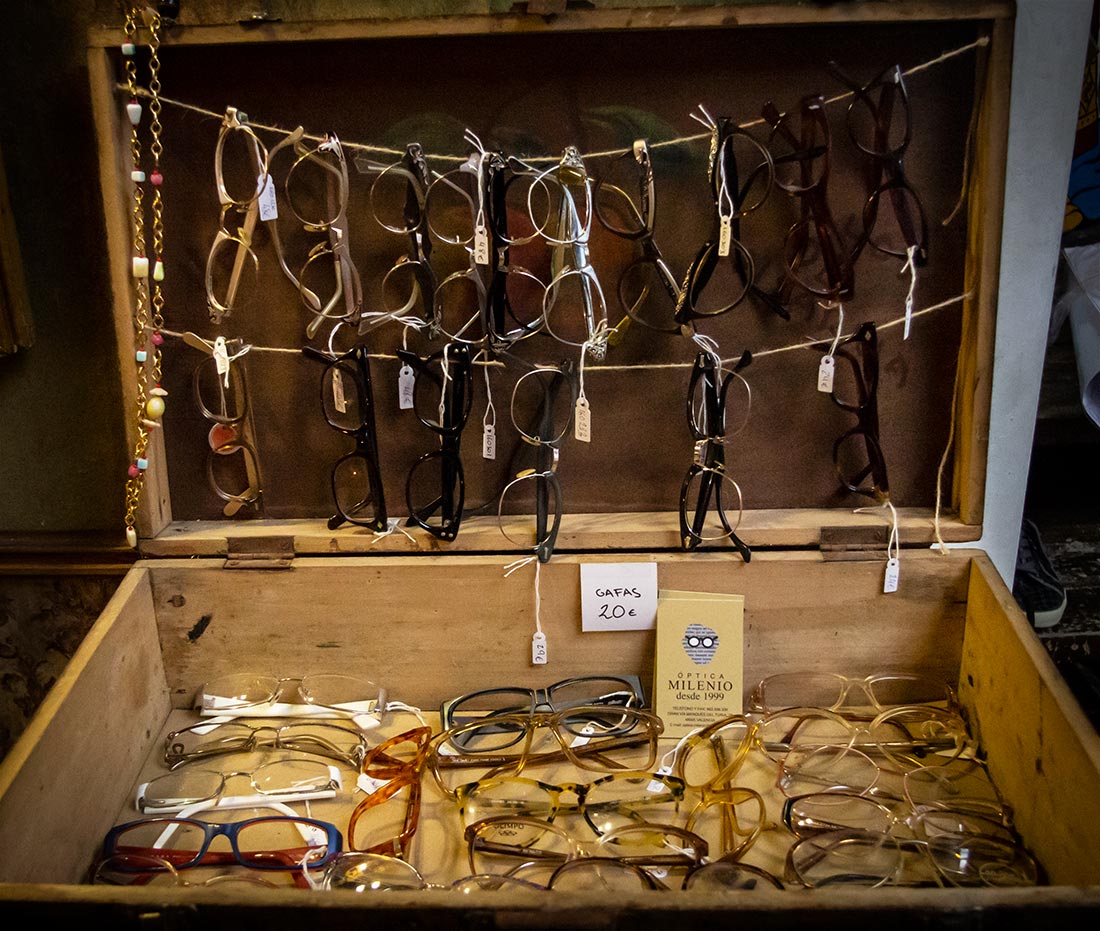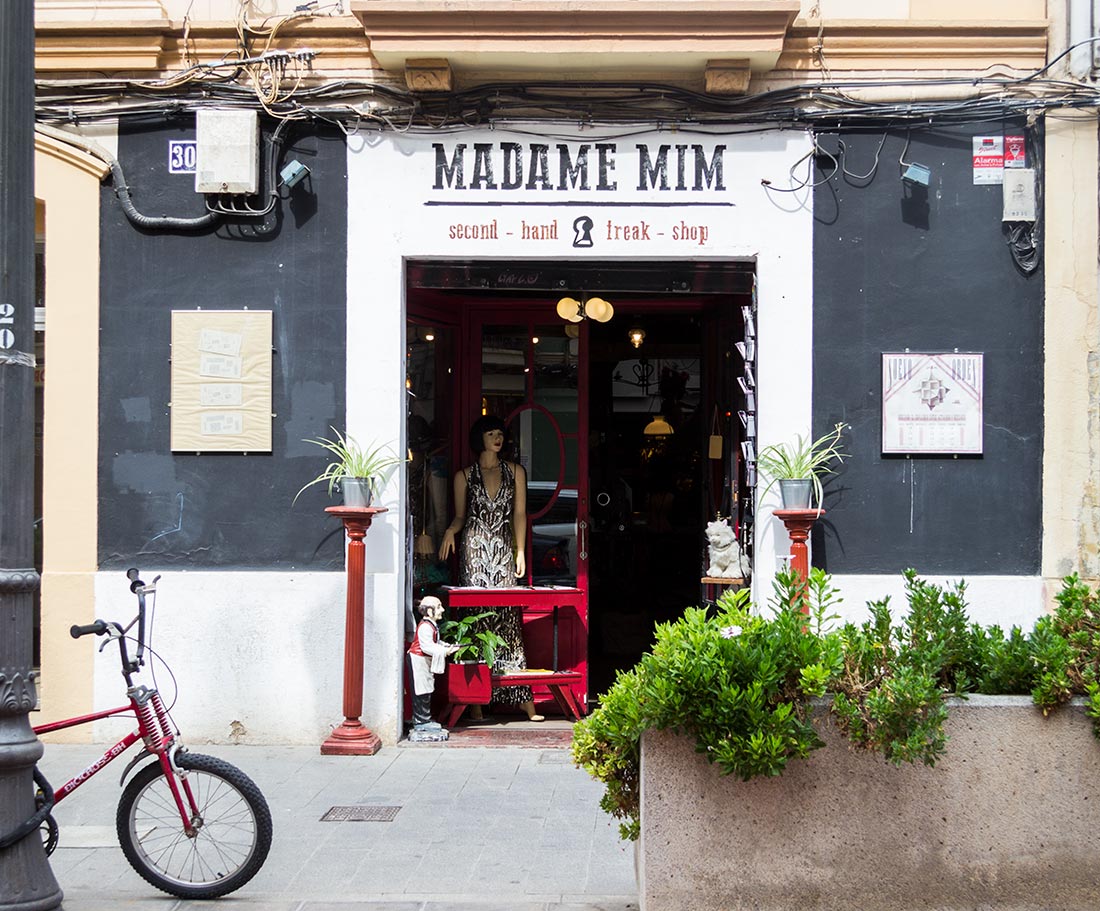 Madame Mim's sumptuous cave
Continue your shopping trip in the vintage shop Madam Mim, which feels like stepping into a completely different world. The theatrically decorated shop is full of everything a vintage heart could desire. Dresses, walking suits, sunglasses, bags and jewellery from distant decades mingle with quirky trinkets, watches, boxes and lamps.
Mrs Mim, Carrer de Puerto Rico 30
19:00: Canned sea snacks
Brightly coloured tins are stacked by the metre on the shelves behind the counter of the former fishmonger's, which now specialises in serving tinned seafood. The decor is a chic, industrial interpretation of a maritime cannery, and the owners, Laura and Carlos, live in the neighbourhood themselves. La Conservera is the ideal place to grab a fish snack. The quality is top in the cans, and most of the delights are imported from Portugal.
La Cooperativa del Mar, Carrer del Literat Azorín 18
Show this post on Instagram
20:00: Urban dinner at Ricard Camarena
Ask a local where to eat best in Valencia and chances are one of celebrity Michelin chef Ricard Camarena's restaurants will be mentioned.
Camarena's most electric and relaxed restaurant is Canalla Bistro in the Ruzafa district. The decor is all New York style, with subtle touches like plastic pig heads on the walls. You'll find the whole world on the plates, which include creative dishes such as pastrami sandwiches, taco with slow-roasted pork, smoked beer nigiri and avocado cannelloni with marinated tuna and salsa.
Book a table in advance.
Canalla Bistro, Carrer del Mestre Josep Serrano 5
Accommodation in Valencia's Ruzafa district
Although Ruzafa is not a very large neighbourhood, there is a nice selection of hotels and holiday apartments. I stayed in the holiday apartment at El 16 Ruzafa, which has a small selection of apartments with up to two bedrooms. Located in the heart of Ruzafa, you have the local café atmosphere right outside your door. The apartments are modern, functional and the cleaning is top-notch. See photos of the apartments and check prices and availability here.
More travel tips for Valencia
Find more inspiration for your holiday in Valencia in the city guide, and read how you can learn to make authentic paella in a workshop here.
If you want a taste of Valencia in your own kitchen, try the recipes for paella and Valencia's signature drink – Agua de Valencia.