Gin is hip in Barcelona and everywhere in the city Gin and Tonic is served in buckets. You can even make your own gin at a workshop in Barcelona. I tried the gin workshop which, despite its popularity in the city, is still one of Barcelona's secret experiences.
In Barcelona, every self-respecting bar has a drinks menu that consists only of gin drinks of different types and brands. So of course you can also make your own gin in Barcelona at an exclusive workshop right in the city centre. I am one of the big gin lovers, so of course I had to test the course, which the small distillery, Corpen, is behind.
The gin workshop takes place in small groups of no more than six people, and four of us met under one of the arches in the central Plaça Real. Here we met Brian, who accompanied us to an apartment at the top of the square where the course takes place.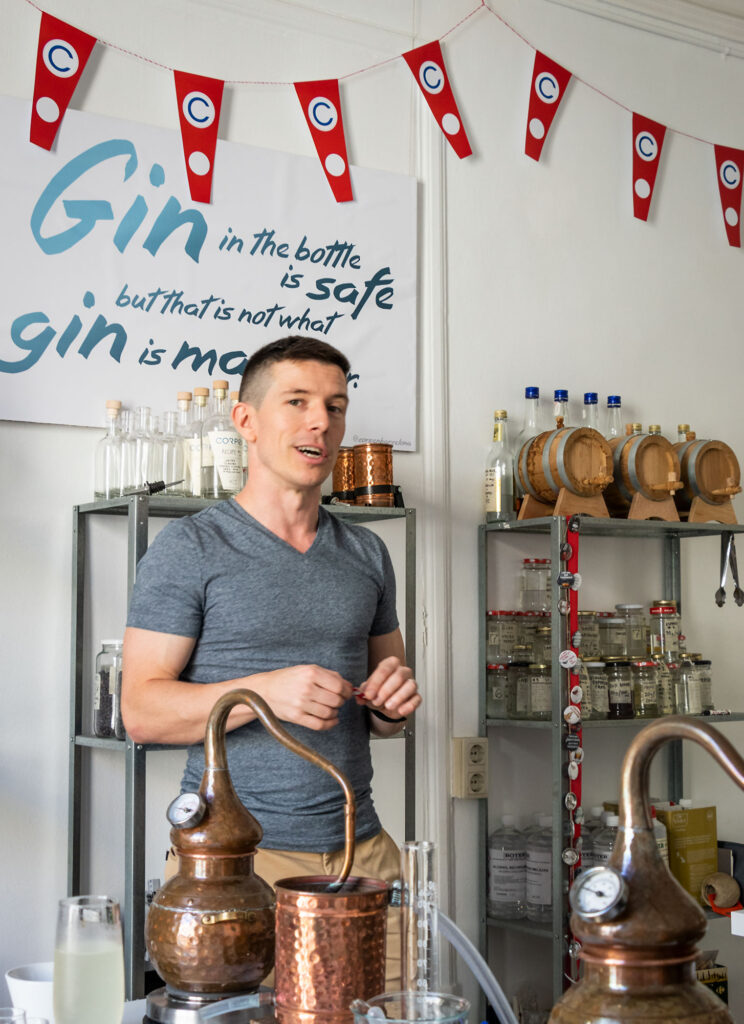 Corpen, Brian, Pablo and gin
Well placed in the small room in front of each of our little labs of copper kettles (we'll come back to that) and with a welcome drink in hand, Brian begins the workshop with an introduction to Corpen and gin.
Corpen Distillers in Barcelona is owned by Brian and his friend Pablo. Like the thousands of microbreweries that produce beer, the friends want to distil their own gin that stands out from the mass-produced. Corpens gin is only available in a few bars, but you can make one of their gin variants at the workshop.
– What does gin consist of?, Brian asks out in the room.
– Spirit with juniper berries!, I promptly reply. I know this from my visit to Menorca, where a lot of gin is produced.
What I, and the rest of the team, didn't know is that the spirit from which gin is made is vodka. The pure vodka is then added to the juniper berries, and then you have your base, to which you can in principle add whatever spices you like, and then it all has to be distilled.

Which gin recipe should I choose?
So far, Brian and Palbo's work to create unique and tasty gin has resulted in three flavours. They simply got the names: Recipe 1, 2 and 3. All variants have an alcohol content of 41-43%, and of course they all contain a base of vodka and juniper berries. What sets them apart is the combination of the other spices added.
Now we have to choose which gin we want to make, so Brian hands out samples of the three variants. The deciding factor in what we choose is how we want our gin flavoured. For example, should there be roasted or unroasted coriander, iris root, orange peel, eucalyptus or black pepper?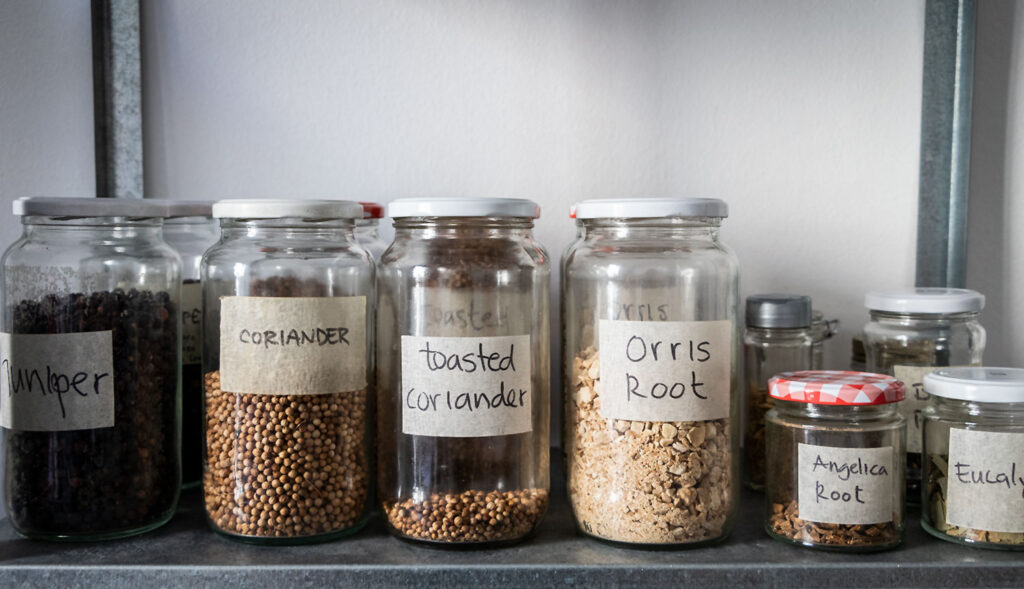 I choose recipe number 1, which in addition to juniper berries, contains coriander and roasted coriander, iris root and angelica root. The recipe is slightly more spicy than the other two versions, and I was the only one on the team who preferred it. The others chose the fresher number 2 with fresh orange peel and eucalyptus.
We're handed recipes, and then it's off to the spice rack to pick up the ingredients for my gin.

Distilling my own gin
Back at my little distillery I start weighing spices. And they need to match the recipe on the gram to get the right flavour. The spices are then poured into the small copper kettle and mixed with vodka. Then let the vodka infuse with the spices to absorb as much flavour as possible.

Although it's easy to make your own gin, especially when Brian and Pablo have done the hard work of finding just the right combinations of spices and vodka, it does require a small distillery that you don't have in your kitchen.
The small distillery consists of a small copper kettle, where the vodka and spices are first steeped in the small vessel. The vodka is then heated and the distilled liquid is poured into another small copper vessel and out through a tube into a small glass jug.
During the distillation process, I sit with a stopwatch and time how long the liquid in the vat takes to reach from 40 to 70 degrees, and when the first distilled gin drips out of the little tap, much to my satisfaction.

Gin and tapas while distilling
While we wait for the precious drops to flow into the pitcher, Brian serves tapas and Gin and Tonic, made with the gin of the same recipe that I am making. A nice little detail, because it tastes so good that my expectations of my own gin take on new heights.
After a while, the smell of alcohol spreads in the room and the distilled alcohol that flows out through the pipe is a highly concentrated affair of over 80%. That's why you shouldn't play with fire when distilling gin.
It took about half an hour before we all had our little glass jars filled with concentrated gin. Brian showed us how to measure the alcohol content and temperature of the precious drops several times during the process.

Ready to serve drinks with my own gin
When all the concentrated and distilled gin had dripped into my little jug, there was a total of 158 ml with an alcohol percentage of 84. You can't drink that, so distilled water was added.
My finished gin ended up with an alcohol percentage of 51.7. The alcohol percentage in the finished gin varies a few percent, more it can not be controlled during distillation. On the other hand, it can be adjusted with water afterwards. Now my gin was ready to be poured into a nice little bottle with a handwritten label with my name, table of contents, date and alcohol percentage.
I was quite proud of the result. When I got home, I invited a few of my most gin-loving friends over for homemade gin and tonic. Both my friends and I were thrilled. My gin tasted fantastic and with a nice balanced spicing. We emptied the bottle and I'm ready for another workshop in Barcelona so I can get more of the good gin.
If you want to go to a gin workshop in Barcelona, you can book via Airbnb. The workshop costs DKK 670 per participant and includes drinks, tapas and your own bottle of gin. Book the workshop here
Find more tips for Barcelona in the guide here.
If you want to try a different language school in Barcelona that also works as a workshop, read more here.