The Andalusian coastal town of Almería is an exquisite pantry, packed with local delicacies. The inviting Mediterranean dishes at Almería's rice restaurants and bars are worth the trip, and sampling the famous white and red prawns and free tapas is a must.
Packed with talented chefs, some of the country's tastiest produce such as seafood, fruit and vegetables, Almería is a foodie's paradise. In 2019, the city was also named gastronomic capital, La Capital Española de la Gastronomia.
Among the delicacies caught in the Mediterranean, the large red and white shrimps – gambas rojas and gambas blancas – are among the region's most exquisite delicacies, because they are meatier than shrimps caught in other parts of Spain.
Most of Almería's fruit and vegetables, especially tomatoes, peppers, courgettes, aubergines and melons, are grown in the giant greenhouse area, the Plastic Sea (Mar de Plástico). It is not only the locals who can enjoy the vegetables from the Plastic Sea, many are imported to the rest of Europe – including Denmark.
1 Almerías food market
Before you fill your belly with Almería's many delights, check out the city's market.
On the ground floor you will find local vegetables and delicacies. Here are giant melons, aubergines, RAF tomatoes, seedless clementines, fresh figs, lemons, potatoes and courgettes. Here you will also find the special delicacy gurullos, which is hand-rolled pasta similar to rice.
In the basement you will find the fish stalls with the catch of the day. From the famous local red and white prawns and oysters to tuna, octopus and mullet. If you fancy a taste of the freshly caught delicacies, there are also stalls where you can prepare your seafood.
2 Classic and modern delights in the tapas street
Almería's main tapas street, Jovellanos, also known as the hectómetro de oro (gold hectometer), is dotted with delicious tapas bars where locals meet for lunch and dinner.
Here you can eat your way through Almería's huge selection of tapas, and there's one free tapa when you buy an alcoholic drink or a non-alcoholic beer.
Casa Puga at number 7 is the most classic and popular bar on the street. Here, the shelves are stocked with local wines and hams hang from the ceiling, waiting to be eaten.
The free tapa served with the drink is typically ham, roasted mushrooms, squid or anchovies. Choose more from the traditional menu if you're hungrier. Casa Puga is packed to the rafters and people like to queue up to wait for the bar to open, so make sure it's at noon or 8.15pm, otherwise it can get crowded.
Casa Puga, Jovellanos 7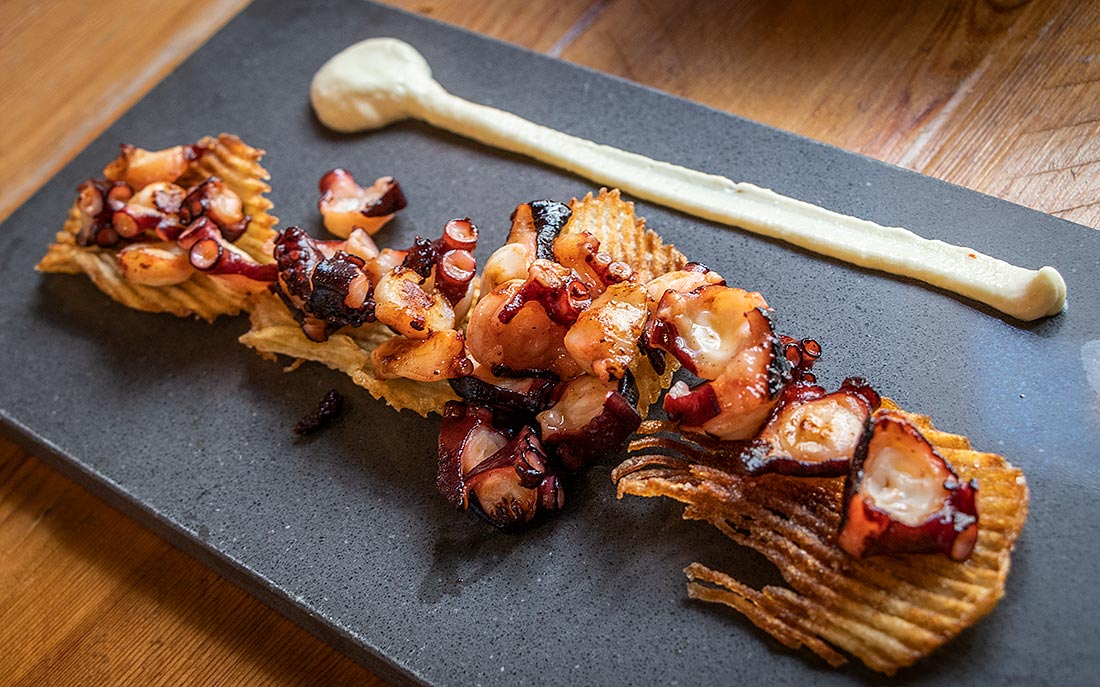 Continue your tapas tour down the street and make sure you stop at number 16 Nuestra Tierra, which serves irresistible tapas in hip versions. It's mainly Almería's younger residents who come here to drink craft beer with their free tapa.
Although the free tapas are good, don't cheat yourself by trying the gourmet pass, for which you pay extra.
I tried the local red prawns, a grilled lamb wrap and a grilled octopus with chips, and I can recommend them all. The food is fresh, well prepared and served simply and invitingly.
Taberna Nuestra Tierra, Jovellanos 16
3 Michelin restaurants in Roquetas de Mar
16 km outside Almería city, Almería's best Michelin restaurant is located on the seafront in the holiday paradise of Roquetas de Mar.
Chef and owner Juan Sánchez has named the restaurant after his son Alejandro, and he runs it with his wife, who manages the restaurant.
You can sit at a table overlooking the sea or, if you're lucky, you can join me at the "friends table" in the kitchen. Here I sat in a corner, surrounded by shelves packed with cookery books and the venue's prizes, watching Juan and his kitchen team work intently in silence.
At Alejandro's, only local ingredients from the sea and local herbs and vegetables are prepared. The simple, modern dishes earned the restaurant one Michelin star, which is well deserved.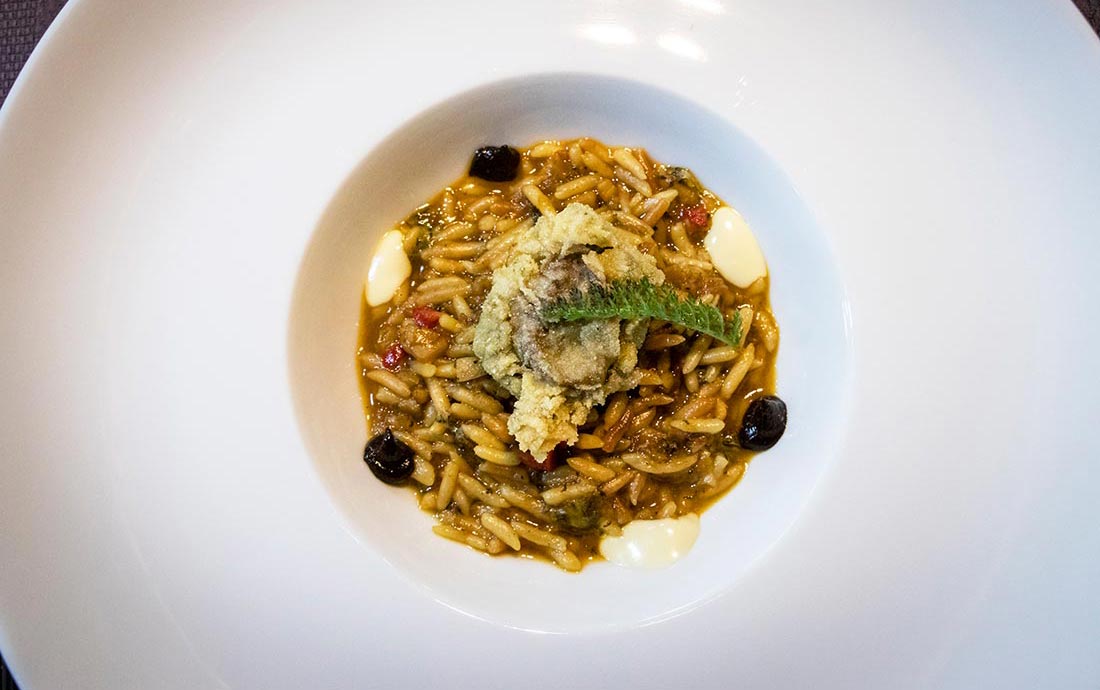 I was served one of Alejandro's tasting menus. It is available in three versions (the most expensive costs 80 euros). Local wines are served. I had the big menu where I could enjoy the delicious white and red shrimps, the hand rolled pasta "gurullos" with octopus, tomato cream and red mullet. The accompanying wines were good and I finished, really full, with coffee and homemade chocolate.
During dinner, I was regularly joined at the table by Juan, a passionate man who MUST share all his knowledge of the local produce and how, together with his team, he is constantly developing new dishes that get the absolute best flavour out of the ingredients. Book your table in advance.
Alejandro, Av. Antonio Machado 32, Roquetas de Mar
4 Taste Almería's energy drink
In Almería, an Americano is neither a cup of black coffee nor a person from the United States. It's a balloon gum pink and the city's signature drink that you must try when you visit the city.
The cocktail is Almería's answer to Red Bull, as it is said to give renewed energy and good digestion. It dates from the 1970s when it was created in one of the city's hotels.
The cocktail consists of hot milk, sugar, lemon zest and the local cream liqueur Kola, which is produced in Murcia and gives the drink its pink colour. Sprinkle cinnamon on top and you're ready to go.
Americano is only served at Kiosco Amalia, where many locals enjoy the drink on the terrace in the late afternoon, when you typically need a shot of energy. If you'd rather drink your Americano cold, ask for an Americano de Verano.
Kiosco Amalia, Plaza Manuel Pérez García 10
5 TV chef's classic Almería cuisine
In Almería's desert, Las Tabernas, you'll find Spanish TV chef Antonio Gázquez's restaurant La Eres de Antonio, where he's been stirring the pots for over 50 years since taking over from his parents.
The renowned master chef and teacher conjures up classic local dishes in the kitchen from local ingredients and adds a modern touch.
Antonio is not hiding behind the pots in the kitchen, on the contrary. He is everywhere in the restaurant, where, in addition to cooking, he also serves, talks to guests and cleans up.
The restaurant, with its Arabic-inspired facade, is spacious and you'll often meet filmmakers having lunch here when they're filming in the nearby desert.
The menu includes the classic Andalusian tomato cream, Salmorejo, fried fish with tomato paste and herb oil, steak with courgette fritters and red wine marinated pears.
The walk to Antonio's restaurant is beautiful and the food worth the drive.
La Eeres de Antonio Gázquez, S-N, Paraje Eras, 0, Pago, Almería
6 Visit the olive grower
Almost all restaurants, cafés and bars in Almería use olive oil from Castillo de Tabernas (including the Michelin coffees) because it is local and of really good quality.
I wanted to have a closer look, so I drove 45 kilometres outside Almería, close to the Almería desert, Desierto de Tabernas, where the producer is based in a building surrounded by olive groves with over 110,000 olive trees.
I had a guided tour of the fields, a tour of the production halls, where I learned about the process from harvesting the olives to bottling the oil. In the production hall, I also got to taste olive oil straight from the tap, and there were several tasting sessions after the tour.
Then I could shop for oils and skin care and spa products with olive oil, which Castillo de Tabernas also produces itself.
If you want to have a look at the production, please make an appointment in advance.
Castillo de Tabernas, Carretera N-340, S/N, Tabernas
You can also visit the large greenhouse area, Mar de Plástico, where you can see how sustainable vegetables are grown. Read more here.
The journey to Almería
Bravo Tours flies direct to Almería from Copenhagen and Billund. At Bravo Tours you can book with or without a hotel. Check flights and prices here. Alternatively, you can fly with a stopover with other airlines. Check flight times and prices here 
Accommodation
I stayed at the 4-star AC Hotel Almería, which is super centrally located, a few minutes' walk from the main street and close to the tapas street and a host of cafés and restaurants. The rooms are modern and spacious, and the staff super nice and helpful. Check availability and rates at AC Hotel Almería