What type of hotel would you prefer to stay in Madrid? Boutique, design hotel or a small, personal guest house? Here are my recommendations for great hotels in Madrid city centre in different price ranges. All hotels in the guide have free WiFi.
1. Hip and luxurious
The fashionable boutique hotel, Only You Atocha, is the hippest hotel in Madrid right now. It is right across from Madrid's main train station, Atocha, which has metro, train and airport bus services.
The decor is industrial, smart and imaginative with exposed pipes, black and white patterned floors, leather, wood and blue furniture, sports elements like red and white stripes on the walls and sports posters. In the centre of the lobby is a circular and an oval bookcase with soft leather furniture around it, and funny quotes are sprinkled on the walls. Together, it creates a New York-like yet very relaxing atmosphere.
Only You Hotel has 207 rooms in categories from Deluxe to Terrace Suite, with and without balcony, spread over 7 floors. They are decorated in Art Deco style with wooden floors, brown and cream tones, and tartan bedspreads. All rooms have an armchair, work desk, minibar and safe. The white bathrooms have bathrobes, slippers and a wide range of bath products. Most importantly, Only You Hotel Atocha has not only thought about design, but also functionality. Things are placed well and conveniently in both rooms and bathrooms.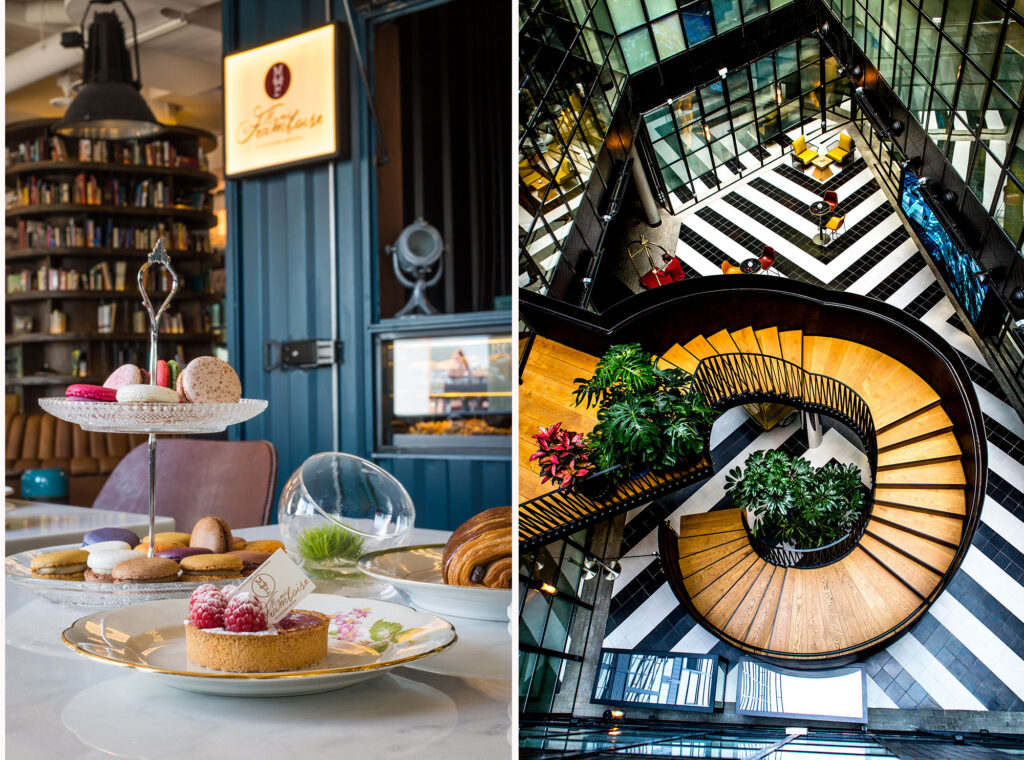 Here is everything your heart desires
Only You Hotel has several dining options, which are arranged in stations in the lobby. It has a bar/restaurant and the best French bakery in town, Mamá Framboise. In addition, there is a barber and a gym next door with a personal trainer and community runs in Retiroparken.
On the top floor is the restaurant and lounge bar with rooftop terrace. The breakfast buffet is top class. You'll find small stations with fresh fruit and energy smoothies, a cake and bread trolley, a cheese and cold cuts trolley and a show kitchen station where you can order omelettes, scrambled eggs, bacon and pancakes.
I love that the hotel, very thoughtfully, offers several options for breakfast. If you don't fancy the big breakfast in the restaurant, you can buy a sandwich in the lobby restaurant or tuck into the French bakery's croissants and sweets, which can be enjoyed in the small café.
The hotel has everything you need, extreme and service and really nice surroundings. The only complaint I have about Only You Hotel Atocha is that I don't want to leave it again.
Only YOU Hotel Atocha, Paseo de la Infanta Isabel 13
Prices from 185 euro. See more pictures and book here

2. Boutique hotel with art gallery
Room Mate Alicia is a design boutique hotel set in a beautiful 20th-century building in the heart of the bohemian Barrio de las Letras, with the hip Plaza Santa Ana on its doorstep. Here you have a wealth of bars, cafés and restaurants as well as small vintage shops and galleries just around the corner. The stylish hotel has been designed by one of Spain's hippest interior designers, Pascua Ortega, who has created a bright and welcoming hotel with design and art at its heart. The lobby looks like an art gallery, and there are also ongoing exhibitions.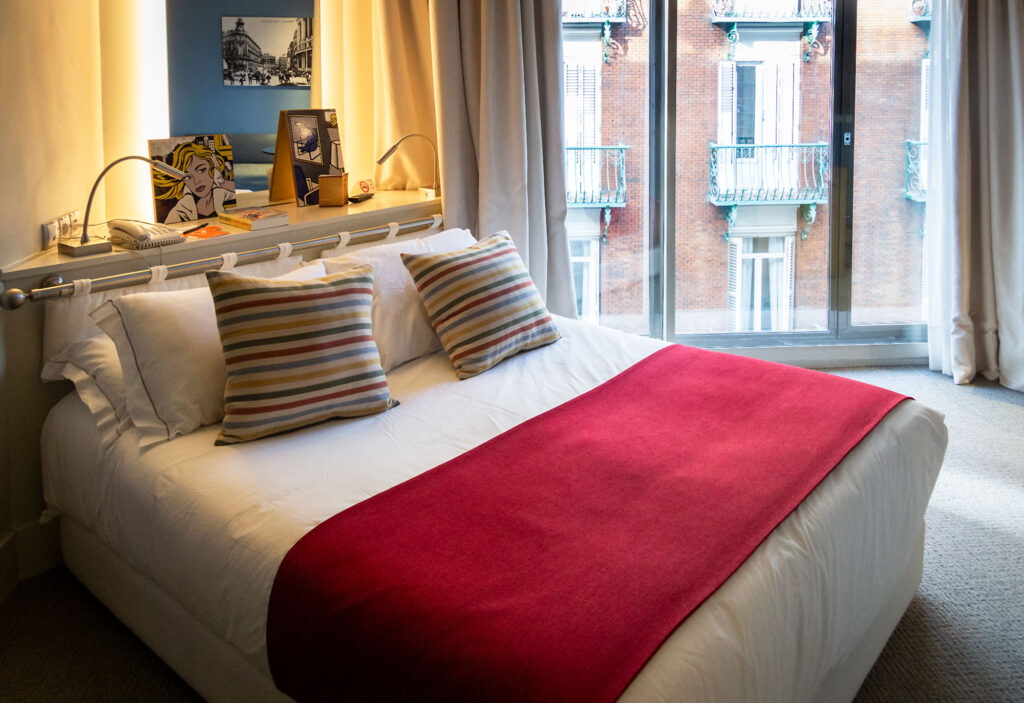 Rooms are bright with large double-glazed windows, ensuring you can sleep soundly, even on weekends when the square below is bustling. They are decorated in a creative spirit with bright splashes of colour on cushions and bedspreads and in the art posters. Fashion magazines are in the rooms, and there is a kettle and minibar with a good selection. Room Mate Alicia has 14 rooms, including a couple of suites with a rooftop terrace and pool, and stylish bathrooms with rain showers and private-label toiletries. If you are travelling with a friend or partner, please note that some rooms have an open-plan bathroom. I've stayed in rooms with an open bathroom, and it works just fine when travelling alone.
The breakfast buffet is served at the quirky pink Miss Sushi café on the ground floor, and it's excellent without being luxurious. Freshly squeezed juices, bread, cakes, fruit, cheese, cold cuts and cereals are available. Gluten-free breakfast is also available.
The staff are welcoming as if they were your friends and are happy to share personal tips for Madrid. Roommate has three other hotels in Madrid, Òscar, Mario and Laura.
Room Mate Alicia, Calle del Prado 2
Prices from 115 euro. See more pictures and book here

3. Room with the best view in town
The view is reason enough to book a room at the 4-star Dear Hotel Madrid, located on the corner of Madrid's famous Gran Vía boulevard and Plaza de España. If you choose a room on one of the upper floors, you will have beautiful views of the green area, Casa de Campo, the castle, Plaza de España and the surrounding neighbourhoods. The rooftop terrace offers the best 360-degree views in town, and you can even lounge in a pool overlooking the neighbourhood.
The metro station is right outside the door, and you are close to plenty of shopping, dining and attractions. Set in an old manor house, Dear Hotel is decorated in a modern Nordic boutique style in cream, grey and natural colours.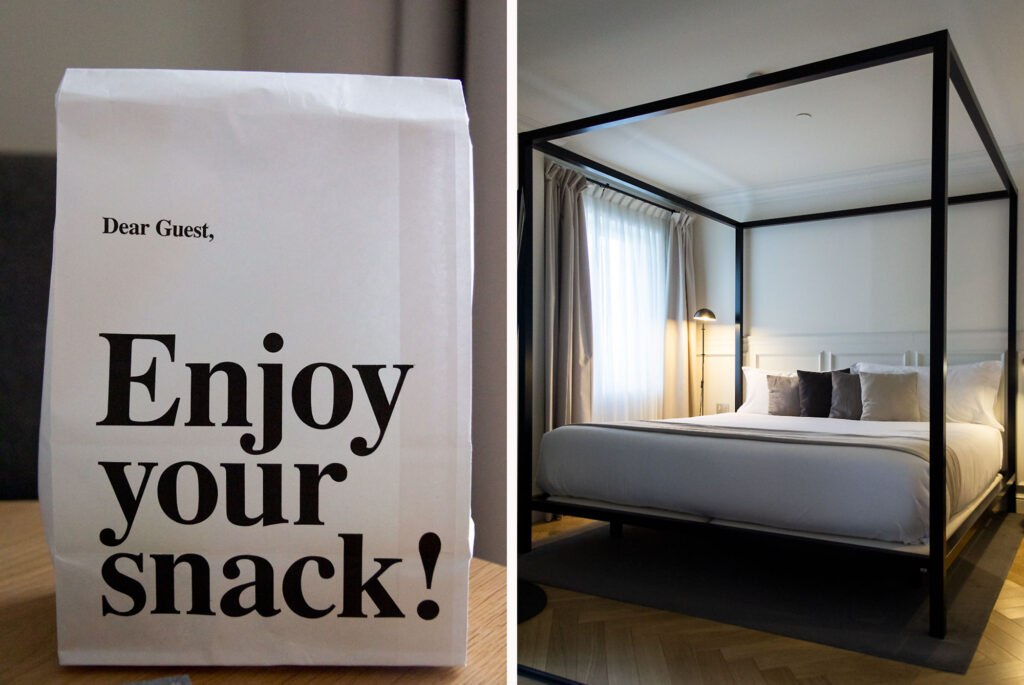 The hotel is spread over 14 floors and there are 164 rooms in the Deluxe, Premium, Family and Suite categories, some of which are disabled-friendly. Most of the rooms have a king-size bed (2 single beds are also available) and sleep like a dream. The bathrooms are black granite, spacious and have a large shower cubicle and all the toiletries you need. Some have bathtubs. The bathrobes and towels are of superb quality. I've only stayed in the suite, which also has a large living area with a sofa, chair and small tables. Be sure to book a room that is on an upper floor and faces the street. All rooms have electric kettles and safes, and suites have espresso machines.
The restaurant and bar are on the 14th floor, which also has a rooftop terrace, pool and outdoor bar. It serves a brunch so delicious that it's also a big hit with locals on weekends. The selection is large and organic, and most of it is homemade, including bread, cakes, yoghurt and salads with and without fish and meat. You can order hot dishes like Egg Benedict and avocado and salmon toast. There are also freshly squeezed juices, wine and cava, as well as good coffee and tea. As a guest, I felt pampered at Dear Hotel, which has thought of the little details like putting a small snack bag with apples in the room upon arrival. You can read more about Dear Hotel Madrid in my full review of the hotel here
Dear Hotel Madrid, Gran Vía 80.
Prices from 112 euro. See more pictures and book here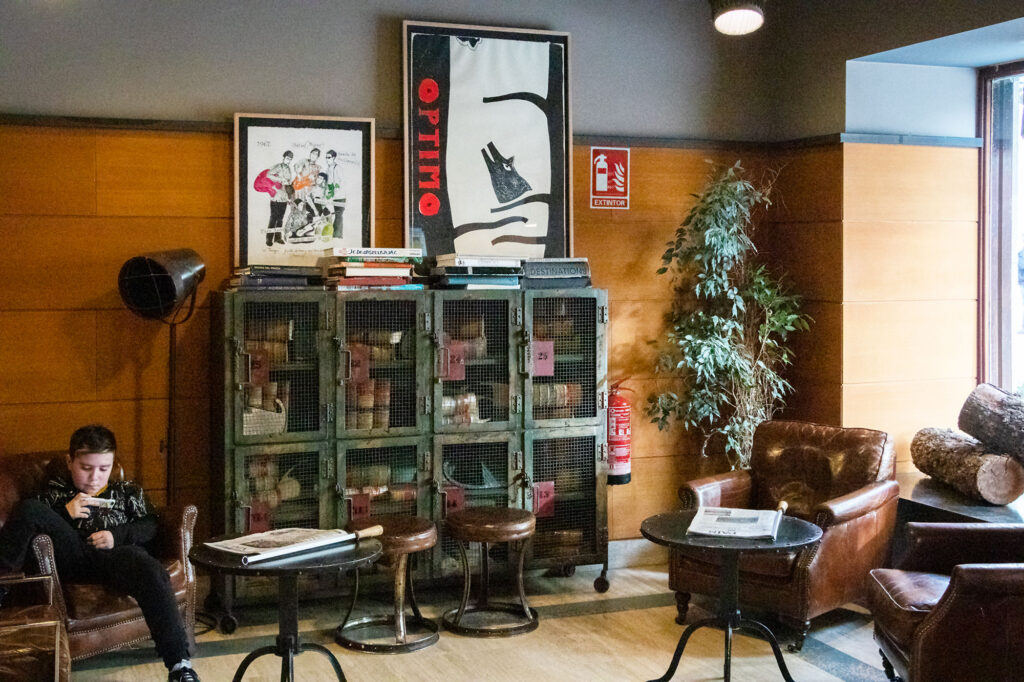 4. Affordable gem in nostalgic bohemian style
On the balcony, full-size wooden figures of people, including a kissing couple, welcome you to the different and in many ways striking hotel with a bright blue façade. Hostal Persal Madrid is both affordable and full of soul and personality. Located in Plaza del Ángel, right next to Plaza Santa Ana, between the Barrio de las Letras and Latina neighbourhoods, this 2-star hotel is the perfect place if you want to stay cheaply and centrally without a lot of extras. From here you can walk to most of the city's sights.
The lobby features vintage leather chairs and iron wine bars, tables and lamps. Here you can relax with a book in a real bohemian atmosphere.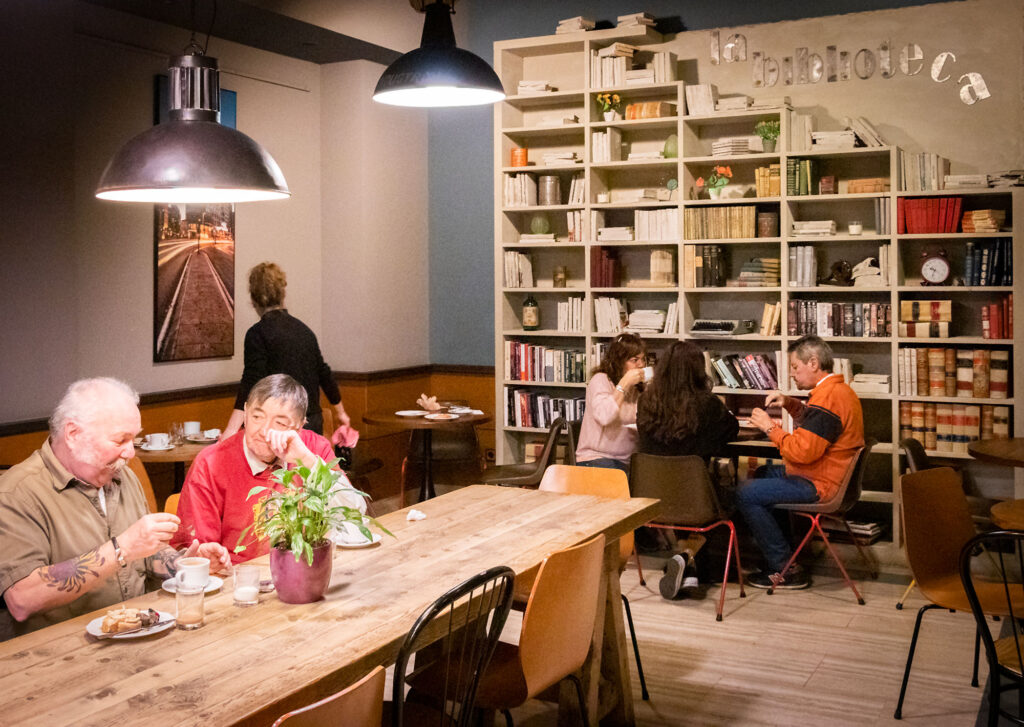 Hostal Persal has 80 simply decorated rooms that are not particularly bright, but work well as a base. My room had pale green walls, hardwood floors, open bookcase, safe and open bathroom. However, most of the rooms have a separate bathroom. In addition, I had a balcony facing Plaza del Ángel, which is often noisy at night. Double doors kept out most of the noise, though, so if you sleep lightly, book a room away from the square.
On the ground floor, there is a lovely dining and seating area with a café where breakfast is served. It consists of eggs, bread, croissants, cheese, cold cuts, cereals, fruit, coffee, tea and juice. Later in the day, you can sit in the lounge area with a coffee and your laptop or read a book. Hostal Persal also has a Nespresso machine and a vending machine with snacks and drinks, which you can use when the café is closed.
Hostal Persal Madrid, Plaza del Ángel 2.
Prices from 67 euro. See more pictures and book here

5. Small, modern guest house
Hostal Madrid Star is located on Plaza Santa Ana facing the central Puerta del Sol Square, and there are a host of bars and cafés right outside the door. The small hotel occupies just one floor of a residential building and reception is not manned 24 hours a day, but staff are happy to help if you need to check in very early or late. Double rooms are available in Comfort, Deluxe, Superior and Suite categories, with or without balcony.
Rooms are spacious and simply and modernly decorated in white with splashes of Spanish-style colour. Bathrooms are small but modern and functional. I usually stay in the Deluxe room, which has two balconies facing the street. From here you can enjoy views of the street life and the beautiful Teatro Real. Room facilities cover basic needs. There is an electric kettle (you need to provide your own coffee and tea), ironing facilities and a hairdryer. The beds are luxury and sleep exceptionally well.
Hostal Madrid Star does not offer breakfast, but there are plenty of cafés in the area where you can eat anything from a quick croissant, sandwich or brunch. The friendly staff are happy to recommend cafés.
There are several bars on site, so be prepared for some noise at weekends. So keep balcony doors closed if you want to get a good night's sleep.
Both my friends and I have been happy to stay at Hostal Madrid Star when hotel budgets have been tight.
Hostal Madrid Star, Calle del Príncipe 18
Prices from 85 euro. See more pictures and book here