La Vieja is the oldest working-class district in Bilbao. In recent years, the district has been transformed into a cool and creative neighbourhood, filled with art, design and hip cafés and restaurants. Here you can breathe in a real Basque bohemian and hipster atmosphere in a creative environment with high ceilings.
Opposite Bilbao's touristy old town, Casco Viejo, on the left bank of the Nervión River, you'll find Bilbao's hippest and coolest neighbourhood, La Vieja.
La Vieja, made up of the three smaller neighbourhoods of La Vieja, San Francisco and Zabala, was once inhabited by sailors and later became the centre of Bilbao's iron industry and miners. It also had a bad reputation as a party district with cabarets until it hit rock bottom in the 1980s and 1990s when it was invaded by crime, drugs and prostitution.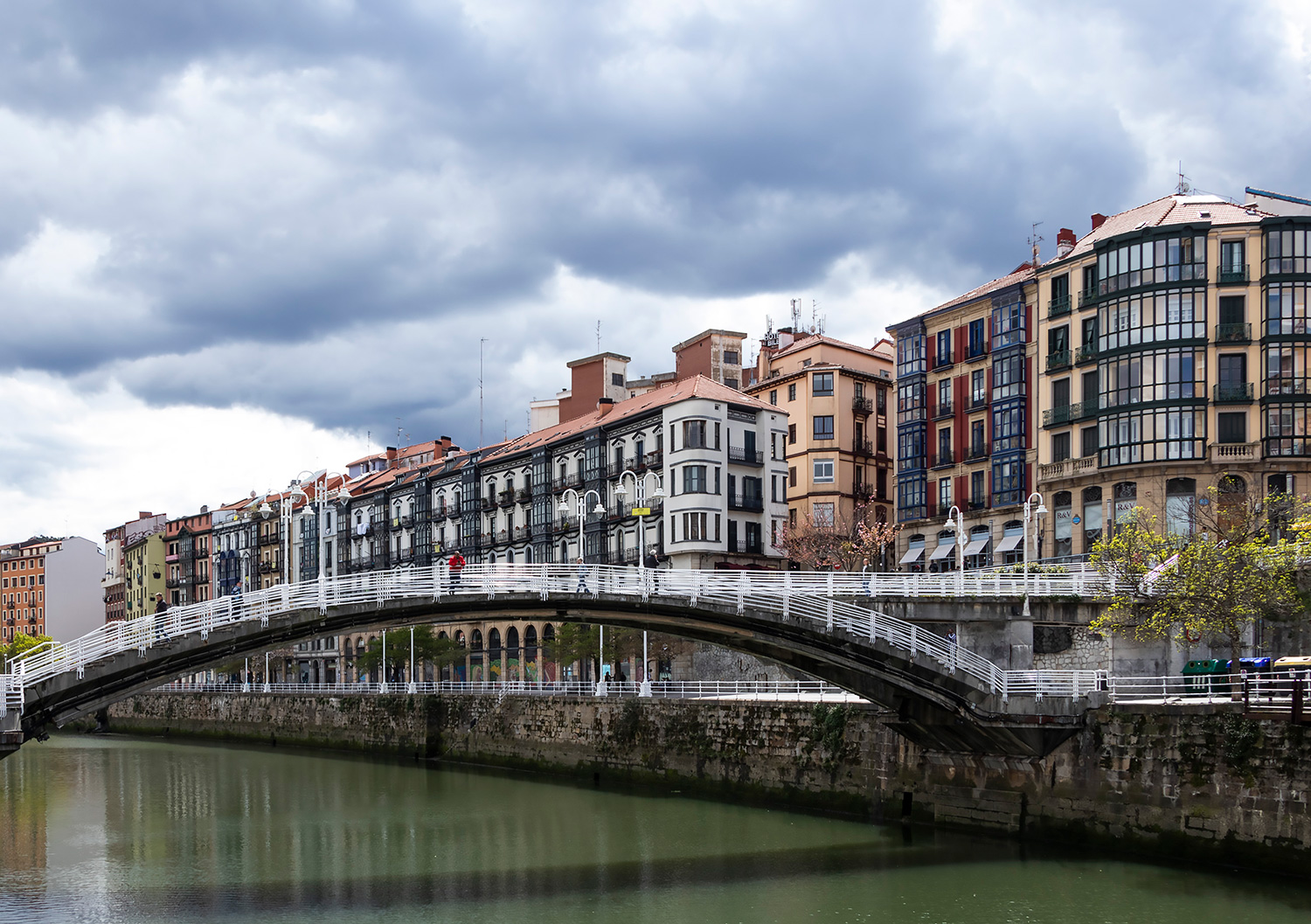 Over the past decade, young creative entrepreneurs have moved into La Viejas (locally known as Bilbo) and transformed it into Bilbao's artists' quarter. Here, they have breathed new life into the neighbourhood with a charming mix of beautiful, colourful buildings with glass balconies from the 19th century, concrete buildings from the 1960s and 1970s and old industrial buildings. Today, the old, rough working-class district has become Bibao's hippest neighbourhood.

Here, remnants of the neighbourhood's chequered history mingle with young art, design and architecture, just as young people have transformed old, worn-out bars into hip cafés. So hip it's compared to Brooklyn's Williamsburg, La Vieja is a colourful mix of raw past and young future.
Guided bike tour in the underground culture
Hop on your bike and join local cultural expert Laura for a ride around Bilbao's hip underground neighbourhoods. The tour is a great introduction to La Vieja and Bilbao's creative underground.
Laura is passionate and knows where Bilbao's alternative artists hang out. You'll cycle along the river and pass through La Vieja, where you'll see street art on the walls of the Muelle Manzana. You'll also see a gigantic street art piece at La Salve bridge, the avant-garde ZAWP cultural venue in the old industrial buildings of the Zorrotzaurre peninsula.
I loved the bike ride with Laura, and if you want to go too, you can book it here (promotional link)
Tourne Bilbao, Villarias Kalea 1
La Viejas street art
After the bike ride, there's still plenty of street art waiting in La Vieja. The walls of Bilbao's artists' quarter are dotted with everything from graffiti, paste ups and crochet to large gable paintings. The works are created by local and international street artists such as SUSO 33 from Madrid, José Ramón from Bilbao and Eltono from Paris.
Many of the works were created during the BLV-Art festival, and there's a lot of street art around Tres Pilares square and San Francsico street.
In several places there are references to La Vieja's past as a mining district. Here are several works that depict mines. In the street, Bilbo Zaharra, is a gate that was the entrance to a former mine, now transformed into a street art gallery with tags, paste ups, stickers and crochet.
You can download a map of the street art of Bilbao Art District

Art Galleries
Bilbao's artists' quarter is dotted with small art galleries worth exploring, and new ones are popping up all the time. One of my favourite galleries is Okela, behind a pair of striking red and white wooden doors in one of the neighbourhood's most pulsating streets, San Frantzisko.
The nonprofit gallery is housed in an old butcher shop, where a group of avant-garde artists focusing on Basque contemporary art moved in 2014. Here, artists can produce their works, network and sell their work.
Okela holds regular exhibitions, workshops and art discussions in the raw butcher's premises with white tiles on the walls and the metal door to the former cold room intact.
Okela Sormen Lantegia, San Frantzisko Kalea, 11
Concert in the old church
An old 17th-century church in Bilbao, located on the bridge separating La Vieja from Bilbao's old town, now serves as a cultural centre. Here you can go to a rock or pop concert under a sky-blue dome in the old church hall with seating for 800 people.
The Bilborock is run by the municipality and is also used for theatre performances, film screenings, art exhibitions and lectures. During the day, it serves as a rehearsal space for young local musicians and hosts creative workshops. Every year Bilborock organises a pop and rock competition.
Check out the concert schedule on Bilborock's Facebook page.
Bilborock, Muelle La Merced
Here you can eat and drink
Marzana 16
A must is a coffee or a drink with a river view at the hip Bar Manzana 16, where Bilbao's bohemians meet for a drink from the afternoon until late at night. In summer, the few tables on the café terrace are crowded. So many people bring their drinks and sit along the pier, which is an extension of Marzana 16.
The view of Bilbao's popular old town and the beautiful modernista food market, La Ribera, is the best in town. The bar, which dates from the 1950s, has retained its historic charm. Only the walls have been painted and a few modern elements added. In addition to coffee, tea and drinks, cake, sandwiches and burgers are also served.
Marzana 16, Martzana Kalea 16
Michelin restaurants Mina
La Vieja boasts a Michelin-starred restaurant that also attracts locals from across the bridge. The restaurant is called Mina (in English, the mine) and it is located on the Nervión River, opposite Bilbao's old town Casco Vieja.
Mina seats just 25 people in the modern and rustically decorated restaurant with raw brick walls, raw wooden floors and wooden tables, offering beautiful views of the river.
Mina offers two tasting menus with 10 and 14 courses for 90 and 120 euros respectively, consisting of creative small dishes. So you're eating Michelin food at very good prices at the young, trendy restaurant. The kitchen focuses on sustainability and serves market cuisine, prepared with local ingredients. The map changes with the seasons.
Mina, Muelle Marzana
Nura Balboa
It's retro style, with large orange and grey squares decorating the walls, simple brown tables and chairs and dark stone floors. Hiding behind a discreet façade, the small restaurant Nura Bilbao certainly doesn't look flashy, but make no mistake. It's one of the trendiest restaurants in town, especially among creative bohemians and hipsters.
Owned by a couple of friends who went to cookery school together, Nura Bilbao serves modern, simple food at very good prices. From Tuesday to Friday, a menu is offered for 12.60 euros including house wine, bread and water. On weekends, a menu costs 19.50 euros.
You choose three courses from the menu with four different starters, main courses and desserts. The food is Mallorcan-inspired, and typically includes soup, salads with duck or octopus, lasagne, lamb and beef steak, and cheese, cake or ice cream for dessert. It is open for lunch only on weekdays and for lunch and dinner on weekends. Book a table in advance.
Nura Bilbao, Maiatzaren Biko Kalea 1
Peso Neto
It's impossible to miss La Vieja's hottest hipster bar, Peso Neto, located on San Frantzisko Street.
Formerly a meeting place for working-class men, the bar is decorated in trendy hipster style, with tables and chairs in a variety of styles and quirky busts and sconces in glass cases. There are also old photographs from La Vieja's days as a fishing quarter.
Peso Neto is divided into a bar area, surrounded by colourful armchairs and coffee tables, and a dining area. It's a great place to enjoy pintxos and a drink at the bar or outside on the terrace facing a small square, where you can soak up the local life at the same time. If you're hungrier, there's a three-course menu of the day. The food is classic with a modern twist.
Peso Neto, San Frantzisko Kalea 1
Bohemian Lane
The little bohemian café, Bohemian Lane, is not in La Vieja, but across the river, in a small pedestrian street in the old centre. It's on the list anyway, because it's where the city's creative and hip indulge their sweet tooth. A true boho likes to cross the bridge to eat homemade cake.
The small café seats a maximum of 20 people, including the few on the terrace outside. The charming little den has rough brick walls and wicker chairs and benches and stools with burgundy cushions and kelim pillows.
The glass case is full of homemade, organic, vegan and gluten-free pies, cupcakes and cookies, and Bohemian Lane also has a small selection of breakfast tortillas and sandwiches. The cakes take up the most space. Treat your sweet tooth with a vanilla tart with raspberry foam, lemon tart, chocolate tart or cheesecake or a cupcake with cinnamon and carrot, raspberry/chocolate or cookies. The coffee and tea are good and organic, and freshly squeezed juices are also available.
Bohemian Lane, Harategi Zahar Kalea 3
Something Special
In the charming street of Dos de Mayo, Something Special carpet shop is located on the ground floor of a beautiful burgundy building with glass balconies. Here you have the opportunity to shop for a unique souvenir to take home to your home.
The bright basement shop is lined with Moroccan wool and kilim rugs and Berber cushions from floor to ceiling. Everything is handmade by Berber women from the Atlas Mountains in Morocco, and the shop's owners, sisters Maider and Mireia, have handpicked the store's stylish selection with great care. The rugs and cushions are available in a variety of colours and patterns, and in both brand new and vintage models. The shop also has a small selection of stools, baskets and bags.
Something Special, Calle Dos de Mayo 5
Rasto 2 de Mayo flea market
Bags, scarves, dresses, shoes, vinyl records, books, kitchenware and delicacies line up the first Saturday of every month on tables and stepping stones in the street Dos de Mayo at the vintage market, Rasto Dos de Mayo.
Here you can shop for everything from old, worn-out rubber shoes to exclusive vintage items and new designs. There is also a fine selection of local delicacies such as jams and honey.

The atmosphere is great and many of the street's small artists and craftspeople also open the doors to their workshops and shops, where you can also chat to local creatives and see how they work.
Rasto 2 de Mayo, Calle del Dos de Mayo
Librería – ANTI – Liburudenda
I love bookshops, especially those with a wide range of art and culture on the shelves. They do at bookseller ANTI, where the shelves are packed with books on design, illustration, music, street art, film, art, photography, fashion, architecture and philosophy.
Although the titles are in Spanish, it's worth checking out even if you don't speak the language. Because the visual universe of the books is amazing to explore. The bookshop has a large selection of beautifully illustrated children's books, and I fell in love with the biography of David Bowie.
ANTI is deeply involved in the social and cultural life of the neighbourhood and regularly organises lectures, concerts, exhibitions and workshops. The bookseller also likes to showcase the works of local street artists.
Librería – ANTI – Liburudenda, Maiatzaren Biko Kalea 2
More travel tips for Bilbao
For more tips on what to do, check out my city guide to Bilbao
If you need tips for a hotel in Bilbao, I can recommend the 4-star Ercilla Hotel in the city centre, which I stayed at. You can read more about the hotel here.