Hop on the train and travel sustainably in Spain on rails. It's quick and easy to travel on an Interrail Pass in Spain. At the same time, you'll have plenty of opportunities to experience nature as you drive through the Spanish countryside.
Our growing awareness of climate care has also increased our interest in travelling on holiday by train. Spain is one of the countries in Europe with the best local train connections, so touring Spain on rails is a no-brainer.
Since an Interrail Pass is the cheapest way to travel by train if you want to visit several cities in Spain, I spoke to Interrail expert Andreas, who together with his friend Philip is behind the website Interrailguide.dk. The couple specialise in planning Interrail trips, as well as selling Interrail Passes to Spain.
Andreas has travelled all over Europe by train, including Spain with his girlfriend, and here are his tips for Interrail in Spain.
Why go on Interrail in Spain?
You should, because you experience the land, nature and landscape in a different way. You travel slower, so you see more. And it's easy to travel around Spain on rails. Spain has really good train connections around the country, and there are many high-speed trains. In fact, Spain is the country in Europe with the most kilometres of high-speed trains.
Travelling by train is also more sustainable than flying, which I think is a major reason to go on Interrail.
Who travels on Interrail?
Gone are the days when Interrail was primarily a young people's journey. Today, people of all ages travel on Interrail, and there is actually a preponderance of mature people who buy Interrail Passes from us. Interest is growing strongly. In 2019, 14,000 Interrail Passes were sold in Denmark.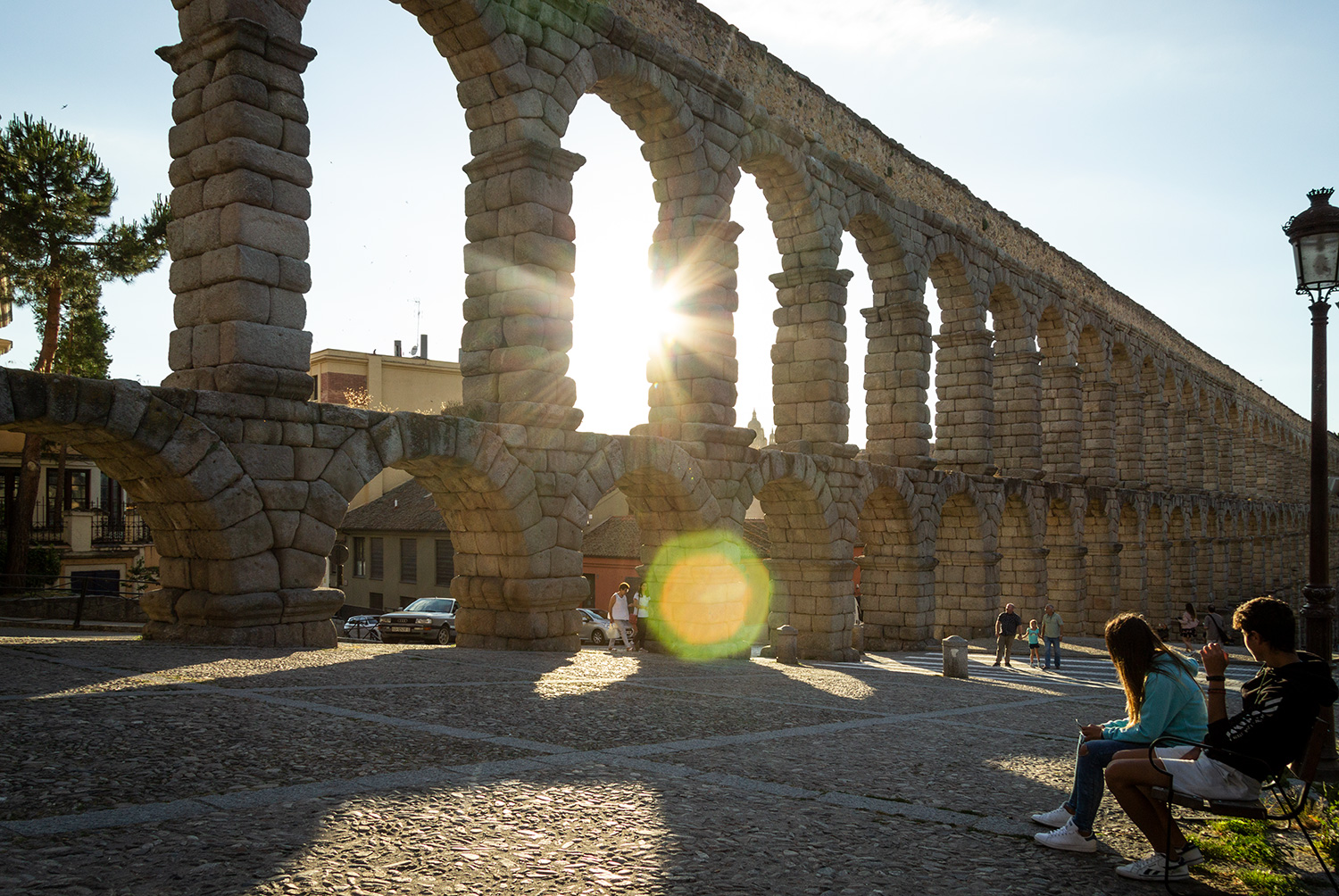 What can I see in Spain by train?
Because train connections are so good in Spain, you can get all around the country, except to the islands, which you have to go to by boat.
AVE high-speed trains run between major cities, including Barcelona, Madrid, Zaragoza, Valencia, Seville and Malaga. In addition, there are plenty of opportunities to drive to other cities from here. So you have plenty of opportunity to experience Spain on the rails with stays or day trips in a host of cities.
For example, you can get from Barcelona to Zaragoza in 1 hour and 23 minutes and from there to Madrid in another 1 hour and 35 minutes.
If you choose a stopover in Madrid, you can take the train to Segovia (no seat reservation required).
From Madrid, you can take the AVE to Seville in 2 hours 45 minutes and to Valencia in around 2 hours. However, the train journey from Madrid to Bilbao takes about 5 hours, as there are no high-speed trains on the line yet. However, they are expected to run from 2021. From Seville, you can get to Málaga by AVE in 2 hours.
Is the Interrail Pass valid for all trains in Spain?
The Interrail Pass can be used on trains operated by the Spanish State Railways, RENFE, including high-speed AVE trains.
However, the Interrail Pass cannot be used on the local railways, Cercanías, which run on shorter lines between large and small towns in several regions. You also can't use the Interrail Pass on the metro in cities. In both places you have to buy an extra ticket, which is however cheap compared to the prices in Denmark.
How should I plan my train route in Spain?
Plan your route before you go, so you don't waste your holiday checking train times and figuring out how to get from city to city.
Start by figuring out how many days you want to spend on your Interrail trip in Spain. Then you need to decide which cities you want to visit in Spain, and which ones you want to stay in or just visit on a day trip.
Once your plan is ready, Interrailguide.co.uk can help you find out which trains to take between your stops on the route and how long the train journey will take. We'll also check how much luggage you can take on different trains, and whether you can bring a dog or bike, if applicable to you.
On many train lines in Spain, you need a seat ticket, which we can also reserve for you.
Last but not least, it's important to plan your journey well in advance to make sure there's space on the trains on the dates you're travelling.
How do I get from Denmark to Spain by train?
The train journey from Denmark to Spain is a bit long because there are not yet high-speed trains all the way down through Europe and several changes on the way.
If you're going from Copenhagen to Barcelona, you'll have to change several times along the way, for example in Hamburg, Frankfurt and Paris.
The trip lasts one to two days, depending on the time of travel and the number of changes, so it's a good idea to stay overnight in Paris.
If you take the night train from Copenhagen, you can get to Paris in about 16 hours, with changes in Hamburg and Karlsruhe and Paris. Here you have to spend the night in Paris before you can get on to Barcelona the next day. The journey from Paris to Barcelona takes about 6.5 hours.
If you don't want to stay in Barcelona, you can take the train to other parts of Spain from here.
How much does an Interrail Pass cost?
There are several types of Interrail Pass. You can get one that is valid for 15 consecutive days, one that is valid for 10 days in two months and Passes that are valid for 5, 7, 22 and 30 days. Prices vary depending on the number of days, duration and whether you want to travel 1st or 2nd class.
The price of an Interrail Pass (2nd class) for 15 consecutive days is:
Adults (28-59 years):

DKK

3,358.36
Young people (12-27 years): DKK 2,585.10
Children (4-11 years): free
Seniors (60+ years): 3.024,80 kr.

Inspiration for Interrail experiences in Spain
Here you will find travel guides with inspiration for things to do in the biggest cities in Spain, one or more of which are natural stops on an Interrail route in Spain.