Just 100 km west of Madrid, El Hotelito is surrounded by unspoilt countryside and backed by the Gredos Mountains. The Danish/Spanish hotel is an oasis where you can recharge and experience unadulterated Spanish country style.
From Madrid, it's just a beautiful hour-and-a-half drive to the small village of Navaluenga, whose surrounding mountains, forests, river, lake and tranquil village life are a stark contrast to city life. On the outskirts of the village, the charming El Hotelito (the little hotel) is the perfect place to check in after a hectic few days in Madrid. Forget about typical Spanish country hotels. Owned by Danish Christina Aagesen and her Spanish husband Cándido Ruiz, El Hotelito is modern, simple and stylish, and is the first hotel in Spain to be awarded the agrochic designation.
Since El Hotelito opened in 2011, Christina and Cándido have received rave reviews, and Madridites and people from the rest of Spain and the world alike flock to the little haven to unwind.
I met Christina on Facebook when I was looking for a woman in the Madrid area for an article I was writing. Christina told me how she had ended up in Spain through her work in the travel industry, got married in Spain and settled in the countryside and opened a hotel. I was captivated by her story, and not least curious to see her little hotel, so I hanked up my travelling companion and set off for Navaluenga.
Spanish hotel in Nordic style
Christina and Cándido built El Hotelito themselves, which has 12 rooms inspired by Danish architecture. The white hotel has clean lines and high ceilings in both the rooms and the lounge, which serves as a dining and fireplace lounge. Large windows invite nature in, making it an integral part of the interior. There are raw elements like grey cement floors and metal combined with warm materials like leather, wood and textiles in natural colours. Danish design classics are beautifully combined with Spanish elements. Christina and Cándido focus on comfort and sustainability, so you'll sleep in organic bedding.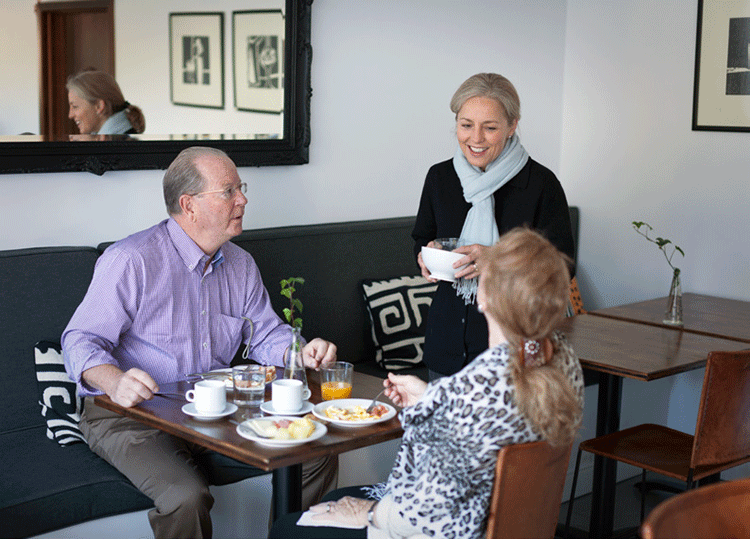 Food with home-grown organic ingredients
The beds at El Hotelito are exceptionally comfortable. And the silence, interrupted only by soft horse whinnies and chickens clucking, made it hard for me to get out of the Danish duvets after my first night in the hotel.
When we finally got to the breakfast buffet, we were greeted by a fresh and cheerful Christina.
"Do you want organic or licensed eggs? And do you want fried eggs? Spanish or Danish?" she asked brightly.
Naturally, we chose the organic eggs from the couple's own hens, even though they hadn't been given the state-approved stamp. And shortly after, Cándido's perfectly fried Spanish fried eggs were on the table in front of us.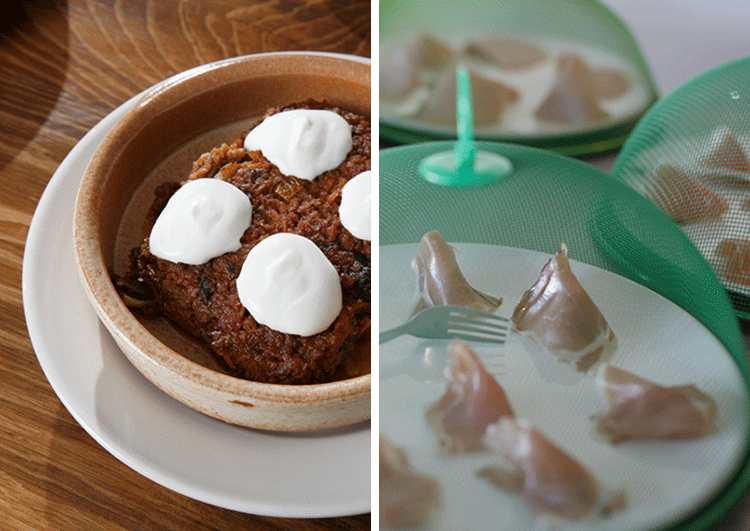 The breakfast buffet reveals Christina's origins in Stelton coffee pots in cool Nordic, blue and green colours, but the food is Spanish. Bread, ham, cheeses, various jams and freshly squeezed orange juice.
Christina and Cándido serve breakfast, and they are also in the kitchen serving dinner. Many of the ingredients come from their own organic kitchen garden, and the food is simple, tasty and often dishes from Spanish country cuisine, as well as a few Danish desserts. We were served Christina's silver beet lasagne and Danish pear tart as well as Cándido's paella when we visited.
"Cándido cares more about Danish than I do. He's the one who thinks we should have a Danish flag, and he's also the one who thinks grandma's apple pie should be on the menu," she laughs.
The couple also occasionally make Danish smørrebrød for receptions and conferences.
"Spaniards are generally very open to foreign food, and they like the Danish touches," says Christina.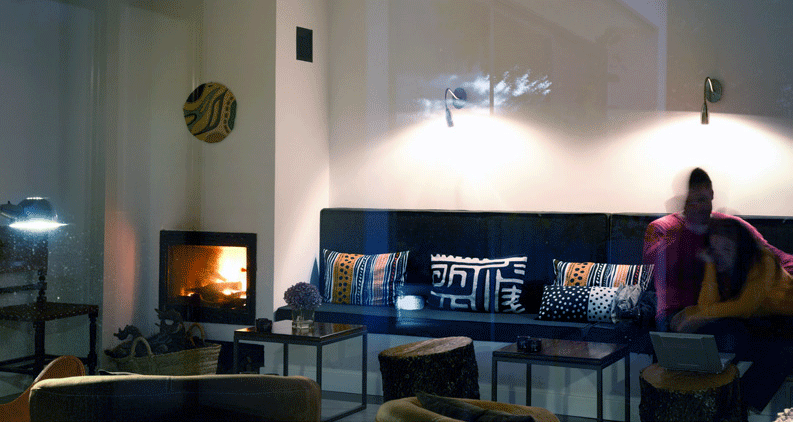 Personal service and presence
Christina and Cándido take care of all the daily chores at the hotel. Every day, all year round, they take care of cooking, serving, check-in and check-out, accounting, marketing and PR, and they're also the ones who call the tradesmen when the drains are blocked. The only help they have is a young girl who cleans and cooks breakfast.
"We live in our own little world and we are good at working together. I do the administration and make most of the desserts. Cándido cooks and talks to the Spanish guests. Our project could not have succeeded if we had not moved here," she says.
Christina and Cándido live in an apartment adjacent to the hotel, which means they are always close to guests and their love child. It is important to them that their guests relax and enjoy the place. That's why you'll get plenty of personal service from the couple, from a chat over breakfast to a chat by the fire over an evening drink before they retire to private. However, they are never further away than they have full control over what happens in the hotel.

In close contact with birds of prey
We stayed at El Hotelito on a Saturday, where we were lucky enough to have Christina and Cándido arrange a talk on breeding birds of prey for hunting. Hunter Pedro Aldea explained the different birds of prey used and how they are raised for hunting.
After the talk, Pedro demonstrated the birds of prey and how the hunters control them on the hunt in El Hotelito's garden. And then came the big surprise of the day.
"Anyone want to try feeding a bird of prey?" asked Pedro
"Yes," I reply coyly, then immediately regret it as I am seized by fear of being attacked by the bird. However, I don't get to land until I'm wearing a leather glove and standing with a piece of raw meat in my hand, waiting for the bird to fly to my hand after the meat loon. I am told to stand with my back to the bird so that it does not attack me when it flies towards my hand. Again I feel the fear creeping up, but Pedro whistles immediately, and a few seconds later the bird of prey is sitting calmly on my hand so I can study it closely. Now I am so proud that I reluctantly let the bird go again so that the other participants can try to hold it too.
El Hotelito regularly hosts various events and workshops in their small conference room on weekends. They also offer photography courses and mushroom tours.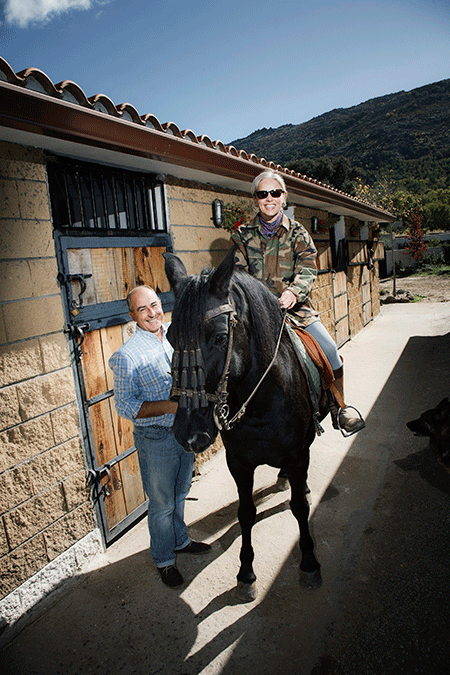 Explore Navaluengas' beautiful nature
Christina and Cándido built their hotel next to a small riding school that Cándido had run for years when they met. The riding school is now an integral part of El Hotelito, and you have the opportunity to enjoy the valley of the Alberche River and other beautiful places in Navaluenga on horseback. Cándido is happy to share his in-depth knowledge of the area, and you can also take riding lessons on the outdoor arena.
If you don't feel like riding, there are plenty of opportunities for scenic hiking and mountain biking. You can also enjoy water sports on the Alberche River and Burgillo Lake, and play golf on a 9-hole course nearby.
Unspoilt Spanish village idyll
Navaluenga has 2200 inhabitants. The Alberche river area, with its old Romanesque bridge dating from the 17th century, is the centre of local evening and Sunday family walks. Here you will find pure Spanish village idyll. On Saturdays, there are also a few small stalls by the river where locals sell fruit and vegetables.
In summer, the area is transformed dramatically as thousands of tourists, mainly Spanish, flock to the town to spend their holidays on the man-made beach by the river.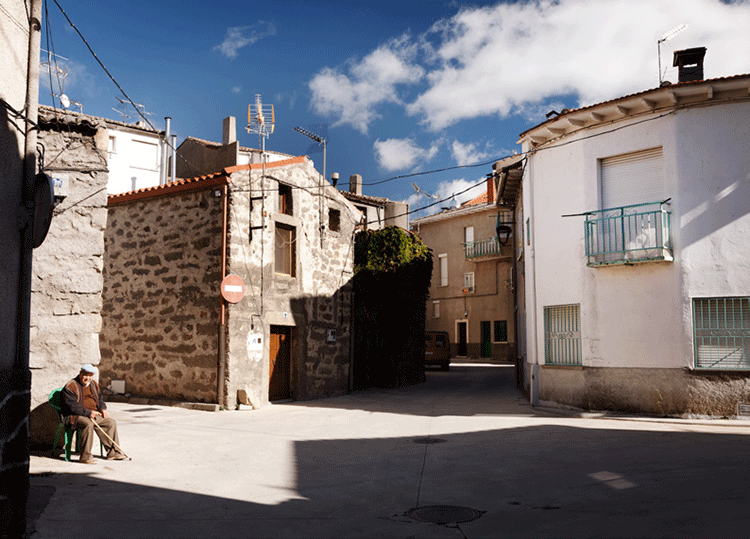 When not walking by the river, locals gather in the town's small central square and narrow streets. If you come during the siesta, however, don't expect to meet more people than you can count on one hand. Even the cats are faithful to the siesta. On our afternoon walk, however, we also met a lazy donkey who reluctantly allowed himself to be directed to pull a cart by his owner.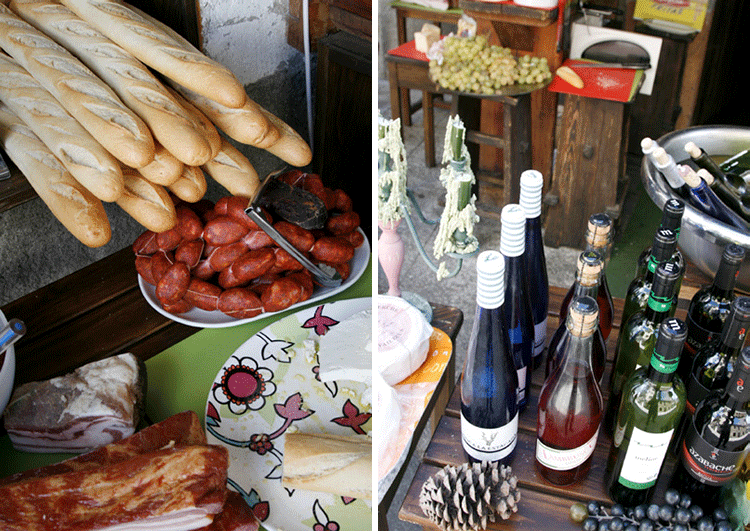 Despite its small population, Navaluenga has plenty of cosy cafés and tapas bars where you can grab a quick tapa and a glass of wine or lunch. Visit Christina and Cándido's regular bar El Tabernilla, for example, which is full of quality delicacies such as cheeses, sausages, hams, fruit, hot dishes like albondigas (Spanish meatballs) and good wines. Located on Navaluengas main street, the tapas bar has a good, personal atmosphere that always attracts a lot of locals.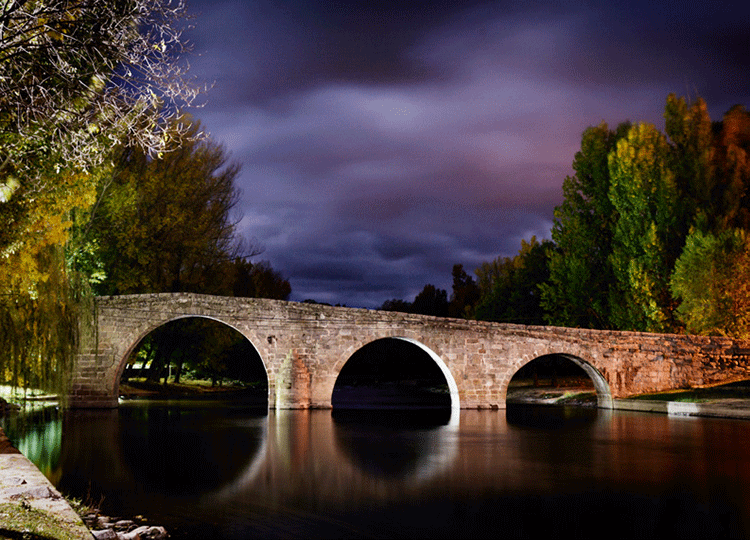 I can definitely also recommend you to go for a walk in Navaluenga on the Alberche river after dinner. As darkness falls over the city, it's so quiet you can hear the slightest leaf blowing in the wind, and watching nature's colours change as night falls over the city is a priceless experience.
Visit the local winery
Close to El Hotelito is the small winery Bodega Garnacha Alto Alberche, which is a passionate project to preserve wine production on the old garnacha terraces in the local area. Garnacha Alto Alberche produces about 22,000 bottles of wine a year in with the name 7 navas (the 7 valleys).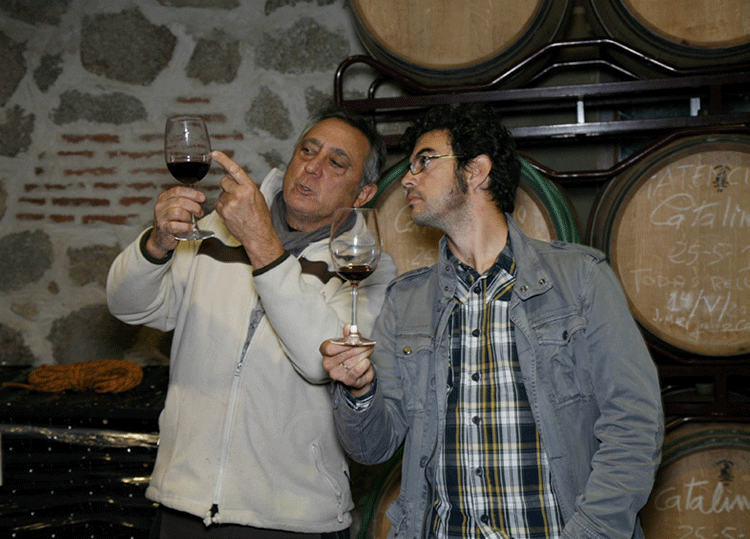 Garnachadru is rich in minerals and the wines produced are young. For the owners it is a big project with a lot of emotions. Historically, it is an ungrateful grape because it is very acidic. Therefore, in the past, not much good wine has been produced on it. Bodega Garnacha Alto Alberche has made it their mission to change that, and they are succeeding. The young natural wines in bottles with handmade labels are now also sold abroad. You can get the full story, see the vineyards and taste the stuff. If you like the wine, you can enjoy more of it at Christina and Cándido, who serve 7 navas at El Hotelito. The couple also held their wedding reception at the small bodega.
Trips out of Navaluenga
The greatest luxury you can give yourself at El Hotelito in Navaluenga is to completely relax and just enjoy the surroundings and fresh air. If you want to combine peace and quiet with cultural experiences, there are plenty of opportunities.
In El Barraco, just outside Navaluenga, you'll find the small family-run farm dairy Quesos Elvira García, known throughout Spain for its delicious goat cheeses made from the milk of its own goats. You can visit the farm, get samples and buy cheeses on weekends.
The area also boasts four UNESCO World Heritage cities and a monastic complex – Avíla, Segovia, Toledo, Salamanca and El Escorial. All are within a 90-minute drive.